Hotel by the pool: how to furnish the pool area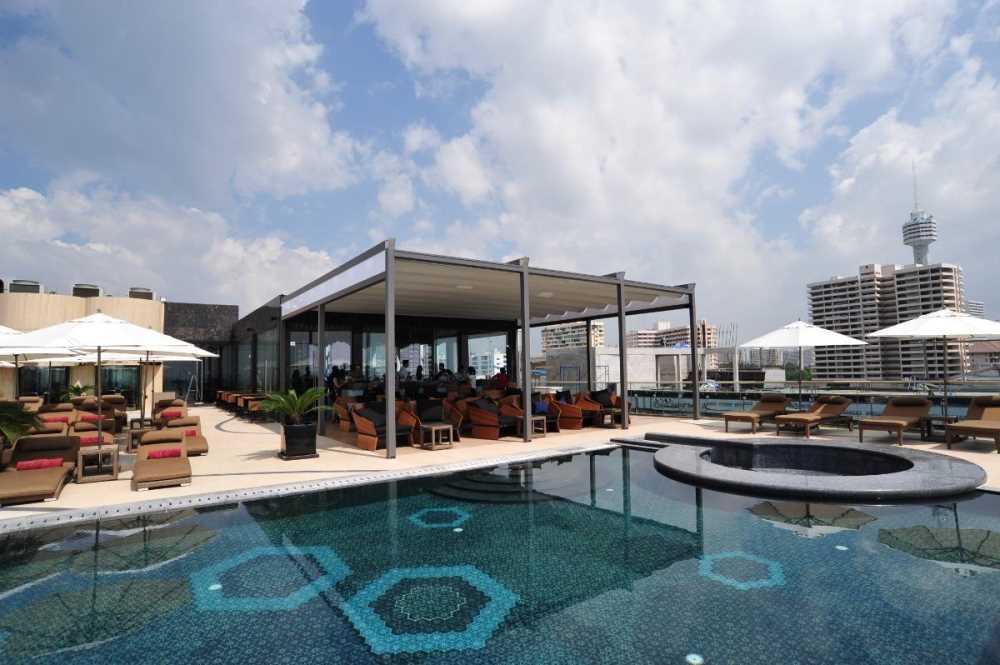 Summer doesn't just mean good weather, warmth and sea, but also "desire": desire to leave behind the drudgery of winter, to leave your homes to undertake new adventures and visit unknown destinations, to enjoy the outdoors to regenerate and rediscover a connection with nature.
What are your options? For a stay at a summer location, a hotel with an outdoor swimming pool can be the ideal choice for many, combining comfort, an amazing experience and outdoor life all in a single solution. It doesn't matter whether it's a hotel with a swimming pool overlooking the sea or immersed in the tranquillity of a mountain lodge, or even a protected space in the centre of a lively, hectic city: the rules for perfect swimming pool area furnishings are the same. Interested in learning more?
How to furnish a pool area: the 5 keywords for the contract sector
Just the fact of having a pool, with its blue water and geometric or soft shape, helps to create a real oasis of relaxation, becoming its undisputed centrepiece. However, in order to better welcome guests and help them enjoy an unforgettable outdoor experience, it's also necessary to think of something else, because the setting counts as much as the substance: from the flooring to the lighting, you need to think about the type of environment and ambience that you want to create.
So here are the five keywords for the contract sector to keep in mind when furnishing the pool area.
1. Functionality: organise the spaces
The spaces must be suitable for those who spend time in them and therefore must be functional, practical and comfortable depending on the services provided, obviously without sacrificing a touch of personality. In fact, a pool is ideal for those who want to pamper themselves and recharge their batteries, and more than other places offers a wide range of benefits and fun. So, if you plan to offer your guests swimming lessons or water aerobics – healthy initiatives that are a must for venues with a swimming pool – we suggest that you add lane floats to create separate areas for different aquatic activities. And why not also add some spectacular jets of water, perfect for relaxing neck massages? More than any other space, a swimming pool must be suitable for everyone and fulfil all "desires", even those of children. Indeed, it's important that there are areas set aside just for them, perhaps with fountains and a small diving board and shallow water, organising activities like swimming classes for children to practice staying underwater and playing balancing games in total safety.
2. Start with the basics: flooring
This is certainly the second keyword. Whether the pool is inground with a skimmer or an infinity pool, it's important to surround it with flooring that blends in harmoniously with the environment and that adds a unique, personal extra touch. For an inground swimming pool, grass is without a doubt the most natural choice, not to mention very scenic, but there are some factors that you'll need to take into account. First of all, it's necessary to perform lawn maintenance on a regular basis, always keeping it well cared for and trimmed. Second, dirt and grass can end up in the water making cleaning more difficult. A good alternative in this case is to choose from a wide range of tiles, looking for materials resistant to UV rays and the elements, possibly even anti-trauma and non-slip to guarantee greater safety (highly recommended for children), all particularly useful for furnishing a swimming pool area. With the right choice, the flooring will add a functional frame in line with the mood of the surrounding environment.
3. Safety and cleanliness for swimming with peace of mind
When talking about swimming pools, safety and cleanliness are factors that we must always keep in mind. In fact, it's critical to ensure guests a comfortable, impeccable and risk-free experience.
Moreover, it is recommended to fence the area around the pool to prevent its use during closing hours. Finally, for proper cleaning of the pool it's necessary to carry out a few simple steps: at the end of the day you can clean the bottom using a handy, light pool vacuum or an efficient robot; every two days you need to check the water quality and to keep it clear add the appropriate chemical agents.
Cleaning procedures vary according to the pool, whether skimmer or infinity, but in any case it's an essential activity that must be performed frequently and therefore should be rendered practical and discreet. For this reason it's advisable to set up an area for the equipment that's hidden from the view of the guests, but close enough to allow those who perform pool maintenance to intervene quickly and without leaving equipment around.
Now that you've taken care of the more operational (but essential) part, you can move on to the more creative and fun part: how to furnish the pool area!
4. Protection: the importance of shaded areas
It's well known that spending time outdoors can be very beneficial to people's health, but to make the time spent outside truly enjoyable it's important to make it possible for guests to protect themselves. Indeed, any self-respecting pool offers cool shaded areas that protect against the risks of exposure to the sun and to enjoy the outdoors in total safety and comfort. What can you do?
After a careful assessment of the available space you could opt for a permanent structure, like a wall-mounted pergola equipped with a side closure that creates an independent, protected space (usable even in winter), or, if you're looking for a temporary solution with a strong visual impact you could choose some Corradi sun sails, which boast a high resistance to the elements and UV rays and offer excellent versatility. For example, you could furnish your pool area taking inspiration from the nautical style with Defense, the most iconic of the Sun Sails. Self-supporting or wall-mounted, its lightweight but solid and durable structure made of stainless steel, advanced technology, canvas made of Dacron® – an interwoven polyester of nautical origin (subjected to a specific anti-UV treatment) – and ingenious system of thin tensioned cables that make it flexible and adaptable to every need allow Defense to create well-ventilated shaded areas without sacrificing design and clean, harmonious lines.
Once you've created pleasant protected areas, you can turn your attention to decorations and furnishing accessories, always remembering the importance of details and how everything should reflect a sense of welcoming comfort. And of course you should prioritise materials that are resistant to wear and weathering. And if you're wondering how to furnish your pool area with colours, it's best to choose light shades that don't stress the eyes and that convey a feeling of freshness and purity, like white, sand, beige, but also nuances like blue and teal.
5. Creating wonders: enchanting lighting
Imagine your guests on a cool summer evening sitting on a sofa with the sound of water calming them, or surrounded by friends and family enjoying a fun happy hour by the pool. Well-planned outdoor lighting will enhance these moments and transform them into beautiful memories. You need to pay attention to a few critical details when furnishing a swimming pool area. First of all, make sure there are no dark corners, especially in the points of access and transit areas. Then, the lighting points must make the most of the whole space, making it more welcoming and evocative, for a "One Thousand and One Nights" ambience. Put simply, they should be low-intensity, discreet and scattered. Always remember that the pool is your stage and the outdoor lighting is the scenery. For example, you can play with light spheres placed on the ground or left to float on the water.
Functionality, flooring, safety, protection and lighting: these are the 5 keywords that you must keep in mind when furnishing your pool area. And if you want to create an even more protected space full of benefits for your guests, how about a wellness area for hydrotherapy complete with an outdoor hot tub?