Playing with space for an exciting English garden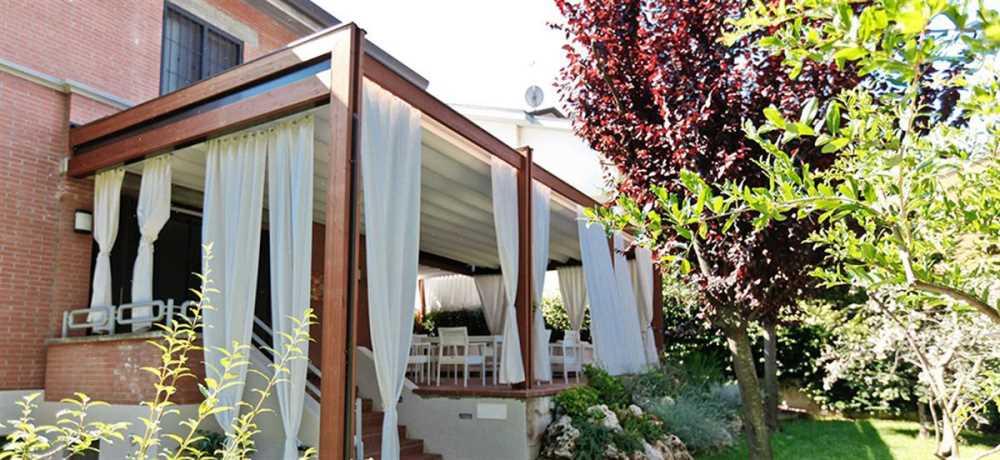 The key concept behind an English garden is freedom: whether in the city, around a villa or in the green space of a resort, this type of garden is distinguished by the absence of symmetry and architectural mannerisms.
In an English garden the green grows wild, creating a perfect place to regenerate and enjoy the benefits of outdoor life. Spacious, surprising and lush, it is able to arouse emotions thanks to an array of styles to immerse yourself in.
Nature lovers will be perfectly at ease in these spaces where climbing plants blend with rocks and pathways through the surrounding greenery, trees and ponds create an interplay of light and pebble trails wind through the shrubs.
Let's take a look at the main characteristics of an English garden and how to design one for your outdoor space.
What are the origins of the English garden?
This style of gardening was born in the 1800s in the United Kingdom, in the midst of the Romantic era. Romanticism was a movement that promoted the concept of freedom as a human mode of expression, and it soon pervaded all the arts. According to the philosophy of this movement, painting, literature and architecture allow man to reconnect with nature and establish a relationship with it that is rich in emotions, creative instincts, secrets and narratives.
Thus was born the form of gardening that would later become known as the English garden, in contrast with what – until then – had been the Italian garden, consisting instead of symmetries, proportions, classical architectural studies, regular constructions and pre-established pathways.
While until the 18th century the gardens of noble villas were mainly Italian, the English garden soon became widespread. Indeed, in Italy the gardens of the Royal Palace of Caserta and Sigurtà Garden Park in Valeggio sul Mincio are quite famous.
Let's see what the key characteristics of this type of garden are.
English Garden: how to design one
Despite featuring surprising and spontaneous elements, the English garden is the result of careful planning based on the intent of arousing different emotions among those who pass through it. Here are some useful ideas.
Open spaces and closed spaces
To make the most of this style and its unique characteristics, alternate open, panoramic spaces consisting of lawns and small hills with closed spaces, where the branches of trees intertwine to create wooded areas. You can even add small stone caves and architectural constructions that, for example, mix neoclassical, modern and baroque styles.
Plants, lawns and flowers
In this case the selection of greenery must be varied: depending on the surface available you opt for roses, hedges of different heights, laurel bushes and aromatic plants. Even an area with medicinal plants is very suitable for an English garden, along with wild flowers like poppies and violets, even better if combined with flower beds or hydrangea bushes. In any case, it is important to choose the plants taking into account their changes during the seasons, favouring evergreen and climbing plants that grow and transform the garden, renewing its beauty year after year.
Water and light
A water element in an English garden is fundamental. The best option is to add a pond – natural if the conformation of the ground allows it, otherwise artificial – and then surround it with grass and rocks. Alternatively, if the space available is limited, you can opt for a fountain, perhaps with an allegorical sculpture or hand-painted ceramic objects.
Wooden elements
In the perfect English garden, wood is the primary material used in outdoor covers. For example, You could include a closed pergola covered with wisteria, bougainvillea or jasmine. The Materics line, for example, offers solutions that offer the right level of privacy and a natural touch to the environment. As an alternative, glass side closures like The Glasses that offer an open view of the garden and at the same time insulate against sound and weather are also very suitable.
The icing on the cake of your perfectly British outdoor garden is the addition of a wooden pergola, like the romantic Pergotenda® 120 by Corradi, to be placed next to a real or decorative wooden bridge. Whatever its function, it will create an original pathway and give your garden the right personality.
Designing an English garden means creating a space where freedom of expression meets the beauty of nature, and where the harmony of forms is provided by the coexistence of light, space and different colours.
Corradi can assist you in the best choices for your garden, assessing together which covering system fits your style and your needs, thereby creating a harmonious and personal space.
Are you ready to give it a try and design your own romantic outdoor space?