The outdoor space that transforms dreams into reality: outdoor spa and hot tub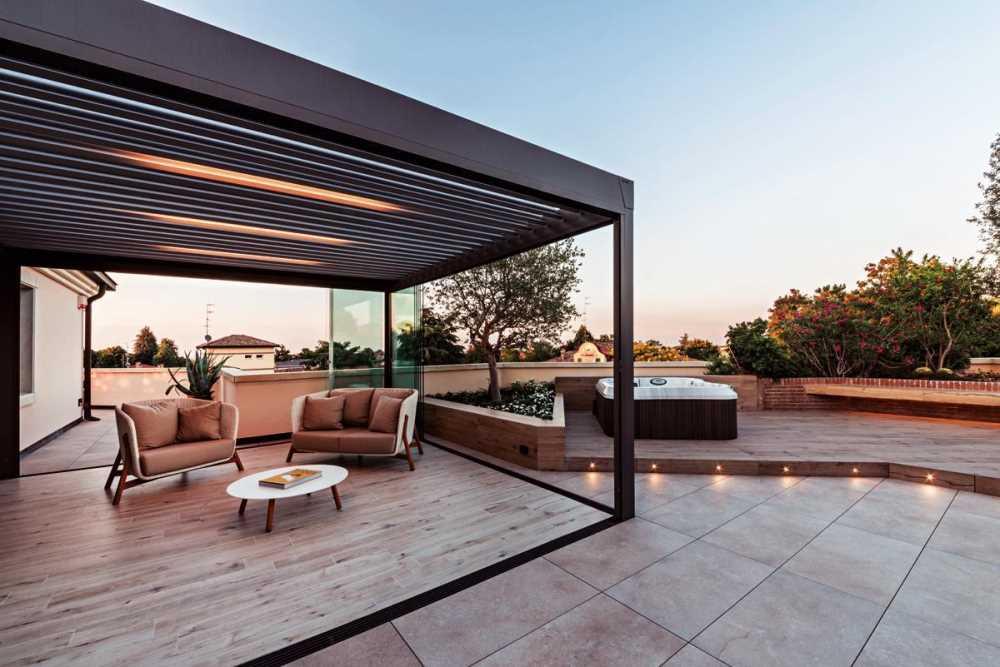 The pursuit of wellness through hydrotherapy is a practice that dates back to the ancient Romans, who used to spend several hours a day in hot baths to relax and purify the body from toxins. In recent decades spas and hot baths have become increasingly popular, also thanks to the understanding of thermal springs' positive effects on the health of the body and mind. But wouldn't it be nice to be able to enjoy the benefits of hydrotherapy without having to leave home?
Your own home can become an oasis of well-being by turning your bathroom into a private spa, renovating your basement or using the outdoor space to install an outdoor hot tub immersed in the greenery of the surrounding nature. Or if you then have a rooftop terrace you can enjoy a refreshing soak in the sky: what could be better than a moment of relaxation with a picturesque view?
If the idea of being able to dedicate time to taking care of your body in the tranquillity of your own home appeals to you, here's what you need to know to build a home spa either indoors or outdoors.
Building a home spa: initial considerations
Indulging in the pleasures of an exclusive, personalised wellness centre is a dream that today can easily become reality if you pay attention to a few fundamental steps.
First of all, you need to carefully assess the space available for wellness furnishings like a sauna, Turkish bath, hot tub, emotional shower to be installed in the bathroom, basement or outdoor space. Even a small area, if well organised, can become a small wellness corner.
Another critical consideration for a spa area with an outdoor hot tub is load capacity: how much weight can your terrace or balcony support? A careful technical analysis must be performed for each specific case based on the construction materials and the equipment you want to install. Furthermore, it is necessary to take into account the plumbing and wiring and the state of repair of the existing pipes. For a home spa no special drains are required, but it is essential that there be adequate water and electrical connections.
Finally, it is important to pay attention to the floor, which must be resistant to water and perfectly level as it will have to support very heavy elements that must necessarily rest on the floor, like a hot tub.
To avoid unpleasant surprises, our advice is always to turn to trade professionals: a structural engineer for the terrace's load capacity and an expert plumber for the plumbing will guarantee your peace of mind.
These are the main technical aspects to pay attention to when building a home spa, whose size and equipment will depend on your personal needs. An outdoor hot tub or a mini pool is all you need to transform your outdoors into a minimalist and multifunctional space where you can spend unforgettable moments, alone or with the right person.
Now all that remains is to find a reliable supplier, and we've got one you might have heard of. Jacuzzi, an Italian company known around the world as the leader in the wellness sector, on January 19th and 20th during the women's world ski championship in Cortina presented its latest design in an outdoor space created by Corradi: the Arga® home hot tub.
The pleasures of an outdoor whirlpool
A wellness oasis can even be built on a terrace or in a garden, to be enjoyed both during the summer and in the colder months, perhaps making the most of a heated veranda. However, you should not be hasty when deciding to set up an outdoor spa area: only a careful assessment of the spaces and the right outdoor hot tub will allow you to achieve a functional and aesthetically pleasing result. So be careful when positioning the tub as it must be close to the electrical and water supplies and in a space that allows you to enjoy your intimacy without being subject to prying eyes. Let's not forget the style of the wellness elements, because they will have to be in harmony with the surrounding furnishings. Fortunately there are outdoor hot tubs suitable for any need!
Types of outdoor hot tubs
Outdoor hot tubs or mini pools are available in different shapes and sizes. Round, square or corner, depending on taste and footprint they are mainly divided into two types:
Built-in: the tub is inserted in a structure made of wood, natural stone, ceramics or masonry, which is then covered as desired and hidden from view.
External or panelled: the tub does not need to be recessed in the ground and its structure is covered by a removable shell, usually made of wood, PVC or acrylic. This type of outdoor hot tub does not require any invasive works and can be installed anywhere, even on a terrace.
The benefits of a Spa area en plein air
There are many advantages to having a small home spa...and if you are lucky enough to be able to enjoy these benefits while immersed in nature then you're all set!
Freedom from any constraints: creating an oasis of well-being in your home frees you from the time constraints and fees of wellness centres. Go relax in your spa any time you want.
Privacy: being outdoors does not mean being exposed to the outside world. You can enjoy your private moments while being sheltered from prying eyes by simply equipping the veranda with suitable closures and draperies. This way you can enjoy the warm water in the tranquillity of your own home without having to endure the crowds at the spa.
Benefits of hydrotherapy and nature: the beneficial effects of hot water on muscles and blood circulation are well known. And if you add to this the relaxing effect of being surrounded by greenery, then your well-being will be absolute.
The aesthetic factor: the presence of a spa area and an outdoor hot tub will greatly increase the beauty of your home, giving the outdoor space an elegant, sophisticated look and, why not, increasing its market value.
Looking for that extra touch so you can feel like you're in a real wellness centre? Equip the outdoor hot tub with aroma, colour or music therapy to achieve a truly complete regeneration effect.

If you're looking for a space where you can get away from your hectic, messy everyday life, why not start by choosing the outdoor hot tub that best suits your needs, perhaps making it an integral part of a beautiful winter garden?