Enjoying outside spaces more: how to use the outdoors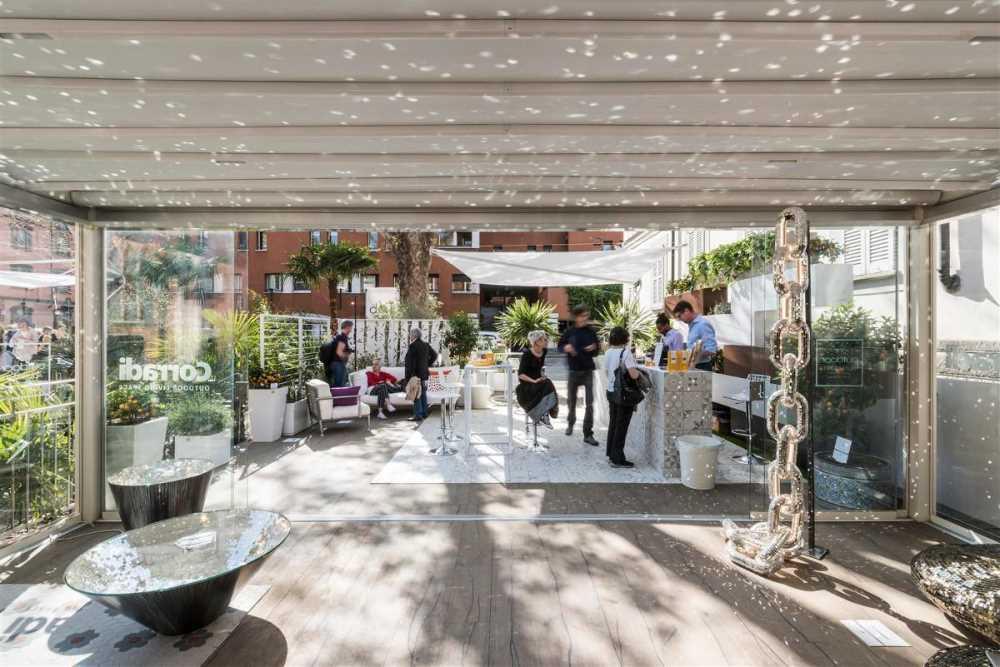 Having a nice garden or a terrace, whether big or small, means being able to enjoy the surrounding natural space without straying too far from the comfort of home. If you then decide to protect your outdoors with outdoor covers, you will create an environment to enjoy more freely throughout the year.
Bioclimatics, pergolas and sun sails are an excellent solution to create protected, sheltered areas. But not only that: they also allow the outside to be transformed into functional outdoor areas where it is possible to carry out activities en plein air. Versatile and practical environments where you can bring to life projects and desires for an outdoor space tailored to your needs.
So let's see how to make the most of this space: here are our tips for a multifunctional pergola to be fully enjoyed.
Functional outdoor spaces: 3 things to do under the Pergola
There are many ways to use outdoor areas, these are our three tips for functional spaces outside.
Cooking outdoors
For a brunch with friends, a family dinner or a Sunday barbecue, the outdoors can be the ideal place to set up a practical outdoor kitchen in the summer. There is no need for open flames or an equipped kitchen: the freedom of an external environment is also provided by the possibility of having more space to move around in, to store things, to accommodate guests. Therefore with the summer season a table top, a pantry, a freezer and a large table for your outdoor dinners offer an extra opportunity for your recreation and for enjoyable moments spent in the company of others. Moreover, if the space in your garden or terrace allows it, you can create an evocative dining room with a pleasant view of the surrounding nature where you can enjoy a nice glass of wine. An oasis of happiness.
More space for home entertainment
Whether alone or with others, the space under the pergola can be dedicated to the enjoyment of music and films, made even more enjoyable by a natural and familiar setting. In this case, the choice of accessories that make the time spent in the pergola comfortable will prove essential: you can opt for comfortable seats with soft cushions or choose soft, coloured pouffes to be arranged around a carpet. The only precaution to bear in mind is to choose furnishings with water-repellent fabrics, resistant to mould and prolonged exposure to sunlight since, being an external environment, some materials may be affected by the weather.
Why not take advantage of the outdoor space to set up a small open-air cinema? All you need is a projector, a screen and a home theatre system to bring the charm of the big screen directly to your yard. Are you looking for some ideas? Our article on 5 end-of-summer films to watch in the shade of your Pergotenda will give you some good ones.
Open-air workouts
Regular physical activity promotes the well-being of your whole body, preventing the onset of many maladies and counteracting anxiety and stress. If you have the opportunity to perform these activities outside, the benefits will be even greater than exercise done indoors.
Having a large outdoor space also allows you to set up a small gym equipped with an exercise bike and some weights. If on the other hand you have less space or prefer a more relaxing type of activity, yoga and pilates could be the best option. Just a mat and a little practice to get in shape and connect with the surrounding environment. In this case, the choice of a material like wood will bring your outdoors into total harmony with nature, fostering physical well-being and providing a beautiful view with the possibility of spending time in the sun without risk. An example? Pergotenda® Twin, one of the many solutions offered by Corradi, features elegant forms and a contemporary design that can protect your skin thanks to technical fabrics resistant to solar irradiation.
These are just some ideas to better enjoy staying outside by creating functional outdoor spaces, but the possibilities are endless thanks to the great versatility offered by external covers. While deciding which wonderful project to start on, why not take a look at the numerous Corradi solutions for enjoying the outdoors every day?