Enjoy the outdoors: tips for a Feng Shui garden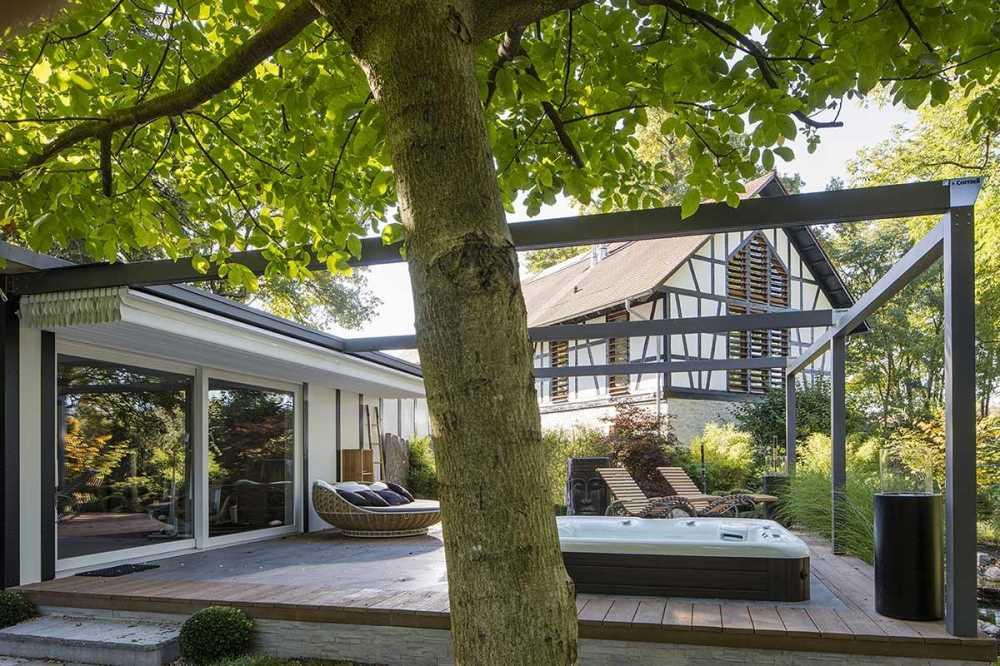 The garden is a fundamental part of our home because it represents a sort of visiting card for our taste and style. For this reason it is important to dedicate time and attention to the decoration of outdoor spaces, an activity that can offer great satisfaction if done right.
Having a lush garden rich in plants and fragrant flowers, perhaps embellished with a fountain or a stream, promotes the well-being of those who enjoy it. If you want your green space to be transformed into a refuge from hectic everyday life, why not opt for a harmonious Feng Shui garden?
The positioning of the plants and furnishings, the choice of colours and essences and the definition of the paths are all critical aspects for the application of Feng Shui outside the house. But what exactly does this philosophy consist of and how can you apply it to your outdoor space? Here are some suggestions for an impeccable result.
Feng Shui: an ancient philosophy
Feng Shui is a philosophy that originated in China between the 6th and 4th century BC, founded on a careful study of the shape and layout of each room and each furnishing element. The harmony that derives from the correct organisation of space allows positive energy to flow freely, conveying peace and well-being to those who live in the home.
Just as for indoor spaces, the rules of Feng Shui can also be applied to any garden, following some easy tips that will make it the ideal place where to spend your time.
Feng Shui garden: tips for a perfect harmony
The keyword to keep in mind when you design a Feng Shui garden is "harmony". In fact, the elements that make up our outdoor garden must go well with each other to create a perfect balance of shapes, colours and fragrances.
Nature as a reference
Being surrounded by thriving nature, walking on a path that runs along a stream or cooling off in the shade of a tree are moments that help you to relax and regenerate.
One of the basic principles of Feng Shui involves the harmonious combination of the five fundamental natural elements: fire, water, earth, wood and metal. Creating a garden where these elements are balanced allows you to achieve a state of well-being: for example, by including some wooden elements, like a pathway, or some candles in the most evocative points of your space.
For a perfect Feng Shui garden it is always best to opt for seasonal plants and flowers, perhaps organised by colour and scent, and, if possible, evergreen trees, a symbol of longevity. In any case, since this philosophy calls for a lush and luxuriant garden, you should choose plants that do not need a lot of attention if you do not have the time to devote to their maintenance.
Everything is in balance
In addition to the five fundamental elements, to create a perfect Feng Shui garden it is also necessary to recreate the right balance between the two dominant forces of Yin (the female principle) and Yang (the masculine principle) through the arrangement, colours and shapes of the elements.
Tall trees, hedges or walls can be placed at the back of the house as a protection against negative energy, while bushes or small shrubs find their place in front of the house to allow a better view of the garden. In any case, all the natural elements – selected from numerous varieties – should never be placed in a row but rather scattered and in decentralised positions: in fact the Feng Shui garden does not follow any rigid compositional rules.
Water is one of the essential elements of this philosophy and is essential for the garden's balance. Adding a pond (representing the stillness of the Yin) and a small stream (symbolising the movement of the Yang) will allow the positive energy to flow even more freely, especially if the water runs towards the front of the house.
If you have the space, pavements and paths should have a winding and broken course to encourage a slow and contemplative walk that allows you to fully enjoy the contact with nature.
Finally, stones, statues and Tibetan bells are all decorative elements that can stimulate the senses and promote a sense of serenity and well-being.
Furnishing a Feng Shui garden
So, according to the principles of Feng Shui, even the choice of furnishings should be in harmony with the surrounding nature. For this reason it is better to prefer materials like wood, clay, ceramics and bamboo, opting for neutral shades that do not clash with the colours of the vegetation.
In addition, especially in the case of a large garden, it is good to create areas of shade by including covers you can relax under, to enjoy your outdoor space in complete freedom all year round.
One of the Corradi solutions is Pergotenda® 100, a self-supporting wood structure that is both practical and beautiful, completely in harmony with the surrounding environment. A good alternative is Pergotenda® 45 with classic lines that adapt well to any setting, for a general sense of balance and contentment.
A well-cared for Feng Shui garden with balanced elements contributes to the aesthetic equilibrium and well-being of both people and the house. In fact it is not just a space to enjoy outdoors, but also a relaxing and beautiful view to enjoy from inside your home. And if you choose to use large sliding glass doors for your outdoor space like Corradi's The Glasses you will have a single domestic living space that unites the indoor and outdoor areas, further facilitating the flow of positive energy.
Unobstructed views and guaranteed protection, for a Feng Shui garden with great emotional impact. What do you think?