Sliding glass doors for outdoors: a crystal clear gaze between indoor and outdoor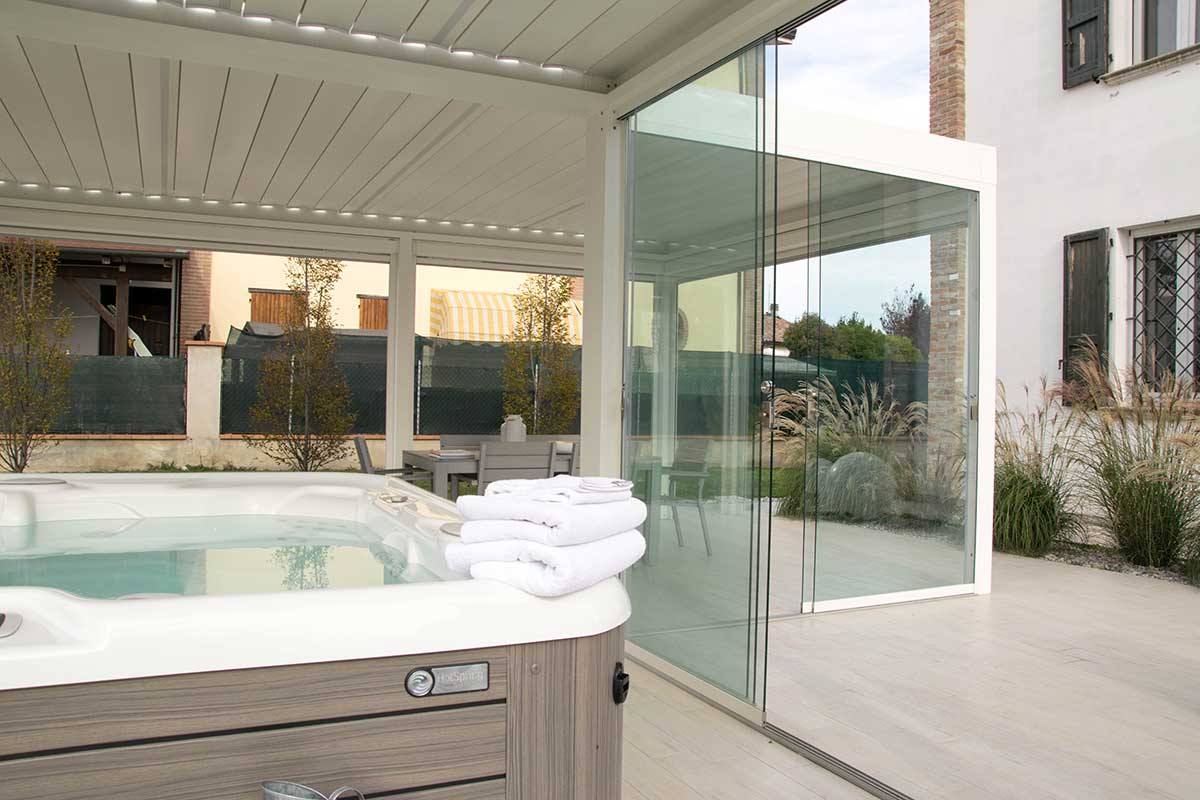 Making outdoor spaces accessible throughout the year and flooding the rooms of your house with natural light are factors of great importance for transforming every minute spent in your home into moments of pleasure and well-being. Whether you have a spacious house with a garden or a top floor apartment, the best solution to achieve a total connection with the surrounding world is to install sliding glass doors for outdoors. In fact, this particular type of closure allows delimiting balconies and verandas, creating evocative yet protected spaces.
An aperitif with friends, a moment of relaxation to read a book, a romantic dinner for two: the atmosphere created by the glass doors for outdoors will prove to be perfect for every occasion.
Let's see then the benefits that glass doors for outdoors offer and which are the most suitable types and materials for each specific need.
Why choose sliding glass doors for outdoors: the benefits
Sliding glass doors for outdoors have many features that make them perfect elements to be installed in any environment. In addition to allowing light to come in from the outside to warm interior spaces while limiting the flow of air, Corradi's The Glasses for glass doors for outdoors offer further important benefits:
The sliding system, as opposed to traditional swinging doors where you have to take into account the space occupied by the opening doors, does not require any space inside the dwelling. This makes it possible to exploit the space immediately adjacent to the window.
Even though the frames have a decidedly compact cross-section, they are still sturdy enough to support large windows.
They are equipped with good acoustic and thermal insulation.
Cleaning the windows is easy since they slide, letting you wash the glass without any risk.
Thanks to the all-glass structure, this type of closure guarantees a completely unobstructed view while still offering full protection.
Types and materials: which sliding glass doors for outdoors to choose
There are different models of sliding glass doors for outdoors, depending on the type of opening and the materials used.
For the opening and closing systems you can have glass doors that open by sliding horizontally or sliding vertically. Then, the sliding can be:
Inline, with the glass doors sliding on parallel tracks.
Lift and Slide, with a mobile door that lifts and slides parallel to the fixed lite, making the mechanism suitable for large windows.
Shift and Slide, where the sliding door runs parallel to the fixed one after first being shifted inwards. Shift and Slide ensures better thermal insulation and greater protection against break-ins.
Pocket, with mobile door that runs completely inside the wall, allowing a full opening.
Once you have selected the type of sliding glass door for outdoors that best suits your taste and needs, another fundamental element to pay attention to is the material.
Different materials, different performance
Sliding glass doors for outdoors in anodised aluminium have an extremely lightweight profile: in fact, this particular type of material allows you to create elegant and panoramic "all-glass" doors. Furthermore, aluminium guarantees durability and resistance to weather, ageing and break-ins.
Solutions in PVC can boast a strong resistance to bad weather, changes in humidity and, above all, offer excellent thermal insulation.
Finally, wooden closures are very elegant and comfortable, especially when there is direct exposure to the sun.
Whether they are used to close a balcony, a veranda or to create a beautiful garden to be enjoyed even in winter, sliding glass doors for outdoors are the ideal solution in terms of aesthetics, efficiency and practicality. The beauty of a panoramic view of the city or the sense of being immersed in the surrounding nature goes hand in hand with comfort and safety given the durability of the structures and materials.
If you want the elegance and practicality of sliding glass doors combined with the absolute strength of an innovative material, take a look at Ermetika Cristal, the vertical protection in 100% PVC fabric with very high resistance to moisture and strong wind.
Which solution would you like to include in your outdoor living space to be enjoyed year round?