Verandas for balconies: types, solutions and regulations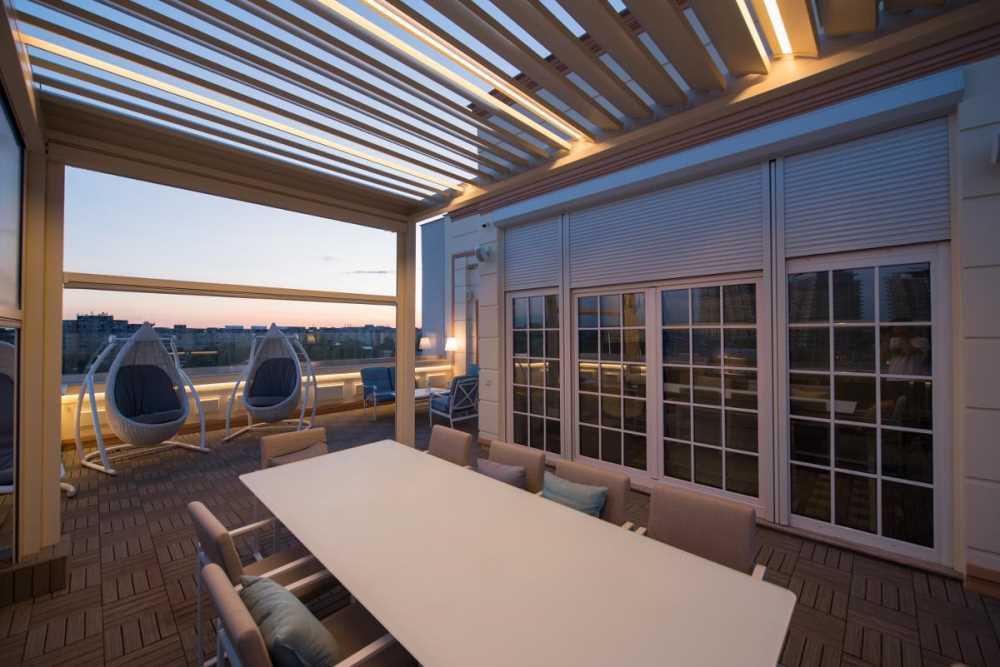 Those who live in cities or on the upper floors of a building often don't have the opportunity to enjoy the comfort of a garden and live moments of relaxation outside their home. For this reason, if you have a balcony or a terrace, it's very important to be able to make the most of it, not only during the summer but also in winter. Verandas for balconies that completely or partially close the terrace allow you to better connect the balcony to the rest of the house, creating an environment that can be enjoyed at any time of day. Depending on the size of the balcony and your needs, the veranda can be used as a living area furnished with sofas and armchairs, or it can be transformed into a charming dining room with a panoramic view. Or the veranda can be a corner for studying, a fitness area, or more simply become a small greenhouse where you can take care of flowers and plants sheltered from the elements.
Precisely because transforming a balcony into a veranda can lead to the creation of a new room and therefore the enlargement of the total volume of the house, there are some rules to be followed in order not to risk committing a building violation. So, let's see the types of structurs and solutions subject to fewer constraints, learning how to best enhance home balconies and terraces.
Verandas for balconies: restrictions and needed permits
A veranda consists of a supporting structure and glazed parts that partially or totally close a balcony, creating an extra space inside the residence. The increase in the useful area of the residence and the consequent change in the shape of the building entail the need for a building permit or certified notification of the start of works, as well as notice of the cadastral change to the Revenue Agency. To avoid this problem, there are verandas for balconies consisting of removable structures, practical and elegant solutions that provide protection to the terrace without creating independent or habitable rooms. For this type of veranda no permits are necessary if apartment complex rules are respected,to prevent the structure from altering the building's appearance.
There are different types of closures for balconies to choose from depending on the structure and the materials used, which must always guarantee stability and safety as well as adequate thermal insulation.
Closures for balconies: solutions and materials
The materials most used for the structure of balcony verandas that offer versatility, aesthetics and solidity are woods treated for outdoor use, aluminium and PVC. Aluminium and PVC in particular are the most used solutions for the shielding of the terrace, as they guarantee a remarkable thermal insulation, essential for being able to use the balcony in practically every season.
Aluminium is an optimal choice to ensure the stability of the veranda's structure, as it is a material very resistant to any weather condition. Moreover, the possibility of customisation in a wide range of colours makes aluminium a particularly effective solution, as it can be adapted to any possible requirements of the apartment complex or personal preference. In fact, aesthetics, simplicity and innovation are the strengths of Balcony, the Corradi perimeter closure for balconies and terraces consisting of a painted aluminium structure that supports a rolled canvas.
PVC closures for balconies
Thermal insulation is a fundamental factor to be taken into consideration when talking about balcony verandas since - especially during the winter - it allows keeping the heat inside the veranda, thus ensuring considerable energy savings. In this sense, PVC is the ideal solution thanks to its incredible insulating power, which makes it quite suitable especially in the event of harsh temperatures and humid climates. In particular, thanks to the peculiar characteristics of this material, closures for balconies in PVC are also suitable for covering verandas that require air conditioning systems.
Windows and covers
Even the windows must ensure stability and security on the veranda, withstanding weather and impact. In fact, there are different types of glass to choose from depending on the needs:absorbent glass with thermal break to always ensure an optimal temperature inside the veranda, tempered or bonded glass (armoured glass) for excellent impact resistance and self-cleaning glass for simple and effective cleaning.
As an alternative, there are modern and technological solutions, like Corradi's Magiko, the new vertical closure with clean lines that doesn't require any locking systems for tensioning the canvas and with small runners ideal for all filtering and darkening fabrics. One of these is Glassrope, a special fibreglass that is extremely flexible and resistant to tension and tears.
A veranda is a comfortable and practical choice to ensure adequate protection to balconies and terraces, transforming them into a natural extension of the residence, comfortable and usable all year long. There are a number of details to pay attention to, to avoid the risk of incurring fines and penalties, but there are several solutions that can add charm and elegance to the residence without the need for building permits. Practical and sophisticated verandas for balconies can also be made using the The Materics closures and complements offered by Corradi. For example, Aura is able to combine efficiency, refinement and aesthetic warmth with its aluminium panels and its aluminium or thermal-treated ash wood sun slats.
Who wouldn't want to enjoy the full liveability of their balcony, in the comfort of a safe and sheltered environment, even better if it has a panoramic view of the surrounding city?