Types of sun sails: from standard to custom solutions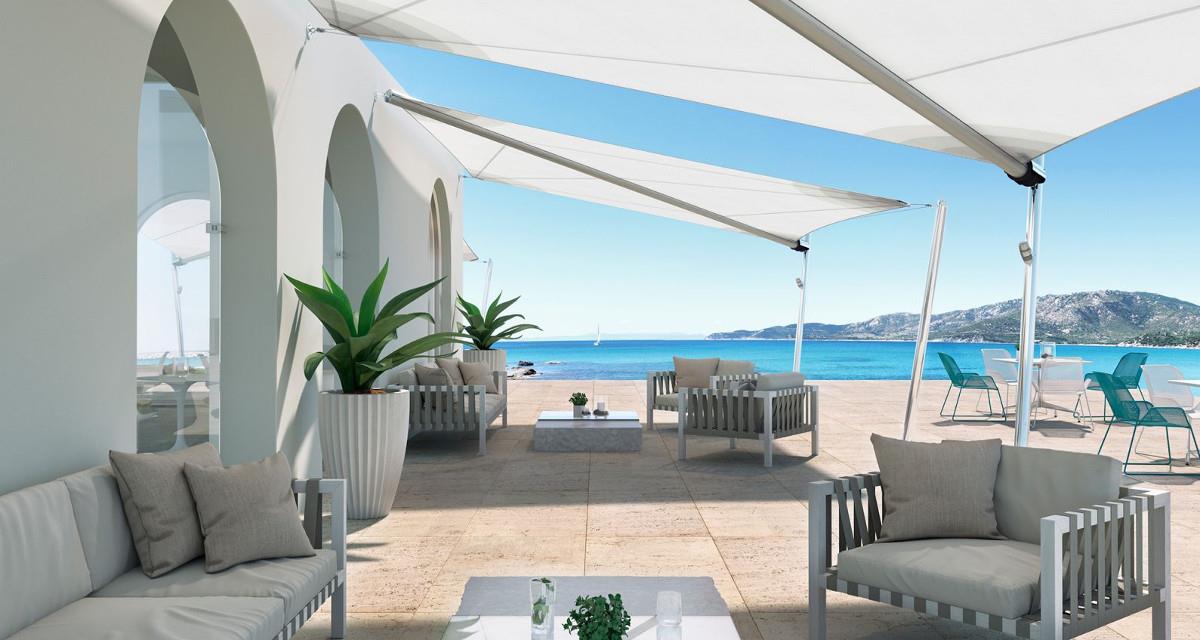 With the arrival of summer, your home's outdoor space becomes increasingly important, one of the most popular areas of the house. If you're looking for a solution that is not permanent - easy to install and remove - yet comfortable and elegant, the best choice is a sun sail for your garden. Among the most innovative and requested shading systems in the sector, these particular covers are the perfect combination of refinement, efficiency and practicality. Harmonious and lightweight but at the same time robust and safe, thanks to their versatility, the wide range of models available - including some types of custom sun sails - and the possibility of combining multiple sails, they are able to satisfy any need, turning a garden into a little corner of paradise.
Let's take a look at the features of sun sails, their benefits and how to develop custom solutions able to respond to the specific requirements of each space.
Sun sails: lightness and style in one solution
Sun sails are special structures designed to cover outdoor spaces that are highly resistant to weather thanks to the use of innovative materials and technical fabrics. Furthermore, their clean and soft lines furnish the garden with style, transforming the outdoor space into a protected and comfortable open-air living room. Compared to the classic covering systems with fabric, sun sails are also distinguished by the spectacular and harmonious effect they are able to create: whether they are anchored to a wall or a column or equipped with a self-supporting structure, sun sails represent one of the most comfortable and evocative solutions for creating shade outdoors.
Why not give a maritime touch to your outdoor space, letting the aerial shapes of the outdoor sails recreate the magic of a sea cruise? Sun sails are certainly a sophisticated solution that lets you express your creativity: but what are their technical features? Let's see what makes them particularly suitable for decorating and shading the garden.
Technical features of sun sails
Design and an elegant structure are key elements of sun sails, which offer a wide range of special features and strengths:
The use of robust and innovative materials that make the sail durable over time.
The high level of protection against atmospheric agents (rain, sun, humidity) and maximum protection against UV rays.
The possibility of having an automatic or manual mechanism that allows you to completely rewind the sun sail in a few seconds.
The low maintenance required thanks to the high resistance and elasticity of the materials.
The numerous possible combinations.
However, not all sun sails are the same: the Corradi models are a refined and classy solution inspired by the nautical tradition. In fact, we have selected the most innovative and resistant materials, making available a wide range of models that differ in shape and size, as well as the possibility of making custom sun sails. Moreover, the compact form, the light weight and the possibility of being moved without the use of electricity makes Corradi custom sun sails the crown jewels of products for covering outdoor spaces.
Custom sun sails: a solution for every need
Sun sails are available in various shapes (triangular, square, rectangular), sizes and colour options for the fabric. This extreme versatility allows the sun sails to blend in perfectly with the garden and adapt to the specific needs and aesthetic tastes of every customer.
Close attention to architecture, functionality and refinement and extensive knowledge of the nautical world resulted in the Corradi range of Sun Sails, shade sails of nautical inspiration able to guarantee superior levels of protection against rain and sun, creating cool, shaded areas without obstructing the passage of air. The structure is made of stainless steel and anodised aluminium, while the cover is Dacron, a resistant and durable fabric used on boats, making Corradi sails absolutely unique. In fact, the elegance of the shapes that change as they are caressed by the wind evoke Mediterranean settings, bringing all the allure of the sea to your outdoor environment.

Indeed, Corradi sails can be combined with each other in order to create original geometric compositions and an interplay of shapes, light and shadows, making your garden a truly unique place. Their flexibility also makes them suitable for every need: as a covering for a breakfast nook, to render a small part of the garden more usable or to add some cover to a terrace. The Defense model, Corradi's top of the line sun sail, is the most iconic product of the collection, also thanks to its specially shaped pole that can be anchored to the wall or equipped with a self-supporting structure. Maestrale, on the other hand, offers many different options thanks to its 113 possible configurations.

However, the opportunities made available by the outdoor sun sails do not end here. In fact it is possible to create custom sun sails that are completely personalised in every detail to produce a bespoke product able to become one with the architecture of the outdoor space. The Scirocco sail is ideal for those looking for a solution of this type: equipped with a single or double triangular sail of irregular shape, each sail can cover surfaces up to 70 square metres and is made to order to meet individual design needs.
So, custom sun sails make it possible to create a comfortable and protected living area, furnished with taste and refinement. The wide range of Corradi sails, the practically unlimited possibility of customisation and the spectacular look allow you to unleash your creativity to design your own outdoor wonderland.