Covers for exteriors: types and tips to make a good choice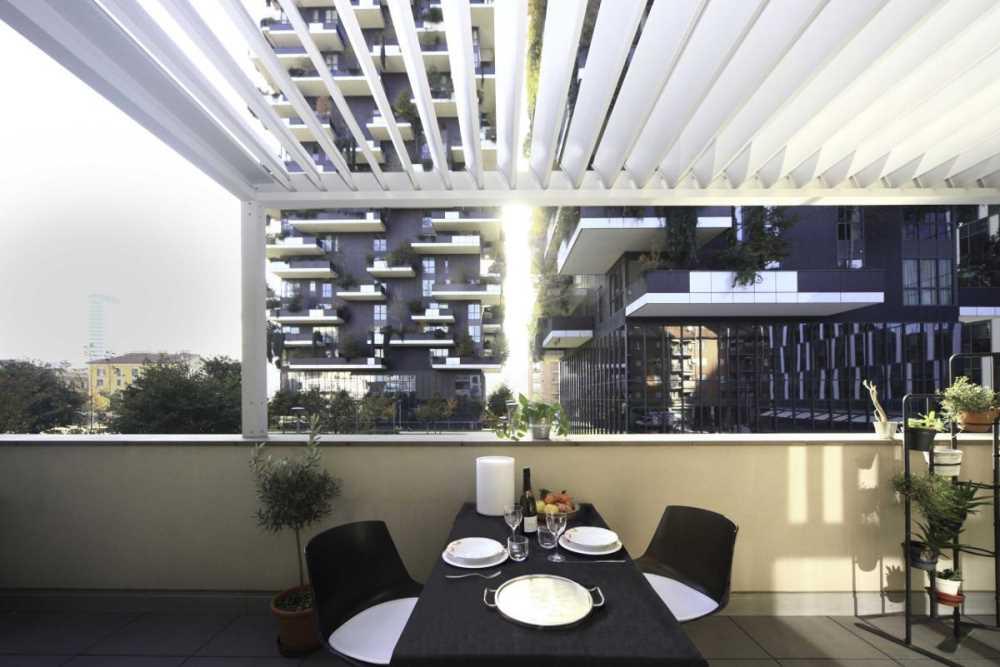 Whether it's a garden, a private courtyard or a café or restaurant terrace, your outdoor space deserves to be enhanced with covers for exteriors that are able to make the most of their distinctive traits, in harmony with the surrounding environment. There are many advantages: while on the one hand - especially in the residential sector - pergolas and canopies shape a portion of the external environment to protect people from the sun and weather and to allow them to spend more months of the year outdoors, in the commercial sector outdoor furnishings for cafés or the pergola of a restaurant have the added benefit of adding useful space. In fact, in this way it is possible to increase the capacity of the venue and therefore the number of paying customers, offering them protection from rain in the event of adverse weather conditions.
However, it can be difficult to sort through all the various options like awnings, verandas, pergolas and gazebos, with the risk of making wrong choices, opting for outdoor covers that are not suited to your specific needs, that don't offer aesthetic continuity with the interior space, and with the further risk of running afoul of building codes if you're not an expert on authorisations and permits.
Of all the outdoor structures, the most widespread, modern and practical today are pergolas, but what is the difference between pergotendas and bioclimatic pergolas, two of the solutions proposed by Corradi, in addition to Sun Sails?
Covers for exteriors: what is the difference between pergotendas and bioclimatic pergolas?
Before installing an outdoor cover of any kind, it is first necessary to know if any authorisations or permits are required, which depend both on the type of structure and on the environment in which it must be placed, also in relation to any landscape constraints. Since building codes vary from area to area, it is always useful to consult the Building Regulations of your municipality. Specifically, working with Corradi and its 40 years of experience in outdoor living, you will be guided in the best choice for your needs by qualified retailers who will allow you to take advantage of customer support, assisting you before your purchase all the way to on-site installation.
To begin with, the difference between pergotendas and bioclimatic pergolas, is, first of all, the different type of covering, the former having a retractable canvas and the latter adjustable blades. However, even the appearance and the technical characteristics are different, so you must carefully consider the setting where it will be installed, to harmonise indoor and outdoor spaces.
Even before learning how to furnish a garden, it is first necessary to choose among the types of outdoor pergolas. Here are the main differences and the particular advantages of each.
Bioclimatic pergolas: the natural outdoors popular in Northern Europe
Bioclimatic pergolas use adjustable aluminium blades instead of canvas for the cover, which makes them useful even for spaces subject to snow or bad weather. The term bioclimatic refers precisely to the characteristics of these covers for exteriors, ideal for those who love living outdoors in a natural way, like in Northern Europe, because they create environments of well-being that can adapt to changing weather conditions all year round.
In fact, unlike canvas, aluminium blades allow you to change the amount of light and air passing through, thereby adjusting the natural ventilation and lighting according to your needs and personal tastes. Moreover, with the blades completely closed, the bioclimatic pergolas offer shelter from the rain, allowing the water to flow through downspouts in the support posts.
Given their structure, bioclimatic pergolas with adjustable blades - like Corradi's Maestro, Alba and Eteria models - are suitable for those looking for solid product and performance for their outdoor living spaces, even in winter. In fact, they are modern models with high technological value that offer great freedom whether in a freestanding or fixed version.
Pergotenda: a hybrid model that has set the standard
The name pergotenda refers to an outdoor solution that combines the classic sun canopy on arms and a canvas wrapped around a steel tube, or versions that are free falling or with a romantic canopy with the structure of a pergola, equipped with pillars. It is a very successful model, valued above all for its versatility and the ability to fit harmoniously in every setting.
The main feature, as well as the difference with the bioclimatic pergola, is therefore that the covering on the pergotenda is made of fabric, i.e. a pergola covered with canvas.
This canvas can be composed of acrylic or polyester fibres, robust and particularly suitable for protecting against UV rays in the summer, or PVC, which is fire retardant and extremely flexible. As with the Corradi Pergotenda®, there are also technical and water-proof fabrics that guarantee great performance in terms of resistance to weather.
The pergotenda's base, consisting of a pergola, is available on the market with many different configurations of the pillars: in aluminium with great sturdiness and a contemporary look, and timeless wood for those looking for a warm and natural environment.
Compared to other covers for exteriors, the pergotenda models create more classic environments that recall the elegant pergolas of the past, with climbing plants and flowers, particularly suitable for summer terraces offering protection from the sun and the action of UV rays thanks to a retractable folding cover, easily opened and closed with mechanical or manual systems. However, they are not the best solution for environments where there is a great deal of snow for many months of the year. This type of pergola can be either freestanding or attached to an existing wall, but there are also light and simple models that do not require pillars on the ground, as in the case of Pergotenda® Arko.
Corradi Pergotenda®: the patent that created a new market
Before 1998 there was no mobile product with a folding cover, a Corradi patent for all models, which actually created the outdoor market and that despite the years is still considered an innovative solution that is highly valued, for example, in France. For this reason, today the term pergotenda refers improperly to the general product category, however Pergotenda® is a Corradi brand that is not only a name but also attests to unique technical specifications.
For example, the Corradi Pergotenda® canvas can have many possible configurations that vary according to specific needs:
Taut canvas - the default solution.
Slack canvas - the configuration that allows water drainage even without a slope.
Curved canvas with curved tubes - for even more efficient water drainage for flat solutions, even for large-sized structures.
Taut canvas with spacers - which can in turn be configured according to specific needs thanks to the positioning of the spacers, adapting perfectly to any setting.
Slack trapezoidal canvas - perfect for those who need unilateral drainage and a refined design.
In general, pergotenda models like the Corradi B-Space allow the coverage of even very large surfaces while maintaining great stability, a trait that is particularly interesting for the commercial sector.
After all, as the American designer and architect Charles Eames said, "Recognising the need is the primary condition for design". Having seen the differences and characteristics of the different types of covers for exteriors, it is now up to you to imagine your own wonderful outdoor space and to make it become a reality, with Corradi.