Nice weather is coming: how to furnish a garden in spring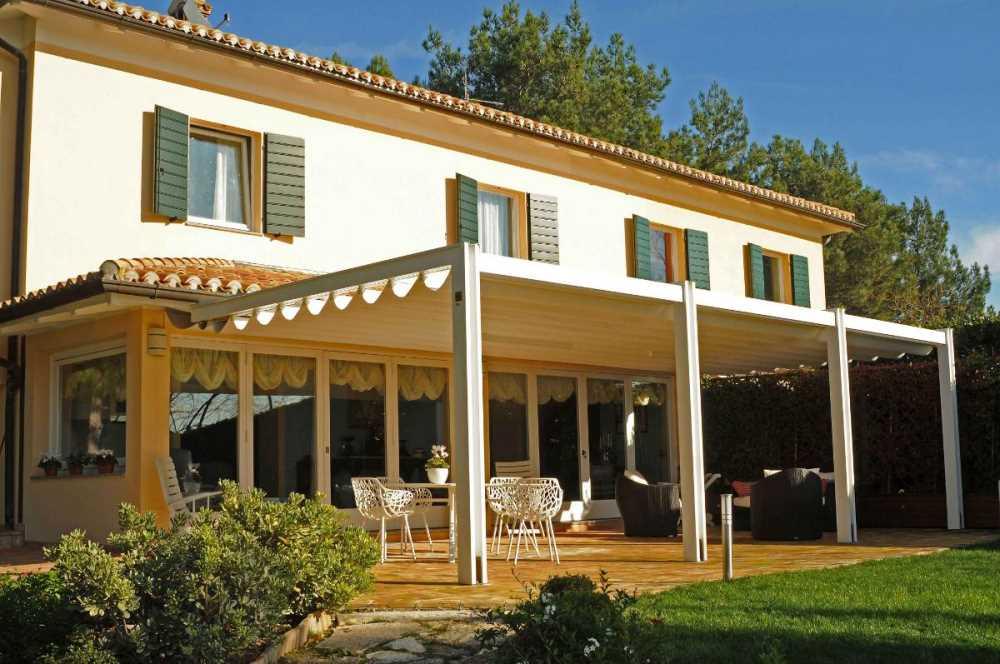 We have just been through what is probably one of the most severe winters of recent years. Now that Burian, the snow and the Siberian temperatures are just an icy memory, we can finally welcome the coming of spring. And what better way than to plan how to furnish a garden in spring?
Here are some tips, with the trends of 2018.
How to furnish a garden in spring: ideas and tips to make the most of your outdoor space
The garden: a living space
Long gone are the times when the garden was seen as a distinct entity separate from the house, today it is seen as an integral part of the home, an open-air room, a place where you can spend time relaxing or enjoying yourself with family and friends.
For it to become a true living space en plein air, it is necessary to dedicate some time choosing the style that best suits your needs, harmonising with your tastes and personality. So unleash your creativity and imagination without neglecting the current trends: what are the colours and materials that will be most popular in 2018? Which outdoor furniture should you choose to create a unique environment?
Let's discover the truly unmissable trends of this new year together.
Celebrate nature as it returns to its lush beauty
Who hasn't dreamed of being able to relax surrounded by the greenery of a lush garden, dotted with the bright colours of flowers and inundated with the fragrance of wild plants? A small corner of paradise surrounded by nature and far from the stress of everyday life: this is the new idea for outdoor spaces in 2018. So when deciding how to furnish a garden in spring, let's forget about the perfect lawn, all orderly and linear, and instead let plants and flowers grow in a more spontaneous manner without sacrificing the harmony of the whole. If you have enough space, a trendy idea is to cultivate some medicinal or aromatic plants. Lavender, for example, with its refined and penetrating fragrance evoking the fields of Provence is perfect for those looking to create a comfortable atmosphere. Also, what better chance to add Ultra Violet, the Pantone colour of 2018 to your outdoor space?
Other personal touches for your rustic garden? Vintage vases in terracotta or porcelain that fit perfectly with the surrounding environment.
Garden furniture: spring is vintage
If you have an attic or a cellar, it is probably time to find out if there are any treasures hiding among the old furniture and objects in storage. Indeed, the watchword of the year is "reclaimed", but with style. In fact, the trend for 2018 is outdoor furniture that is sophisticatedly retro, vintage yet refined. A perfect example of this trend are garden seats made of natural materials with cushions that are solid or patterned, damasked or chequered.
Lighting also plays a fundamental role in bringing to life the chic and romantic atmosphere that we are looking for: all you need are a few lanterns, a designer lamp or LED lights integrated into the most modern and innovative outdoor solutions to obtain a result that is simple yet enchanting. Solar-powered lights are an eco-friendly alternative: elegant and self-sufficient, they recharge during the day, and during the night they provide a bright light without being too intense. The perfect lighting for an evening with that special someone or a pleasant moment to spend alone or together with your loved ones.
To make your outdoor space truly comfortable, you could opt for an outdoor covering that protects against the inclemency of the weather and looks elegant. How? Aluminium bioclimatic pergolas are the ideal choice if you want a designer product that is both practical and functional.
Colours that make spring explode
Spring means liveliness, both in nature and furnishings. So a simple, elegant and refined style needs to be enlivened by splashes of colour, especially the furnishing accessories. For 2018 garden furnishings, in addition to Ultra-Violet you can add some green, yellow and, in particular, orange-red. Without of course forgetting the great classics: in fact, mixing the neutral shades of white, beige and wood with bright and brilliant colours will create a harmonious mix that is extremely satisfying to the eye. One of the most popular trends of the season are tables and seats in treated and coloured aluminium: very lightweight, fun and featuring a designer look.
The choice of materials: a long-term investment
The choice of materials is critical because they must go perfectly with the surrounding environment: only in this way we can truly immerse ourselves in nature and fully enjoy a cosy living space. The trends of recent years have centred on natural materials like teak and other tropical woods as they are solid and durable. Alternatively, there are innovative synthetic materials that replicate the features of natural ones but are more resistant to atmospheric agents: polyester-based technical fabrics (particularly suited for covering sofas and cushions), plastic materials that are extremely easy to clean, and treated metals like aluminium and copper.
Whatever the choice, a careful selection of materials for outdoor furniture and the evaluation of an adequate perimeter closure for the cover to protect the environment are a great long-term investment. In fact, with the right care the beauty of furniture will last for a long time.
Knowing how to furnish a garden in spring helps to live in harmony with the external environment, especially in the warmer months. For this reason, we would like to give you one last piece of advice: get ready for the summer months by preparing cool and cosy shaded areas, opting for refined and simple design solutions like sun sails to create truly unique settings.