What are the pros and cons of a homemade outdoor space?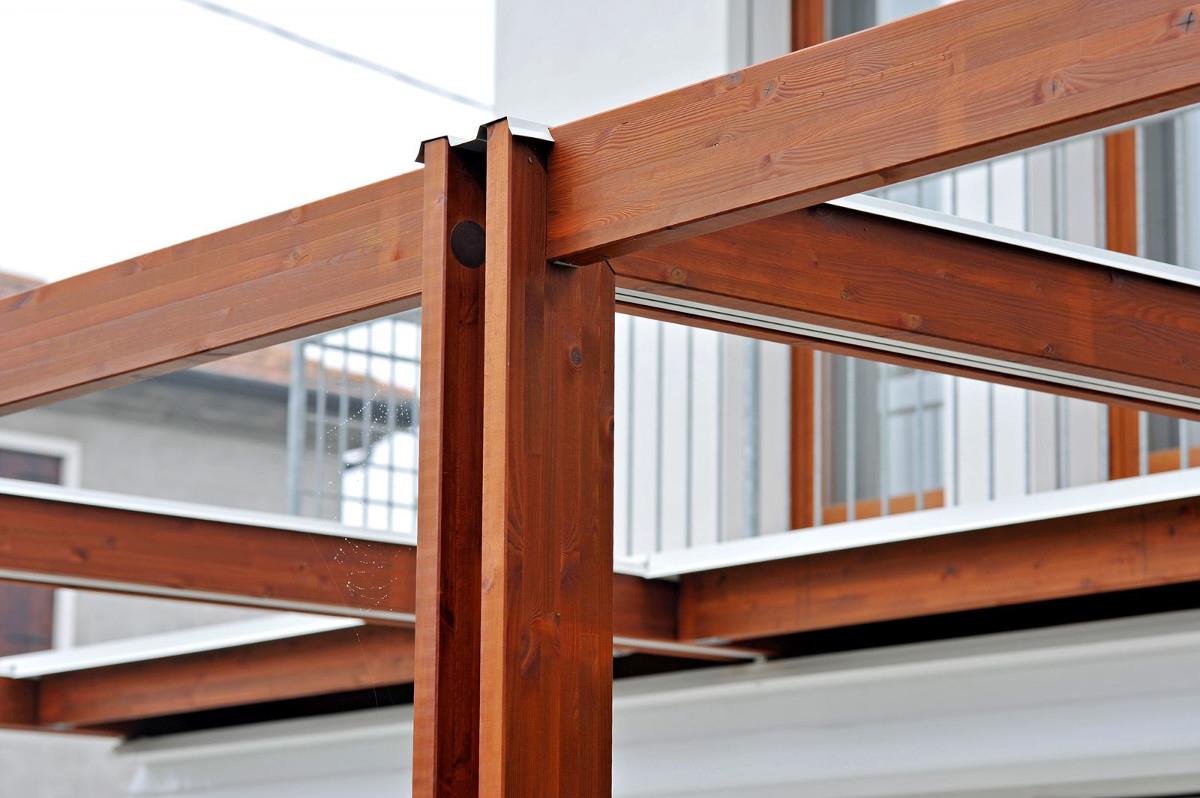 A well-organised and properly protected outdoor space offers many advantages, most importantly the possibility of having extra space to enjoy a multifunctional environment to be used many months a year.
Of course, to enjoy your outdoor space it is essential to create a sheltered area by setting up a cover – like a pergola – that can protect against the sun and bad weather. Since this is usually a small structure, in particular in the home sector, and built for the exclusive purpose of creating a shaded area without affecting the surrounding landscape, many people decide to opt for a DIY pergola, without contacting specialists in the industry.
Building your own pergola by yourself, by getting the materials and choosing the decorations, can give you a lot of satisfaction, but it is a complex and expensive job with many hidden pitfalls. Let's look at the pros and cons of a homemade outdoor space.
DIY pergola: advantages and disadvantages of a homemade outdoor space
Before designing your own outdoor space, you need to consider many practical, aesthetic and economic aspects, starting from the assessment of the advantages and disadvantages of a homemade pergola.
The appeal of "do-it-yourself"
Surely the idea of building a pergola with your own hands can seem very tempting both for the satisfaction when the work is completed and because it allows you to unleash your creativity. Deciding where to place the pergola, designing the cover and choosing the materials are the fundamental steps to creating the structure of your dreams, which perfectly reflects your desires and personal needs.
Also, knowing how to choose the right materials is essential to being able to build a pergola that is not only beautiful from an aesthetic point of view, but also durable over time. A DIY wooden pergola, for example, has the advantage of being elegant and adapting naturally to the surrounding environment, but you must remember the need to plan for inclement weather conditions and, in general, to perform constant maintenance over time. Choosing a DIY aluminium pergola, on the other hand, is easier in terms of maintenance thanks to the special durability of this material. In contrast, it is not recommended to try to build a masonry pergola if you don't have the necessary experience and expertise.
The joy of sharing
The building of a DIY pergola can also become a special moment of sharing to spend with your closest friends or with some family members: what better occasion, for example, to teach your children the value of something built with your own hands and of the time spent together?
However, even if you are a DIY enthusiast, it's good to keep in mind some "do-it-yourself" pitfalls, in order to avoid nasty surprises, by choosing the best solution for your needs.
A significant investment in terms of time and money
Even if the idea of a DIY pergola is tempting, it could actually prove very difficult to build without relying on a professional. The construction of a pergola requires special skills, starting from the choice of materials, which must be of excellent quality. Moreover, the work and daily commitments make it difficult to be able to find the time for such a difficult design, especially for those unfamiliar with this field. In other words, it might not be worth it.
The risk of making bad choices
Which materials best suit the environmental conditions? How to position the pergola cover so as to facilitate or shield the entry of light? Which type of structure best complements your home and is in harmony with the landscape? All these questions might not be answered (or answered incorrectly) if you are not an expert in the field. The choice to opt for a DIY pergola could prove to be a real disaster without the right knowledge, with a risk of more lost time and, above all, money, if you are forced to redo everything from the start.
Contact a professional: quality is guaranteed
Therefore the work of a professional in the field ensures a stable and practical pergola, suitable, certified and high-quality materials, and the work done in a short time. Initially, the choice of a DIY pergola might seem economically advantageous; but a long-lasting product represents a long-term investment able to cover the cost of qualified workers. Without forgetting that in the event of modifications or customisations after installation, a product made by specialists often has readily available compatible accessories, closures and decorations that cannot be easily found for DIY models.
Corradi Pergolas: designed for your dreams
Who says that buying a product instead of building a DIY pergola limits your creativity? Corradi is the ideal partner for an outdoor space designed according to your wishes. In fact, by offering support from design to construction, we take care of your needs and wishes, producing fully custom solutions. The wide range of models, colours, materials and accessories, but first and foremost thecustom-made approach for maximum personalisation, allow you to use your imagination and still enjoy a quick and efficient result.
So, why not take a look at all the Corradi products and start dreaming about your outdoor space?