Warm up your outdoor space: ideas for outdoor living, even in winter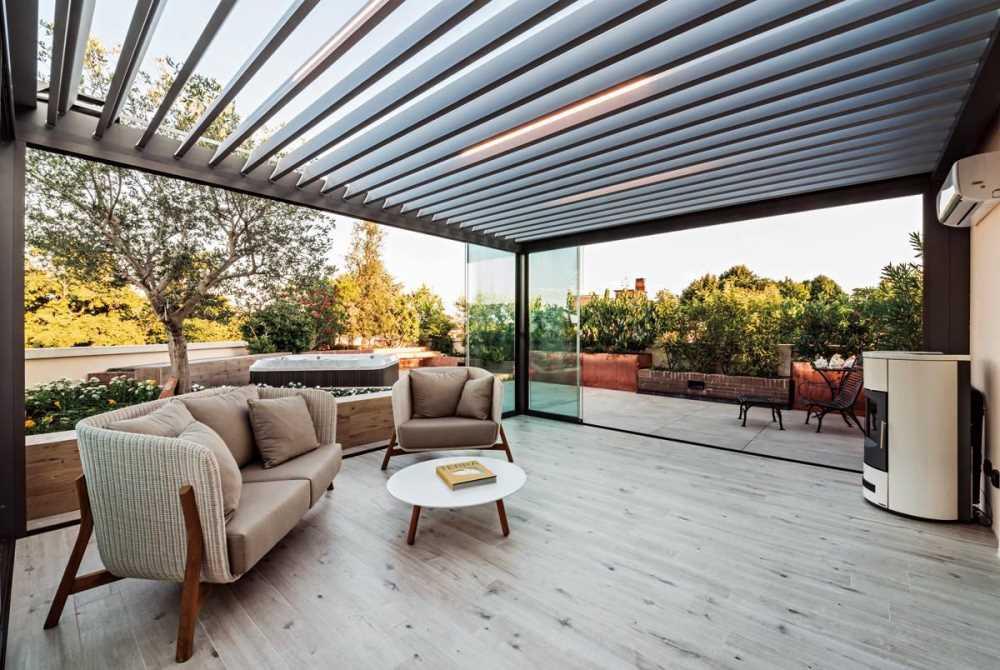 The veranda is an intimate environment, a wonderful space that deserves to be enjoyed all year round. While in the summer it can become a place where you can find shelter from the sun without giving up the benefits of the open air, during the cold season it is necessary to take a few steps to make the veranda an outdoor space that you can fully enjoy many months a year. In addition to using PVC closures, the right outdoor heating system will make your veranda a usable and – above all – comfortable environment, even during the coldest days.
So let's take a look at the most suitable solutions to create a wonderful heated veranda for the winter.
Heated veranda: different types for specific needs
To choose the type of heating to be used for your veranda you need to carefully assess the characteristics, in terms of functionality and design, that best fit the specific needs of the outdoor space you want to create. A glassed-in veranda will more easily hold the warmth inside, giving your home a chic touch, but you can create comfortable heated corners even in an outdoor space with other types of closures or even left open, perhaps just a small space, based on your needs.
A heater: a versatile and functional solution
Thanks to a wide selection in terms of type, design, shapes and colours, a heater is probably the solution that best suits any type of environment.
If for your heated veranda you want a type of heat that is intense but localised, the ideal option is a gas heater, especially a standing patio model. This type of heater, usually equipped with wheels, is easy to move and heats up the space rapidly, allowing you to quickly heat up the veranda. If, on the other hand, you need an intense but widespread and continuous heat, we suggest you opt for a pellet or wood stove, better if equipped with a flue. In addition to being an eco-friendly solution, with its elegant design and live flame this outdoor heating system gives the veranda a whimsical atmosphere. So you can enjoy an enchanting winter scenery, maybe even surrounded by a snowy landscape, comfortably seated in your veranda and embraced by the warmth of the flame.
To design a modern and innovative heated veranda, it is advisable to use a radiant surface stove able to spread heat through a metal mesh quickly and evenly. Objects and surfaces are fully irradiated, creating a heated environment from floor to ceiling without any heat loss. This outdoor heating system is also an aesthetic choice. In fact, there are radiant panels that can be applied to the wall and that become artwork, reducing the amount of space occupied and becoming a design element.
Fireplaces and braziers for a scenic effect
Fireplaces with a traditional built-in structure and mobile braziers with a smaller footprint can be of two types: wood or bio-ethanol. Wood fireplaces and braziers offer the possibility to safely light a fire, creating an extremely natural effect in the veranda. Whether you are reading a good book or surrounded by loved ones, the timeless charm of the fireplace will turn any occasion into a magical moment.
However, they require ventilation or a chimney, which must be maintained and checked periodically.
On the other hand, with a more modern and elegant design are bio-ethanol fireplaces and braziers that produce a real fire thanks to the combustion of the liquid, and allow heating by radiation.
Both solutions are suitable for making your heated veranda a welcoming, intimate and comfortable environment thanks to a not excessively intense but pleasant warmth that will also look spectacular.
Electrical appliances and heat pumps
The use of equipment like electric space heaters and infrared lamps provide quick, intense and localised heat, but with a very high energy consumption and a lesser aesthetic impact compared to other outdoor heating systems. In fact, these are solutions that are often used for limited periods of time, for example while waiting for the final design of the heating system or in the mid-seasons. Finally, a heat pump is a decidedly more sustainable choice in terms of energy consumption, guaranteeing a level of heat that is not too intense but widespread throughout the veranda.
Underfloor heating: an enveloping feeling of well-being
Choosing a type of heating that comes from below will heat the environment in an effective, uniform and enveloping manner, for example using the MARK III from Italywarm, a modular electrical floor heating system for outdoor use that exploits the natural flow of heat.
This solution, which does not require any special maintenance, offers the possibility of walking without shoes even in winter, an advantage that becomes truly comfortable if you choose wooden flooring. With this option you get a modern, functional heated veranda without stealing valuable space from your environment, which will therefore remain dedicated exclusively to your time and the outdoor activities that you enjoy most.
These are the solutions to create a heated veranda that you can relax in even during the colder months, transforming the outdoor environment into a space full of possibilities. For an efficient external heating system without any heat loss, it is always best to choose a perimeter closure suitable for this purpose. Corradi offers customised solutions able to meet multiple needs, like Magiko, the vertical filtering protection in fabric, or The Glasses, sliding glass doors that guarantee maximum resistance to the weather and, at the same time, a wonderful outside view.
Minimum footprint, maximum comfort, pure beauty to be fully enjoyed.