Outdoor lighting: ideas and solutions for your outdoor wonderland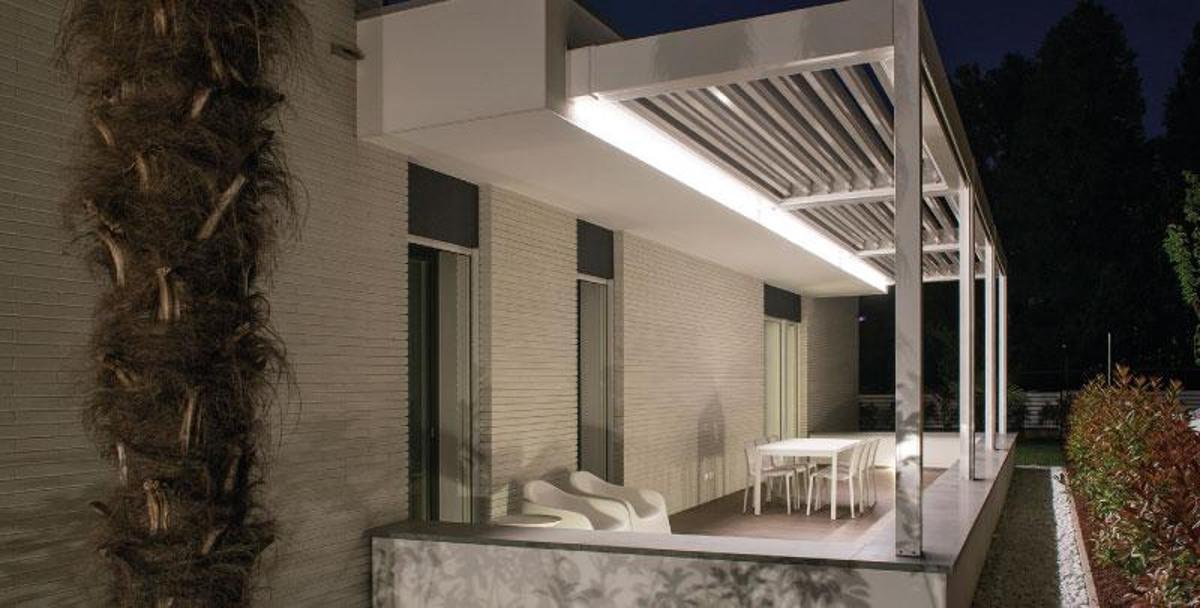 Living in the outdoor spaces of our homes also means being able to spend time together and relax during the evening, especially when the weather is nice. Choosing the right outdoor lighting is essential for enjoying your garden in all serenity, even after sunset many months of the year. This not just for the practical purpose of providing visibility at night, but also because a well-lit outdoor area is a safe one and therefore a place of true well-being. In addition, outdoor lighting can become a perfect decorative element if used to enhance the surrounding environment, its forms and its unique features.
Let's take a look at the key concepts and the most suitable solutions.
Outdoor lighting: tips for making the right choice
To create an outdoor lighting system that is both efficient and aesthetically pleasing, there are some tricks of the trade to remember and mistakes you should avoid.
Always keep in mind that the final result will have to give a feeling of well-being to those who experience it. Imagine yourself immersed in a cool summer evening, after the heat of the day has passed, reading a book or sitting at the table with your family, but also by the pool, ready for a party with friends. In these situations outdoor lighting is not just a detail but rather a fundamental element for creating the right atmosphere, which will be the setting for your most cherished memories.
Do you want to transform this vision into reality? First of all you have to identify the areas of the outdoor space to be illuminated, trying to eliminate any dark corners. Installing the right points of light is crucial for bettering the whole environment, making it evocative and welcoming. Always remember to add sufficient lighting for access points or walkways so that they are always visible at night, to facilitate movement and enjoy the outdoor environment throughout the year, always in maximum comfort.
Furthermore, to create an elegant atmosphere it is best to avoid lighting systems that are too intense: in fact, powerful sources of light risk ruining the ambience as well as bothering the eyes. Better therefore to opt for outdoor lighting that is not only efficient but also and above all discreet and balanced, without going overboard.
So let's take a look at the best solutions to choose from.
Which solutions to choose to light your outdoor space?
There are many solutions on the market for outdoor lighting, the important thing is to make your choice bearing in mind that each specific outdoor area requires a type of lighting that is appropriate to its function.
Illuminate pergolas, walkways and green spaces
To illuminate walkways, it is possible to opt for outdoor lighting on a pole, by installing some well-spaced garden lamps to avoid creating a daylight effect but still making the passage clearly visible. An even more discreet and elegant effect can be achieved by using path lighting that directly illuminates the ground, very useful for making pathways visible without dazzling.
If you want to focus on a specific area like a green space, a flower bed or a swimming pool, the ideal solution is to opt for spotlights on the ground, preferably with a beam of light projected upwards to mark off and enhance the area.
When lighting an external gazebo, you must first consider the function of the pergola. If it is used as a dining area it is best to focus a point of light on the table, installing a hanging light or a ceiling light. If, on the other hand, the pergola acts as a relaxation space, softer lighting will suffice.
The most practical, innovative and aesthetic solution is to take advantage of the lighting incorporated directly in the outdoor covers, usually LEDs or spotlights installed on the fixed and mobile parts of the pergola. This is what Corradi proposes in numerous models of bioclimatic pergolas and Pergotenda®: for example Ray is the warm and adjustable light fixture that can be used on the Pergotenda® inner perimeter or bioclimatic pergolas, as well as applied on pillars.
LED lights and solar energy
When choosing garden lighting, your options include increasingly popular LED outdoor lighting - even offered by Corradi - and lights powered by solar energy. Thanks to its extreme versatility and efficiency, LED technology lets you make the most of the outdoors, creating customised solutions. Moreover, it is a highly sustainable choice, both in terms of energy savings and environmental impact.
A solar energy lighting system, on the other hand, eliminates any problems related to installation as it doesn't require any wiring.
Outdoor lighting offers a wide range of solutions to make the outdoors cosy and welcoming even in the evening, in full harmony with those who are enjoying it and with the surrounding nature.