Corradi Days to celebrate Corradi's 40th birthday, starting May 26th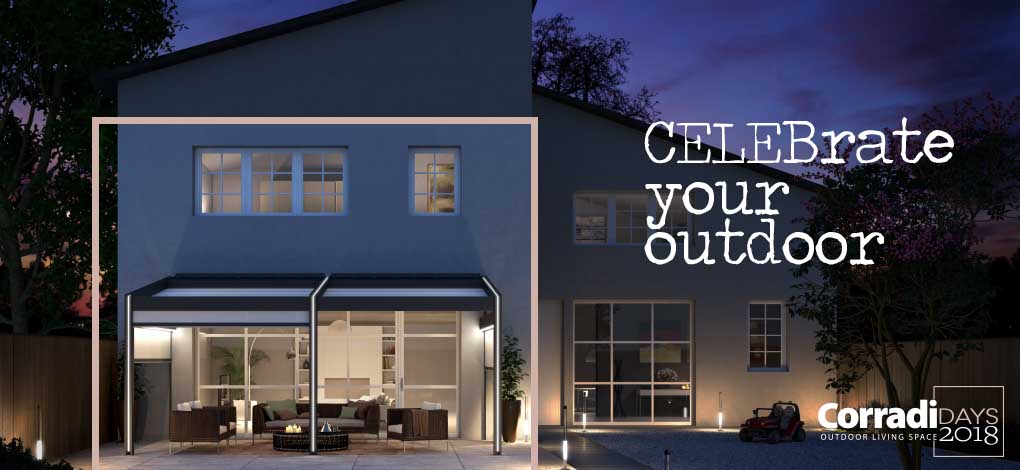 The "Corradi Days" are back: it's the event organized in Germany and Austria that keeps on gaining success year after year.
13 Master Dealers involved for an Open Day (on May, 26th), to know all the Corradi news - such as Pergotenda® Millenium® Celeb - and to discover the dedicated promotions on lights, bicolor and vertical closures, valid until June, 2nd .
We give space to your time to give space to your life.
Discover Corradi with the participating Master Dealers:
Germany
Austria
EISENHAUER METALLHANDWERK &
Überdachungssyteme Zehentweg 5
6837 Weiler
Austria
T (+43) 664 435 41 56
E office@eisenhauer.co.at
STARMANN Sonnenschutztechnik GmbH
Laudonstraße 18-20
9020 Klagenfurt
Austria
T (+43) 46342581
E sonnenschutz@starmann.at
SUNHOUSE WINTERGAERTEN GMBH
Leithenstrasse 41
4614 Marchtrenk
Österreich
T (+43) 7243 583420
E office@sunhouse.at