Corradi Warranty: 100% coverage for the entire duration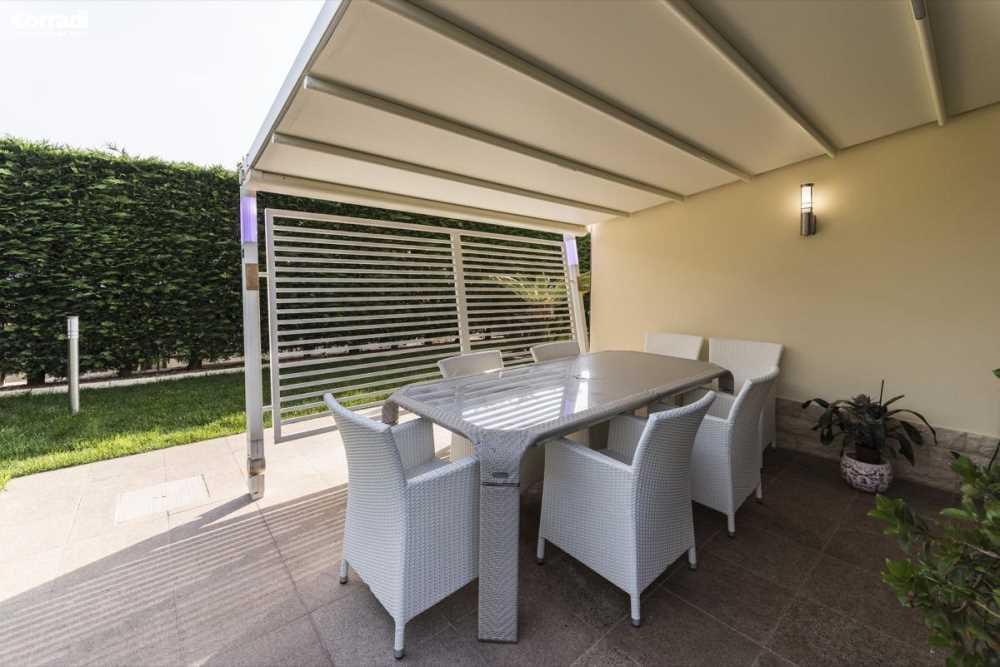 A beautiful outdoors, like a beautiful living room, needs care. In fact, to truly experience the spring, enjoying its beautiful colours and perfect temperatures, you'll have to choose the outdoor cover carefully, perhaps letting yourself be inspired by some case histories of excellence. So your choice should not just be guided by design and functionality, but also how much time you can devote to the care of your outdoor space and its various maintenance needs, to buy a product that can satisfy your desires and accompany you for many years.
But what are the elements of an outdoor solution that are most subject to wear and tear, and what are the terms of Corradi's warranty?
Routine maintenance: what are the differences between wood and aluminium?
Choosing between a wood or aluminium pergotenda is not just a matter of aesthetics because the two materials are quite different. Wood is a natural element capable of conveying great warmth to the surrounding environment. On the other hand, it needs to be periodically treated to protect it from the wear and tear of UV rays, washing it with a mild soap and then using a water-based impregnating agent. Aluminium, on the other hand, does not require any special maintenance, as it is an extremely durable yet lightweight material.
Since 1978 Corradi has been building customised outdoor solutions, starting from the selection of the best materials and the use of cutting-edge technologies to offer space to your time so you can live as you like. However, we know that time can leave its mark, so some elements used to build Pergotenda®, pergolas, bioclimatics and sails need more care because they can be worn by weather conditions in the long run. Some examples?
The runners, which require periodic maintenance.
The gutter, which can be subject to water seepage, but also clogged drains making it is necessary to eliminate leaves and other debris.
The fabrics, which must be cleaned regularly to prevent dust and smog from sticking to them and producing unwanted mould.
The false ceiling, which if present should be periodically dismounted and washed.
It's true that care is needed, but Corradi – committed every day to having satisfied customers – has thought of everything, choosing to provide unique support to those who buy a Pergotenda®, Bioclimatics or Sun Sail with a special non-prorated warranty.
Corradi non-prorated warranty: how does it work?
Corradi's warranty is not prorated, i.e. it is 100% valid for the entire stipulated duration, usually 5 years for wood and 10 years for aluminium. The warranty, which remains valid if the conditions of installation and use specified in the user manual of each product are respected, includes the repair or replacement free of charge (excluding labour) of all components that may be found to be non-compliant or otherwise defective. A real benefit and one more reason to choose Corradi, a partner that talks every day to architects and designers and is able to assist the customer every step of the way, from the development of the concept to the executive design, production and after-sales service, even for special projects.
This is what Corradi offers in ordinary situations, i.e. in case of rain, wind and snow, excluding cases of natural disasters or extraordinary events like storms or hurricanes. In fact each product and its configuration are guaranteed for a certain maximum load per square metre and for a specific class of wind resistance, which derives from having subjected the product to strict laboratory tests according to European standards.
However, simple yet proper maintenance is always necessary, fundamental for enjoying an outdoor space equipped in a practical, beautiful and elegant manner. So we want to reveal some tips to take care of your outdoor space:
The runners should be carefully washed internally with a jet of water, and in areas not particularly exposed to salt or smog it is advisable to remove all traces of dirt and/or salt deposits with a brush once a year, or once a month in areas that are more exposed to these elements.
The stainless-steel components must be rinsed with a jet of water to remove all traces of dirt and/or salt deposits once a year in areas not particularly exposed to salt or smog, or once a month in areas that are more at risk.
The painted aluminium profiles must be cleaned with a soft cloth dampened with water and mild soap (taking care not to use acids). Here again, once a month in areas directly exposed to salt and smog.
The gaskets must be checked every 6 months to verify their perfect operation, and if necessary, reposition any gaskets that have slipped out of position, also periodically checking the state of the silicone seals.
Finally, if the sliders are squeaking, have them lubricated by Corradi authorised technical personnel.
Moreover, it may be useful to remember that the components of outdoor covers vary according to the model, so there are specific maintenance operations for each product detailed in the User Manual that is delivered after installation. For sun sails, for example, Corradi suggests checking the integrity and connection of the cords four times a year, not to mention the smooth sliding of all moving parts, and removing leaves and other debris that may block their movement.
For Corradi, responsibility and safety are two essential values that allow us to improve every day, to give space to your time that is both protected and pleasant.