Milan Design Week 2019: 3 is the perfect number for Corradi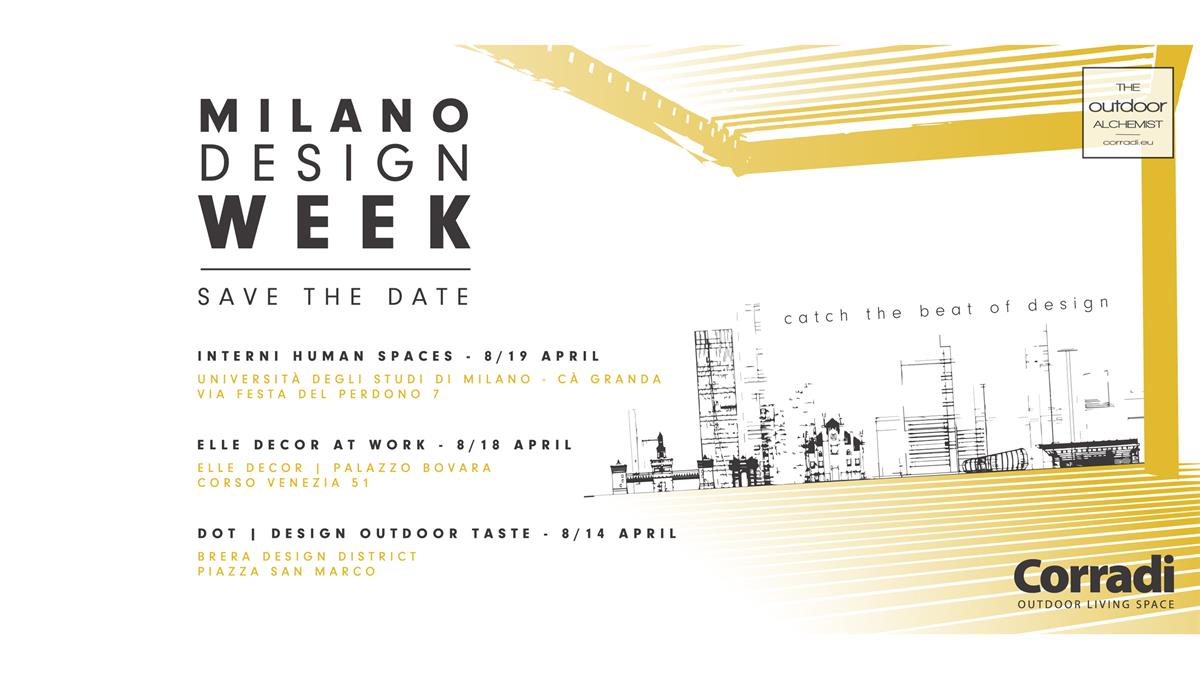 Corradi embraces the philosophy behind the Milan Design Week once again: 6 days during which the Italian metropolis will be the undisputed center of the world for architecture and design.
Milano Design Week 2019: Corradi expositions at 3 exclusive locations
Corradi returns for the third consecutive year to Palazzo Bovara with Elle Decor, to investigate and discover together the evolution of the needs in terms of interior and outdoor design. This year the focus will be on work spaces: the 2019 concept is Elle Decor at Work, focused on the evaluation of contemporary work and its spaces. Corradi will give its contribution to the project with 3 bioclimatic pergolas Maestro, in an original sage green color.
Also present at Milan University with Interni Human Spaces, the historical exhibition that will place the well-being of people at the center of the architectural thought, putting them in relation with the space they inhabit. The exposition aims to be an incentive, on multiple scales and project dimensions, to put human beings and their vital needs back at the center of design.
An idea in perfect alignment with the Corradi concept, focused on the importance of time: time to do things or to do nothing. Time to think. Time to free your mind. Time to live, alone or with others.
With these premises, Corradi takes part in the installation designed by Iosa Ghini studio, which chooses Magiko, a vertical closure with particularly innovative features, to complete its installation.
Moving then inside the Brera Design District, Corradi will once again be in Piazza San Marco for dOT – Design Outdoor Taste, whose concept, centered on a new green space, will be developed through the element, water, to celebrate the genius of Leonardo 500 years after his birth.
As a tribute to the inventor and artist, Corradi chooses to contribute to the green area by exploiting the charm and lightness of Defense, the nautical sun sail that combines design, elegance and functionality.
Lightness is then joined by protection, shelter, and an homage to technical design. In Piazza San Marco, therefore, there will be space also for Maestro: an hybrid version of the pergola will be composed partly of a sliding covering system (patented by Corradi) and partly of adjustable blades.
The structure is also equipped with a double closure system, with sliding glass doors and vertical filtering closures, combining personalization, Italian design and functionality.
In the same square, a bicolor Maestro in oxide red with white blades will complete the space.
For more information
press@corradi.eu
www.corradi.eu