Tips and tricks for cleaning awnings perfectly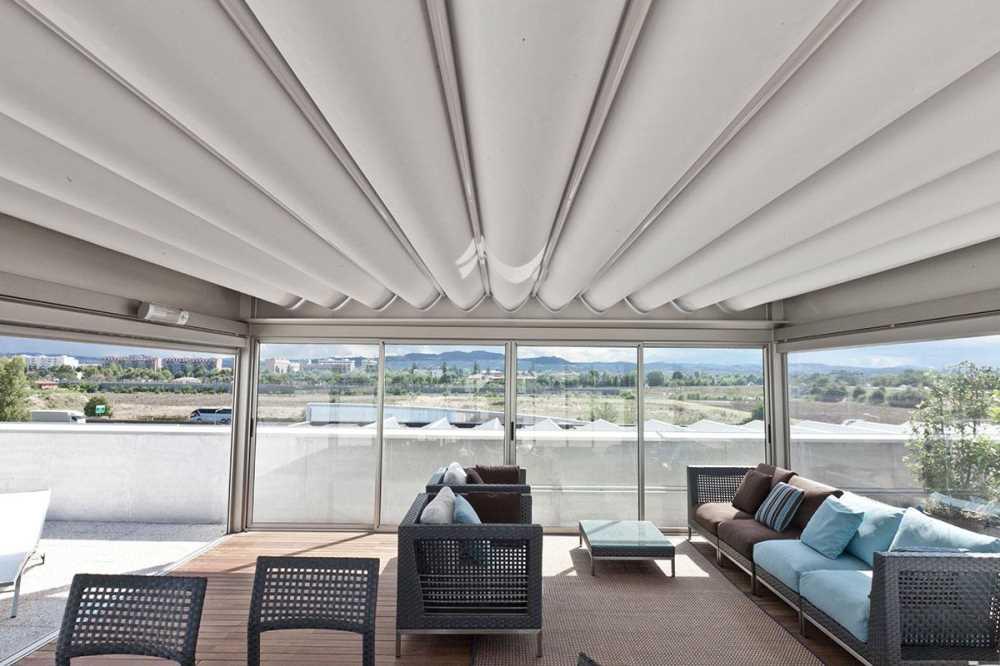 Outdoor covers allow you to enjoy your outdoor space for many months a year, creating precious corners for relaxing and pleasant shaded areas where you can protect yourself from the sun in spring or summer. Furthermore, today pergolas and garden sails are widely used to create hybrid indoor and outdoor environments where light and nature become part of a single domestic living space. If you have chosen an aluminium or wood pergola with fabric like Pergotenda® Corradi for your home garden or outdoor area, it will be useful to know how to clean the awnings on a regular basis to protect the canvas against mould and humidity, maintaining its performance and beauty over time.
Cleaning awnings: proper use for a renewed beauty
The technical fabrics used by Corradi guarantee high performance, but the canvas used in outdoor covers - exposed on a daily basis to the sun and the weather - are subject by their nature to certain risks, like small abrasions, folds or scratches, but above all humidity and mould, risks that can be reduced through proper maintenance.
A first general tip primarily concerns the winter, when in the event of heavy rain and exceptional wind it is preferable to keep the external structures open, with the canvas retracted, to preserve it and avoid damage. For this purpose Corradi models offer the advantage of special optional rain and wind sensors as well as the possibility to choose from different types of fabrics for the top cover, to always ensure optimal protection.
In fact, depending on the material, the fabrics have different characteristics and therefore different maintenance requirements.
Maintenance and cleaning of the canvas
To keep the canvas of outdoor furniture from being ruined by mould, it is always advisable to take care not to retract it when it is still wet and to treat it only when perfectly dry.
To keep it clean and tidy, our advice is to use a soft brush on a regular basis, while in the case of PVC-coated fabrics a sponge should be used instead of a brush to remove dirt, dust and pollen.
But how should we handle the different fabrics? Let's look at the differences in maintenance.
Acrylic
Until a few years ago, acrylic was the most used material for sun canopies on arms or in traction, canopies and fixed covers. It is resistant to the elements and is treated to be water-proof.
To care for your acrylic canvas use a soft brush on the surface before washing it with warm water and soap (mild, like Marseilles soap). You will then have to rinse thoroughly and allow the canvas to drip dry without using electric tools or ironing.
Polyester
Polyester is a more innovative fabric and therefore used more frequently for outdoor coverings. In fact it performs better than acrylic in terms of durability and protection against the effects of sunlight. In addition, it is water-proof and does not require any special care: for cleaning you can follow the same instructions as for acrylic canvas, first using a soft brush and then washing with warm water and mild soap.
One of Corradi's polyester fabrics is the innovative Eclissi, which is standard on all Pergotenda® models, a water-proof canvas able to guarantee a considerable reduction of the heat produced by sunlight in addition to shielding against the sun's rays. The Corradi range also includes LAC 650 SL, a PVC-coated polyester fabric that is extremely reliable in terms of protection against sun, rain and wind, but it is also possible to choose other technical fabrics like:
Stam 6002, a tough polyester coated with PVC that is extremely soft, fireproof, darkening and presents itself very nicely.


Soltis 86 and Soltis W96, fabrics that are resistant to weather and UV rays capable of protecting against the heat, the W96 version also being waterproof. To clean Soltis 86 and Soltis W96 awnings we recommend using a damp cloth or brush, or even a low pressure water jet with cold water, while the only solvent allowed is alcohol (1 litre diluted in 10 litres of water).


Precontraint 502 Satin, a polyester with a PVC layer lacquered on both sides. It offers durability and long-lasting performance, allowing great architectural freedom and unique characteristics like translucency and extreme softness in a wide range of colours.
These are the main tips for cleaning awnings, without forgetting that good maintenance also requires proper ventilation of outdoor spaces. In fact, good ventilation - achieved by opening sliding windows or veranda closures several times a day - lowers humidity levels and thus prevents condensation, which can be especially detrimental to PVC fabrics.
Proper maintenance of awnings keeps them looking their best, making the experience of living outdoors even more enjoyable, don't you think?