Five ideas for creating an original, elegant outdoor kitchen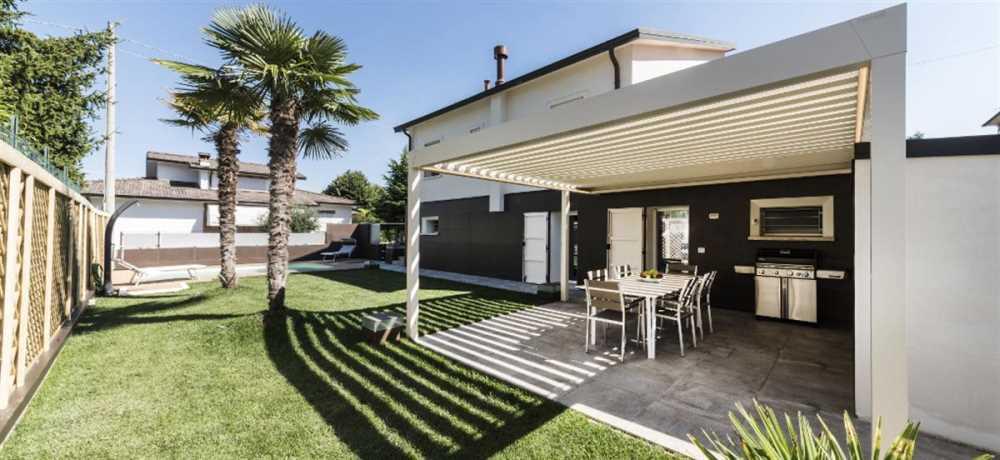 Daytime exterior: A table is set for lunch under a blue sky. Close by, the stove is on and a delicious dish is browning in the oven: everything is ready for a day spent outdoors.
In fact, an outdoor kitchen is a trend that combines the functionality and design of the cooking area with the wide range of possibilities that outdoor spaces offer. Let's take a look at some ideas of how to design a kitchen of this type.
Outdoor kitchen: all the versatility you need
An outdoor kitchen offers some advantages, like having a comfortable designer environment outdoors and avoiding having to travel back and forth between the house and the garden to serve food, especially when there are guests who want to enjoy your company.
Let's go over the most important aspects to consider before starting your project. To start with, it's good to ask yourself what kind of kitchen you want to design. For example, consider if you want it to be complete with every element – stove, oven, refrigerator, freezer – or if you just need a few details, like stove, worktop and a corner grill or barbecue to be used in summer for quicker meals.
When making this decision you need to reflect on your cooking habits and on the type of foods that you will be enjoying in the garden. For example, those who love to barbecue can set up a grill, pizza lovers can install a wood-burning brick oven, and people who enjoy cocktails and long drinks can create an outdoor bar.
After this careful assessment, which is also useful for defining the necessary spaces, it will be critical to add a covered area to create a live-in veranda, taking advantage of the benefits and versatility of a Pergotenda® or a bioclimatic pergola.
Whatever your choice, whenever building an outdoor kitchen don't forget to carefully consider the design of systems, flues and drainage, talking it over with an experienced professional.
How to furnish an outdoor kitchen: 5 ideas for success
As in an indoor kitchen, the fundamental elements to be focused on outside are functionality and the design of lines and spaces, to create an environment that is just as useful but with all the extras that make staying outdoors possible.
Here are some tips for furnishing an outdoor kitchen, being as practical as possible without ever sacrificing elegance and originality.
Rustic style, for those who love tradition
Visible brickwork, a wood-burning oven, areas tiled with glossy white ceramic tiles with a retro-chic taste: a rustic outdoor kitchen fits well in a Provençal outdoor style, for example, where the colours of nature blend with warm, welcoming tones.
You can choose to combine modern appliances with clean, minimalist steel lines, terracotta and ceramic furnishings, copper pots and cotton tablecloths to be laid on a large wrought iron table, contrasting old and new.
Nordic style: bringing the hygge to the table
Light-coloured wood, white furniture, colourful rugs with geometric lines, a trestle table and discreet, linear outdoor lighting elements. These are the essentials needed to create an outdoor kitchen with a Nordic style enveloped in a hygge ambiance, a Danish word that expresses a sense of comfort, security, hospitality and familiarity in an intimate, refined setting: perfect with hanging coloured cups, glass jars with infusions and herbal teas, ornamental plants and decorative ivy to create a delightful corner of relaxing intimacy.
Latin inspiration
The colours and scents of Spain and South America can create perfect accents for an outdoor kitchen, choosing the shades of yellow, blue and white and favouring materials like terracotta, plaster and walls painted with lime. For example, an outdoor fireplace fits perfectly in a Latin-inspired kitchen, giving you a place where you can warm up on cool evenings. Such an environment lends itself to being furnished with succulent plants, azulejos and souvenirs from far away places that jangle under the stars.
A modular kitchen
This solution is ideal for those who want to create a very informal outdoor kitchen that is not too limiting from an architectural point of view. Indeed, there are some types of modular kitchens where each element is independent. The structures are light and versatile, they can be placed side by side at will and, if necessary, they can be moved elsewhere or combined in different ways. In fact, no piece is fixed, greywater is collected and then disposed of and the power supply is electrical. A modular outdoor kitchen guarantees maximum freedom and...maximum creativity!
A chic flair
If there's a swimming pool in your garden, why not complete the space with an outdoor kitchen and a nearby cocktail bar? This solution will allow you to fully enjoy your outdoor area without having to go back into the house to cook, instead giving you the chance to prepare food for your guests (or with them), who in the meantime can enjoy a drink by the pool. In fact, a bar near a swimming pool is a must for a relaxing aperitif.
As mentioned, whatever solution you want for your outdoor kitchen, it's important to assess the architectural setting of your garden or terrace.
For example, you could opt for a Pergotenda® Maestro, a full optional aluminium model, also available in a bioclimatic pergola version with adjustable blades, or for the Alba bioclimatic pergola, which combines contemporary design with important details and that will allow you to create a welcoming environment with minimalist, refined architecture.
There are many possibilities to make the most of this area with solutions by Corradi: all you have to do is choose the style that best reflects your taste to enjoy every corner of the outdoor area.