Provençal style: making your outdoors chic!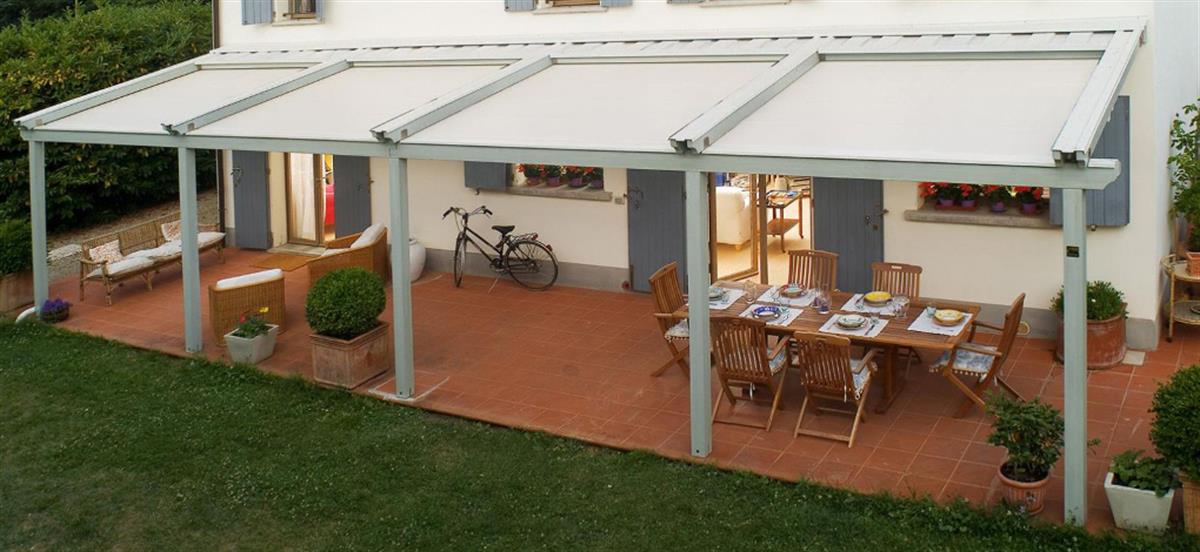 Ancient origins, a love for the land and its fruits, time that passes slowly, the heady scent of flowers, colours that recall the paintings of Cézanne, Van Gogh and Monet, the search for a romantic, harmonious nature: we're talking about the long tradition of gardens in Provence, in the south of France. A tradition that has been able to go beyond the simple decorative element, turning into a way of thinking and living outdoors every day, in search of simplicity and spontaneity.
Those who love a slow-paced life and believe in simplicity to spark great emotions cannot help but be inspired by French influences. It isn't necessary to live in France to recreate that same effect, all you need are a few key elements. Following are some tips on how to furnish a veranda with a Provençal style and add a little fragrance of lavender to your outdoor space.
Provençal taste: a refined style
Nice, Cannes, Grasse, Antibes, Cagnes-sur-mer: these cities are all located in the picturesque southern part of France, between the Rhône and the Alps. Along their streets you'll find many common features, like numerous parks, painted window shutters and endless expanses of flowers.
Provençal style is fresh and floral, focused on the simplicity of shapes and materials but without sacrificing refinement and classicism. The colours must recall the richness of that landscape so dear to the Impressionist painters.
How can you recreate it in your outdoor environment? First of all, be careful: simple does not mean unadorned. A Provençal garden requires careful attention to detail and a precise selection of nuances, materials and decorations. Not everything is acceptable. Are you curious to learn the secrets of this style?
Furnishing the veranda in Provençal style: be romantic
In seaside houses or country villas in Provence, pergolas and verandas play a central role in creating a balanced, harmonious environment for staying in touch with nature every season of the year. Your Provençal-style outdoor space should include a sheltered, intimate area where you can read a book or simply enjoy peaceful moments surrounded by the scent of flowers.
Wood is one of the undisputed protagonists of this style, so choose it as the preferred material, for example opting for a solution like Pergotenda® 45, romantic and absolutely perfect. The wood will elegantly add warmth and hospitality to your exterior, and thanks to sliding glass doors you can create an environment protected against the elements but still have an open view. Would you like to add something extra? How about a pergola covered with jasmine, wisteria or ivy. Climbing plants with their cascades of flowers will be able to give your outdoor space that enchanted, evocative atmosphere of a French garden.
Provençal-style materials and colours: elegant and natural
Influenced by the Mediterranean, the Provençal style seeks to restore a sense of simplicity and respect for the surrounding nature, so it's better to use a natural colour even for outdoor flooring. Other possible materials include terracotta and wrought iron, better if not painted (or at most lacquered white), used to make chairs embellished with coloured cushions, tables or lanterns to enrich your veranda and bring out the most lived-in and romantic aspect.
The colours, on the other hand, are those most dear to Impressionist painters, light and dark, as long as they are "natural". A dark base like evergreen vegetation with added vivid colours offers a perfect frame. From wisteria to lavender lilac, from white to ochre, yellow, bright green of vegetation, powder blue and shades of purple: whatever the colour palette, the watchword is harmony. The same harmony that is evident in the objects, which must have classic lines, be durable, yet at the same time simple.
Attention to detail: flowers, vases and lanterns
The essence of the Provençal style is the capacity to continuously enchant and surprise, sparking emotions in those who choose it. How do you do that? Thanks to a simplicity that is never taken for granted, and that in reality is rich in impeccable little details. To make your veranda truly unique flowers and aromatic plants are a must, especially irises, roses, rosemary and, of course, lavender, fresh or dried in a terracotta or ceramic vase, a symbol of Provence, which cultivates endless fragrant expanses of it. Complement your selection of plants with accessories like coloured cushions for chairs and sofas, glass cases and cabinets with a rustic, glossy style useful for storing gardening tools or kitchen accessories. Indeed, your veranda won't be complete without a table to set with tablecloths in natural fabric, like raw cotton finely embroidered with floral prints and pastel shades and porcelain dishes for your chic outdoor lunches.
By following these tips you'll be able to impeccably furnish your outdoor space in a Provençal style, creating an environment worthy of Van Gogh's famous The Garden at Arles. And if instead of the romantic elegance of the Provençal style you prefer something a bit more wild, like the landscapes painted by John Constable, why not opt for an English garden? Whatever you choose, let yourselves be amazed.