Much more than a courtyard: how to make a modern and trendy patio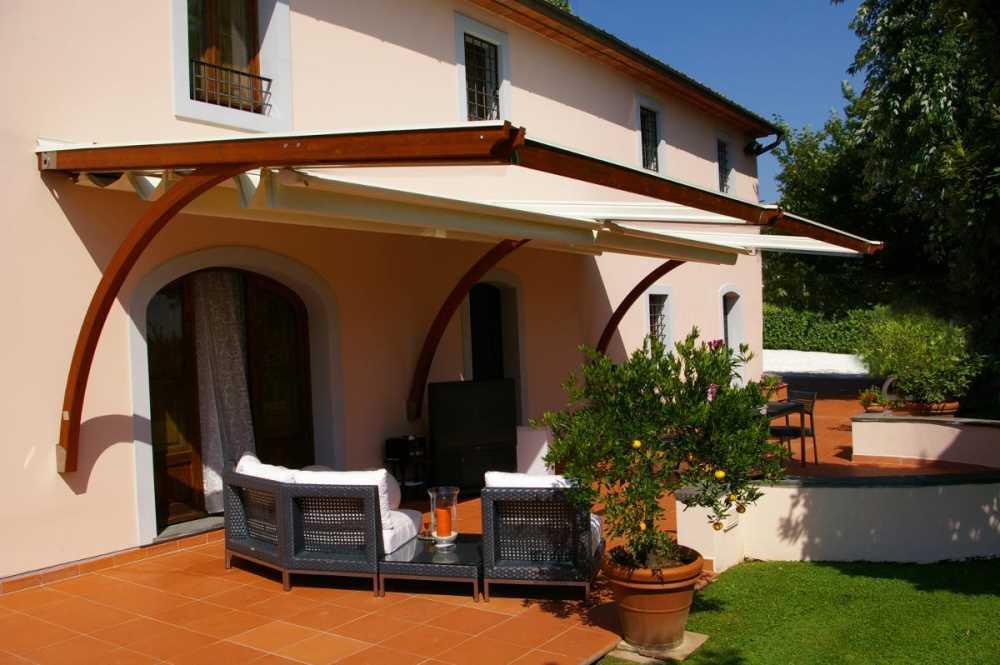 A villa in the countryside, a beach house or an apartment framed in the urban context: with an outdoor space available to be furnished, any house can become your true and only dream house. If you are lucky enough to have a nice patio, taking care of it is almost a must.
What do we really mean by patio? Originally it was the inner courtyard which was typical of Spanish architecture, with usually a well or fountain at the centre; as time went by the concept of patio widened to mean the part of the house located outside, in the garden or in the terrace, with direct access from the entrance or located in the middle of the house (courtyard).
A well furnished outdoor area, enriched with materials and colours that reflect the style of the house and embellished with some trendy elements will charm all your guests.
The solutions for making an amazing outdoor living area are many, but today we would like to suggest three styles you can copy that would make a spectacular modern patio.
Modern patio: three styles you can copy
The modern patio may have a permanent cover, such as a pergola, so it becomes a real veranda, or it may simply be furnished with outdoor furniture in order to have a delicious outdoor living area. Are you curious to see some examples?
Minimalist patio: essential is beautiful
If your patio is not that large, it is important to be essential when choosing furniture; in this case, the minimalist style is helpful since it allows realising very elegant outdoors, creating an illusion of spaciousness. Just a few elements chosen with the utmost care, then clean lines and neutral colours, all possibly illuminated by natural light, essential element for this particular style.
Even materials play an important role if we want to make a minimalist modern patio: tables and seats should be made of metal or natural materials, enriched with cushions coloured white, beige and grey, and placed on concrete or resin floors, rigorously patternless.
Nature is another fundamental element of the minimalist style: in order to create a green corner without occupying living space, the best solution is creating a nice vertical garden with climbing plants, and perhaps with a lattice matched to the accessories.
Country chic for a rustic and refined modern patio
Country chic recalls a refined style from the past, characterised by the presence of natural materials enriched with the softness of pastel tones. The furnishing of a country chic style patio must be practical and sturdy, like those we find in typical British country houses.
Wood is a must for obtaining the desired country effect, since it is a warm material that combines well with jute, linen and cotton, the ideal fabrics for the accessories.
A metal container or a wicker basket can turn into charming pot holders for aromatic plants, whereas a metal bench with floral print cushions will keep you company during the leisure times in the open air.
Finally, a nice wood pergola o porch will be perfect for covering your patio in truly country chic style.
Furnish your patio in Liberty style
The Liberty style was born in France as an artistic movement (Art Nouveau) between the end of the 19th century and the beginning of the 20th century.
Today furnishing the house or the patio in Liberty style means choosing luxury antique furniture. The charm of this specific style lies in the soft and rounded lines of the furnishing, decorated with ornaments and marquetries; the essential materials for a modern patio in perfect Liberty style are wood, painted white to enhance the mouldings, glass and wrought iron.
In order to make an outdoor Liberty living area, the ideal would be to use curvilinear wrought iron chairs and armchairs with padded cushions and brocade upholsteries, perhaps with a nice gazebo on top. One last touch? Illuminate the patio with Victorian style street lamp garden lights to create an evening magical atmosphere.
These are the main trends to copy to make a wonderful modern patio; but what about if we take a look also at the relaxing and captivating hygge style? A truly unique style to make your outdoors the perfect place for spending moments of wellness and hospitality.