Freestanding pergolas for an all-round outdoor experience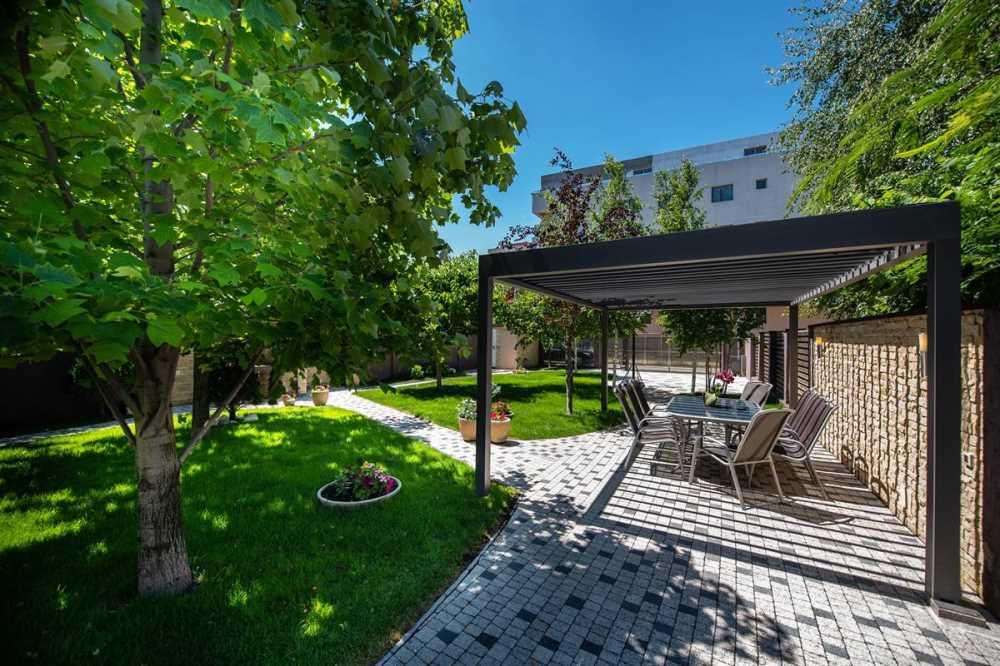 Those who are fortunate to have available spacious outdoor area, being it a private garden, a large terrace or open air sections of commercial activities, should not miss the opportunity arising from it.
What better way to add value to an outdoor space than the adoption of a wide scope solution? Wood or aluminium freestanding pergolas allow the creation of all-round outdoors, providing open air living areas, independent and separate from the main living premises. So let's see the features and benefits of this particular type of pergola.
Why choose a freestanding pergola for your outdoor space
Unlike wall-mounted pergolas which are an excellent space-saving solution, freestanding pergolas are the best choice for those who wish to enhance an outdoor space, especially when large surfaces are available. Needless to say that the space available must allow the installation of a 4-pillar structure and, especially in the contract sector, this enables to increase the capacity of premises and take advantage of unused areas, providing protection from atmospheric agents all year round, thus increasing one's business.
This freestanding solution features several advantages:
Being it an independent solution, the freestanding pergola allows the creation of an outdoor living area that extends from the related house or building or completely separated from it; this allows unleashing one's creativity and choosing a style completely different from the one indoor, and designing an absolutely original space.
Lastly, thanks to the shape of this particular type of pergola, it is possible to build also very large structures, capable of protecting not only outdoor living areas but also swimming pools and special areas of Spas and restaurants.
The installation of freestanding pergolas does not involve the capacity nor the style of the building's walls. Nevertheless it is important to make sure that the structure's supporting surface is flat and, especially for terraces, capable of bearing the weight of the pergola.
Freestanding pergolas differentiate in terms of the material of the structure, which may be essentially of two kinds: aluminium or wood.
Aluminium freestanding pergola
Aluminium is a solid and resistant material capable of combining design and elegance. Its extreme lightness allows to design essential and refined structures that combine well with almost any outdoor furnishing style. Aluminium freestanding pergolas may be considered an example of stability and since they are freestanding and large this translates also into safety. Among the wide range of Corradi products, Kubo is surely a modern and essential aluminium freestanding pergola, a Pergotenda® with a refined design, especially resistant to atmospheric agents, thanks to its rain water drainage system and ideal also for outdoor spaces of hotels and restaurants.
Wood freestanding pergola
Nothing makes us feel at home like wood. An organic and biocompatible material, wood is ideal for a pergola devised to bring comfort and warmth to a natural surrounding, even in environments with a more contemporary design. Even though it is very resistant to the passage of time and the inclemency of the weather, wood requires periodic maintenance, which on the other hand is not necessary in aluminium structures. For those who love wood's classic style and at the same time desire a highly resistant solution from atmospheric agents, the ideal choice is Pergotenda® 120: the perfect outdoor cover for a romantic spot or, why not, a relaxing area near the pool.
Modular freestanding pergolas
Corradi pays utmost attention to customers' needs and this is the reason why it strives to make projects which are really tailor-made; customization is a fundamental principle of Corradi's business, dedicated to give to each single product a wide variety of identities. Most pergolas may be designed according to the buyer's needs, customizing structure, size and colours. Freestanding pergolas are not an exception: like Pergotenda® Maestro which, thanks to its wide range of configurations, is an extremely versatile solution, always in line with the customer's desires.
Freestanding pergolas are undoubtedly the winning solution for large outdoor spaces, whether they are private or of business activities. Then why don't you take a look at Corradi's numerous proposals and start imagining the most suitable solution for creating your own tailor-made outdoor space?