Pergolas and lighting: all Corradi options for your outdoor space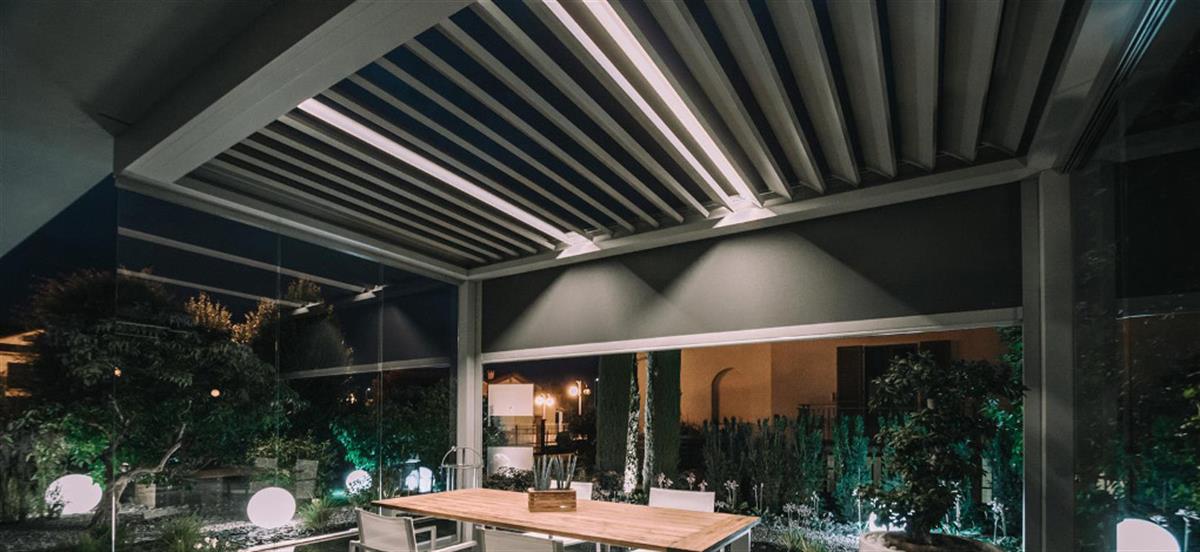 Gazebos, pergolas and verandas: these structures are increasingly the ideal frames to create unique outdoor spaces, real living areas to spend time together or relax outdoors, especially for the private sector, or as a location for sophisticated events for the contract sector. For this reason, it is essential to think about a lighting system that is functional and with a strong visual impact: choosing the right light means giving an evocative atmosphere to the outdoor space, to make it an extremely pleasant and welcoming place, without sacrificing a touch of design.
We have often talked about the importance of a good outdoor lighting system to enjoy the outdoor spaces during the evening, but in this article we want to go further on this subject: let's see how to choose the best lighting for gazebos or pergolas, discovering the different materials and stylistic solutions by Corradi.
Gazebo and pergola lighting: all Corradi solutions
Appearance, technology, emotion: these are the three keywords to keep in mind when thinking about the right light for outdoor spaces. Because outdoor lighting is more than a simple detail: it is the 'cherry on top', the element that permeates an environment in a harmonious way, giving it comfort and character. Corradi knows it well, and that's why, for years, it has been offering various customisable and cutting-edge solutions, because every outdoor space deserves to be enhanced with the right lighting: effective but not intrusive, elegant and contemporary, but not cold or impersonal. Let's take a look at them.
LED lights for sustainable lighting with a great impact
We have talked about functionality and appearance, and certainly the best choice to create impressive lighting for pergolas and gazebos is the LED technology, also offered by Corradi. In fact, this type of light is able to illuminate any environment, thanks to its durability and great versatility of use, and can be integrated into the structure in a very discreet way, allowing to make full use of all the space without using hanging lamps or additional ceiling lights.
Another benefit of this lighting system? LEDs provide an excellent light quality while reducing energy costs, because they do not require maintenance, and last for a long time, allowing you to reduce the environmental impact. Moreover, they do not emit U.V.A. and U.V.B. radiation, therefore they attract fewer insects compared to traditional lights: this feature, together with a garden insect screen, could be a winning element to ensure maximum serenity to guests or customers during outdoor moments, especially when the weather is nice.
A practical and styling alternative: integrated lighting
The contemporary trend increasingly moves towards integrated lighting, i.e. lighting directly inserted into the outdoor cover, for example through LED strips or spot lights. For this reason, for bioclimatic or Pergotenda® models, Corradi offers:
Experience: a kit of LED lights included on the tubing supporting the pergola canvas, available with different colour tones, warm white or RGB system. The strength of this solution is the possibility of creating unique and distinctive atmospheres by choosing different colours. .
Ray: if you are looking for something that perfectly combines design and practicality, elegance and appearance and that enhances your outdoor space, this lighting system reflects all these characteristics. This is a lighting system with warm white and adjustable light that can be used on both the internal perimeter of Pergotenda® and bioclimatic pergolas, and as stand-alone system - for example affixed to the pillars.
Spot lights are another broadly used option. In this case, Corradi solutions are specifically designed for Sun Sails, perfect for enriching your outdoor space and characterising it in an original and always new way. Spot lights are resistant and functional, and can be strategically placed, depending on the area that you want to illuminate. Very evocative, they also allow you to play with lights and shadows creating affinities and contrasts that will certainly not go unnoticed, for a real five-star garden.
Contamination and synergy of styles among LEDs, light strings and lamps
Therefore, outdoor lighting is not only a functional element for structures and passageways of your outdoor space, but becomes an occasion to amaze guests or customers. The keywords are contamination and synergy of different styles, which must be combined in an aesthetically balanced way, with the aim of further embellishing the environment. For this reason, once you have decided on the intended use of your gazebo - dining area or outdoor hot tub - you can choose the type of lights to combine: LEDs integrated in the pillars or canvas of pergolas can be alternated with illuminated vases to give a chic tone to the atmosphere, or a light string placed at the entry of the pergola that reminds a charming and romantic illuminated arch, even better if decorated with beautiful climbing plants. Free your creativity and play with the details to give your guests - and yourself - an unforgettable experience.
Corradi, synonymous with excellence and innovation for years, will find the ideal outdoor solution for every customer with just one goal: ensure an outdoor space to live without limits and able to excite at any time of day and evening.