Mosquito nets and closures: how to protect your outdoor space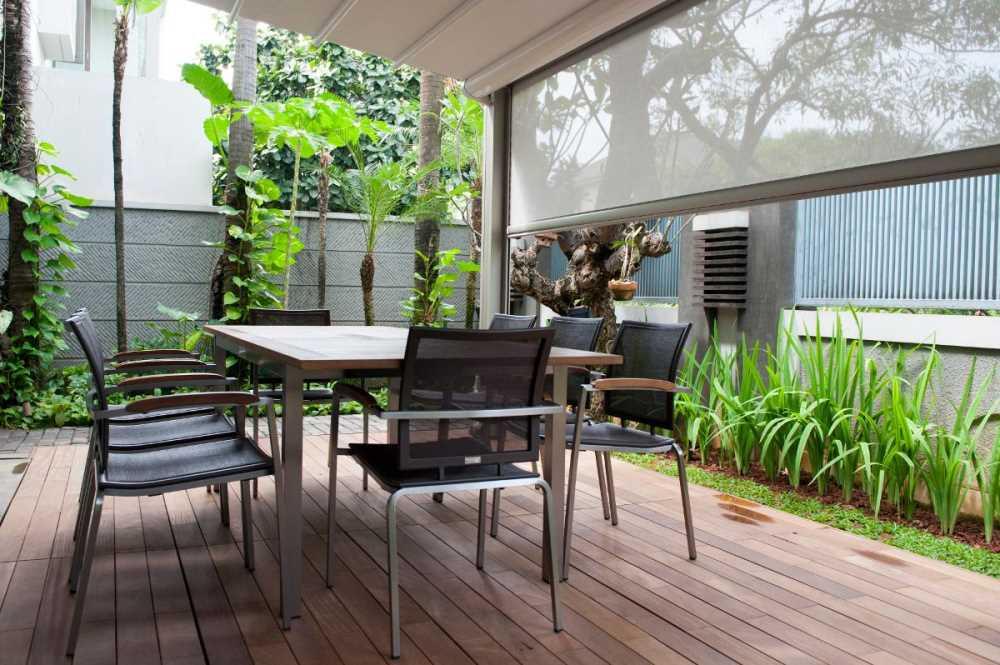 Even though this year's summer seems to be arriving later than usual, the temperatures are starting to get more comfortable and we can begin to dream about the summer and pleasant evenings outdoors, enjoying a light breeze after a hot day and planning dinners in the garden with friends and family. These are long-awaited moments that we'd like to enjoy in total relaxation. However, in the summer nature offers some small and sometimes annoying surprises, the worst of them being mosquitoes: as soon as the sun starts setting, these insects waste no time getting busy, and often repellents and natural remedies like candles and citronella are not enough to combat them. In addition, these measures can make outdoor floors and steps dirty with the first gust of wind.
This is why outdoor mosquito nets come in handy, available in numerous forms and easily adaptable to balconies, verandas and pergolas.
Let's take a look at the main types of garden mosquito nets and how to best protect your outdoor spaces...and your skin.
Garden mosquito net: a solution for every outdoor space
There are many different solutions when it comes to outdoor mosquito nets, and this allows you to choose the one that best suits your cover and the style of your outdoor space.
In general, there are two macro groups of mosquito nets: fixed and mobile. Let's see which models are on the market and their different characteristics.
Fixed mosquito screens
This type of mosquito screen is secured to doors, windows and outdoor structures, incorporated into windows or runners, and can be opened or closed. The most common models of fixed mosquito screens are:
Hinged: Hinged mosquito screens are usually used for French windows that divide the home from its outdoor space. They are highly customisable and can be made with one or more doors. They are also available with different types of closures: mechanical hooks, magnets or return springs.
Sliding: these models have a lateral or vertical sliding system that allows the panels to overlap once opened, in order to occupy the smallest possible space. They are therefore suitable for both large verandas and balconies with small spaces.
Retractable: used mainly for windows and French windows, rolling mosquito screens are equipped with a protection cassette at the top where the mesh is rewound and two lateral runners that guide the screen. Finally, a cord connected to the mosquito screen allows you to lower it manually and to lock it in position at the base of the window.
Mobile mosquito nets
Mobile outdoor mosquito nets are the most practical and versatile and are generally chosen when you need to open them frequently. Types of mobile garden mosquito nets include:
Curtain: these are perfect both for protecting a particular area of your outdoor space – like an outdoor spa – and for creating a charming atmosphere with a slightly retro flavour. They can be easily applied to the pergola with hooks or Velcro: a rather quick, non-permanent solution that requires some precision to avoid leaving open spaces.
Canopy: a canopy is an outdoor mosquito net that becomes a furnishing element to enrich your outdoor space and protect a vintage rocking chair. In perfect shabby chic style.
Vertical closures: discreet, elegant protection
As we have seen, there are many styles of garden mosquito netting for those looking for a seasonal solution. In fact, there's no doubt that the best way to live outdoors without limits or bother is to use vertical closures that can protect against sunlight, insects or too cold evenings without having to give up on enjoying your outdoor space.
This solution has many advantages since it's durable and doesn't interfere with the style of the outdoor furnishings but rather completes them, enhancing your outdoor space and making it practical. One example of an effective solution is to combine the two systems, using sliding doors that can be supplemented by a mosquito screen, or completely replacing the screen fabric of the closures with mosquito nets during the summer months for an even more comfortable environment.
Indeed, for Corradi closures aren't just details, they're critical elements that can offer different levels of protection and permeability to air and light without obstructing the view while still safeguarding the environment and its furnishings.
Some examples? The latest Corradi product, the Brio closure, versatile and with a high level of technology or Ermetika® Cristal XL, both available in transparent Cristal PVC fabric. Or Magiko, the special filtering closure that allows you to effectively protect your outdoor environment without sacrificing beauty thanks to the compact side runners.
Whatever your protection needs, take a look at the many solutions offered by Corradi, a company with 40 years of experience and a single mission: to give space to your time.
Have you already chosen which closure is right for you?