5 Ideas for true fans of nautical style furnishings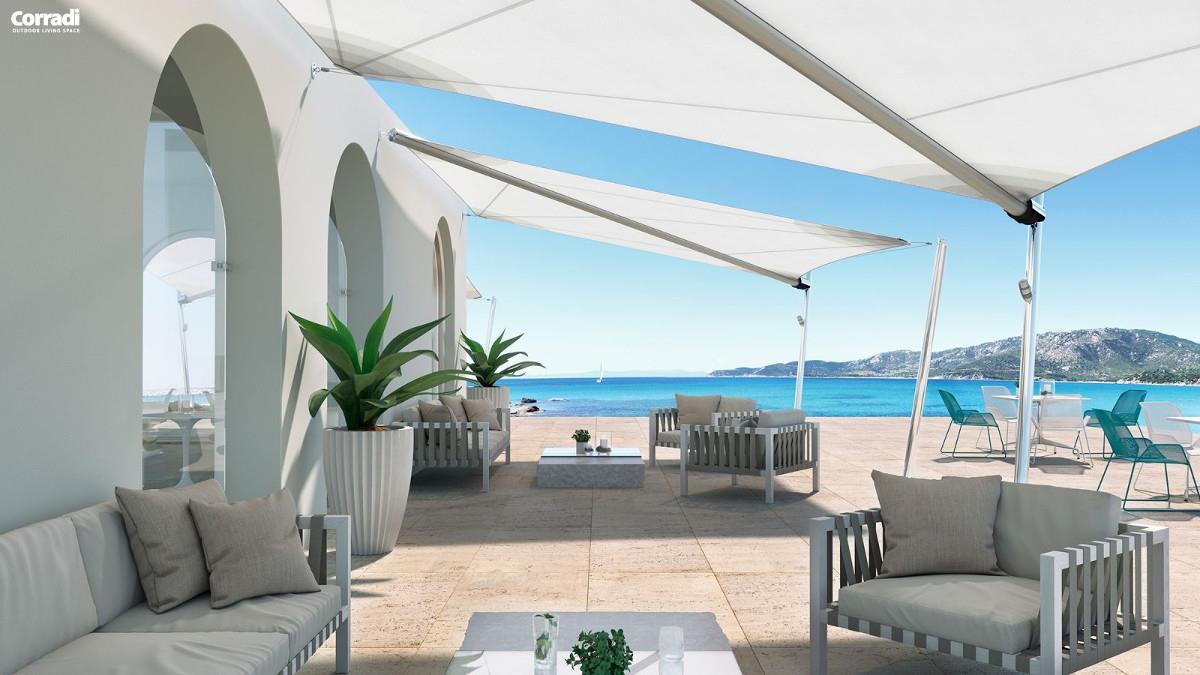 For many people, summer is synonymous with the sea. The sea is so much more than a mere place; it's a way of experiencing the beautiful season, with its colours, scents and environments.
It doesn't matter if we have a house on the coast, a location overlooking the beach or a city apartment with a terrace: we can still let ourselves be inspired by the ambience and colours of the sea. How?
Let's take a look at the colours, materials and accessories that allow us to create a perfect outdoor space with nautical style furnishings.
Nautical style furnishings: 5 tips to bring the sea to your garden
Since the beginning of time, the sea has always fascinated people and influenced the work of artists, singers and writers. It's an environment with powerful benefits and, thanks to the sound of the waves and the blue hues, it helps the mind to wander freely and relax. That's why blue is also used in chromotherapy since it is considered a natural anti-stress colour.
So why not be captivated by the sea and its distinct ambience to furnish the outdoor space of any home, location or hotel? You don't need to make big changes to the entire space. You just need to follow a few easy tips.
Nautically inspired objects
It's all in the details. Choosing the right object or decoration is more than enough to bring the sea to your outdoor space. Get inspired by the coastal style, a nautical trend based on nautical elements, and furnish your outdoor spaces with symbols that remind of the nautical world: rudders, collectibles such as models of antique galleons, and vintage prints with exotic and distant destinations.
But also, decorative details able to evoke stunning beaches and sea beds, with references to the splendid colours of the coral reef. Do you want to add a nice touch to every occasion and space, from dinners with friends to a restaurant's sea view terrace? Try adding elegant and minimal glass vases that reflect shades of blue or original shell and mother-of-pearl candle-holders.
Salt-proof materials
A perfect nautical style outdoor space requires materials resistant to the wear and tear caused by different weather conditions. Obviously, the type of preferred material will depend on the living environment: for a garden in the city, furnishing accessories able to withstand rain or wind will be sufficient; for outdoor spaces near the sea, on the other hand, salt-proof materials that retain most of their colour when exposed to the sun are recommended.
Treated wood can be an excellent outdoor material; painted white, it helps to illuminate the environment and enhance the colour points of shades inspired by the sea and plants.
Light and resistant fabrics
Typical summer fabrics, such as natural cotton and linen, are perfect for nautical style furnishings, but we can't forget leather details, which recall luxury yachts and the most sophisticated cabins. A linen tablecloth, preferably in light colours, will add a touch of freshness to a stylish table set, while cushions in soft cotton with maritime-themed prints complete wooden and leather seats.
The colours of the sea
The sea-inspired colours to choose for your outdoor space are those that remind you of the beach and the depths of the ocean. It's not just all shades of blue that work well, but also sandy colours, white and bright grey. Shades of red can, on the other hand, be used to create spectacular colour points: the Living Coral shade, Pantone colour for 2019, is perfect.
Sailing technology for exterior covers
The ideal cover for a nautical style outdoor space recalls the shapes and technology of the sailing world, perfectly encapsulated by the Sun Sails models, which are the iconic Corradi sun sails. Suitable for both private homes and the contract sector, these sails stand out for their cutting-edge technology, high performance and a linear design that reminds of white expanses of sand on a Caribbean beach. Aside from ensuring a high degree of protection from UV rays, the Dacron® canvas with which they are made, allows the passage of air, creating pleasant and cool shaded areas that are ideal for the summer period. The Corradi sun sails allow you to obtain a comfortable and perfect nautically-inspired outdoor space that's adequately protected from weather conditions.
These are the 5 tips you can use to create an outdoor space with nautical style furnishings for your home or business. When talking about outdoor life during the summer, we can't help but think of dinners on the terrace or in the garden. That's why, in addition to furnishing accessories, we must also pay attention to the lighting system, which is essential for enjoying the outdoor space in sheer comfort even after sunset.