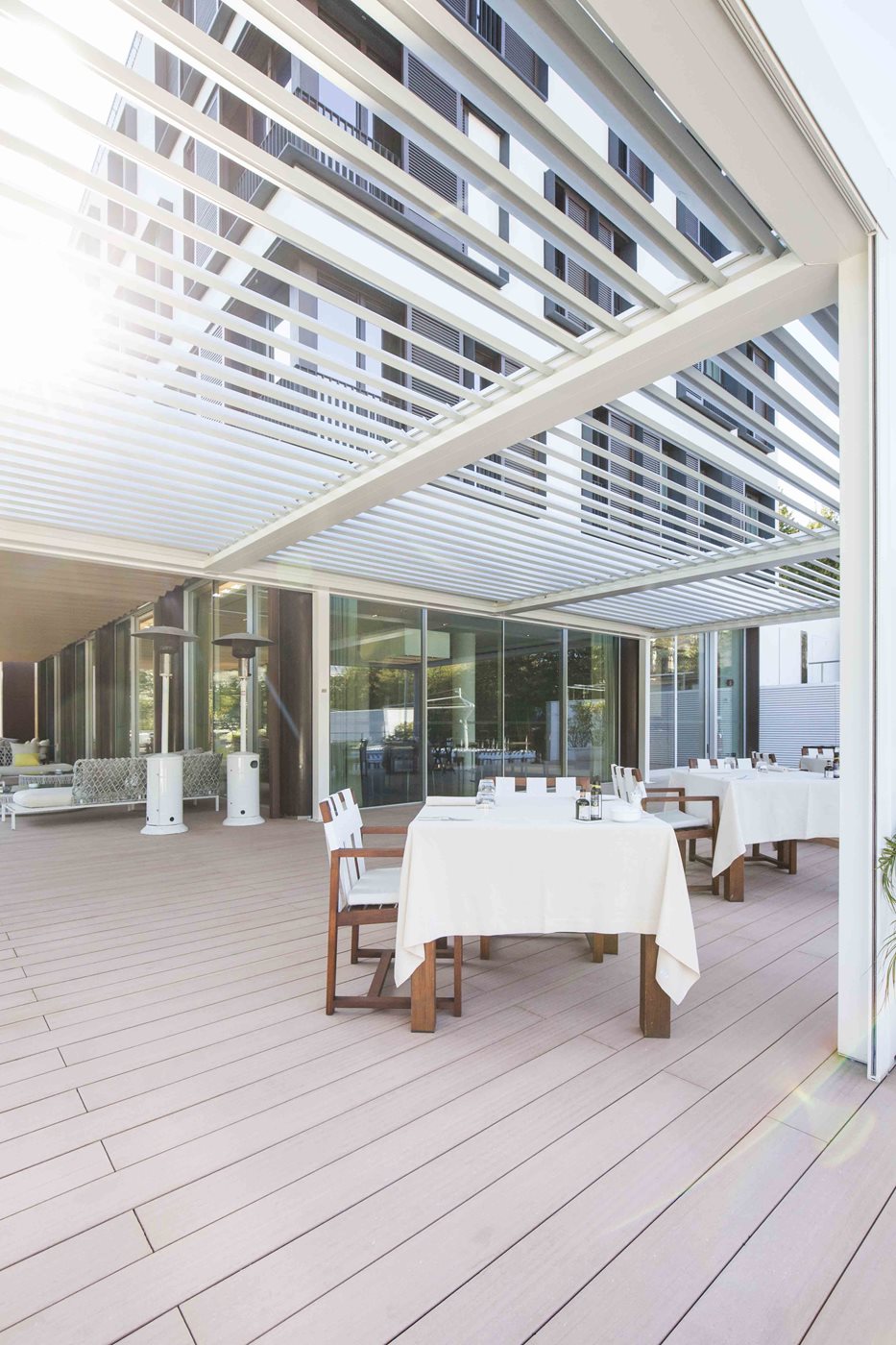 Maestro Bioclimatics: elegance and relaxation for a five-star outdoor experience
Forte dei Marmi - ITALIA
Located between the green of the Mediterranean maquis and the blue of the Tyrrhenian Sea, the Hotel Principe
Forte dei Marmi
is a pearl of the renowned landmark destination chosen by both Italian and foreign tourists. This exclusive
boutique
hotel combines linear architecture, sophisticated interiors, and harmonious contrasts. Furthermore, its materials - such as marble, onyx, Portoro (Portovenere marble) - give elegance and rigour to this building.
Using light as a source of inspiration
Hotel Principe, which features 28 rooms of which 15 are suites (all furnished by leading names in Italian design), also offers an exclusive Sky Lounge Bar 67 that will take your breath away. Furthermore, from March to October, the Hotel hosts Lux Lucis. This is the restaurant of Michelin-starred chef Valentino Cassanelli.
The star of this luxurious facility is undoubtedly its
light
, which plays a major role in each of its areas. The outdoor areas of its panoramic terrace and the restaurant were created on the same design concept. This is where Corradi's innovative solutions (created for this location) help create fascinating
lighting and shadow effects
for a contemporary, evocative outdoor space.
Maestro: in pursuit of style
The
bioclimatic pergola Maestro
features clean lines and a self-supporting aluminium frame with a cover which can either be provided with adjustable blades or stacking canvas. Depending on the level of illumination desired, it is possible to adjust the blades by up to 140° and choose the opening direction. The beam is only 25 cm high. Furthermore, it features a flush gutter and a compact structure. When completely closed, the upper cover is waterproof. In fact, the water is drained by an integrated gutter system and the pillars serve as downspouts.
Since light plays such an important role, a
solution that makes an impact even after dark
is necessary. Maestro is designed with LED lights integrated into the blades to create an intimate and engaging atmosphere. This enables outdoor spaces to be enjoyed at any time of the day, making the location an ideal setting where relaxation,
style and elegance
help create unforgettable moments.
Project
Hotel Principe Forte dei Marmi
Images
Alessio Mitola for Archikiller Lab
Project management
: Riccardo Tendaggi