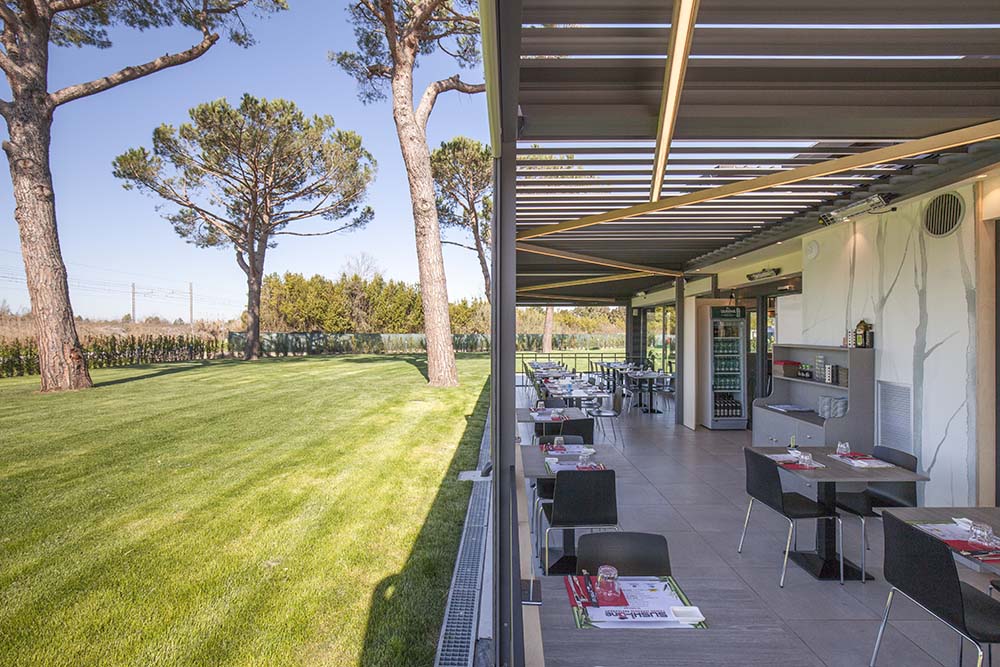 Bioclimatics Alba for an elegant trend-setting restaurant
San Giuliano Terme - Italy
Harmony and nature are two key concepts in Asian culture. This design - by GMRT Associati - was no exception, giving new life to a prestigious building and taking advantage of the installation of a new Japanese restaurant business.

Preserving its historical heritage, the building has been restructured with an eye to the large open spaces surrounding the structure. The building bears the typical features common to other buildings in the area: red bricks and a pitched roof.
The restaurant has two areas: the main dining room with high tables and a sushi conveyor belt (kaiten) and a more elegant, private room. Common to all rooms is a modern, relaxing mood that combines custom-made furniture elements, archaic materials such as metal and wood, and motifs and wallpapers reminiscent of oriental landscapes.
The vast park has made it possible to create a dialogue between nature outside and the rooms inside, thanks to an intermediate area accentuated by Corradi's large bioclimatic pergolas.
Alba bioclimatic pergolas
create an environment in balance with the outdoors, a sort of osmosis between the dining area and the surrounding greenery.
Elegance in a single word: Alba
Alba
is a structure with a minimalist design that follows the prevailing theme of the project, the contrast between light and shade that gives refinement to the outdoor area. Alba is equipped with blades that can be adjusted by up to 150°, allowing you to regulate the light inside, while also controlling air circulation and thus the temperature naturally. In addition, when fully closed, the upper covering is rainproof and water is removed via the gutters integrated into the pillars.
The outdoor space thus becomes the frontier in which the interior of the building, where motifs with an oriental flavour draw attention to the grace and harmony of Far Eastern calligraphy, meets and blends with the balance and serenity of the surrounding nature.
Project
Japanese Restaurant - San Giuliano Terme (PI)
Design Firm
GMRT Associati
Images
Alessio Mitola for Archikiller Lab
Project management
CDC outliving