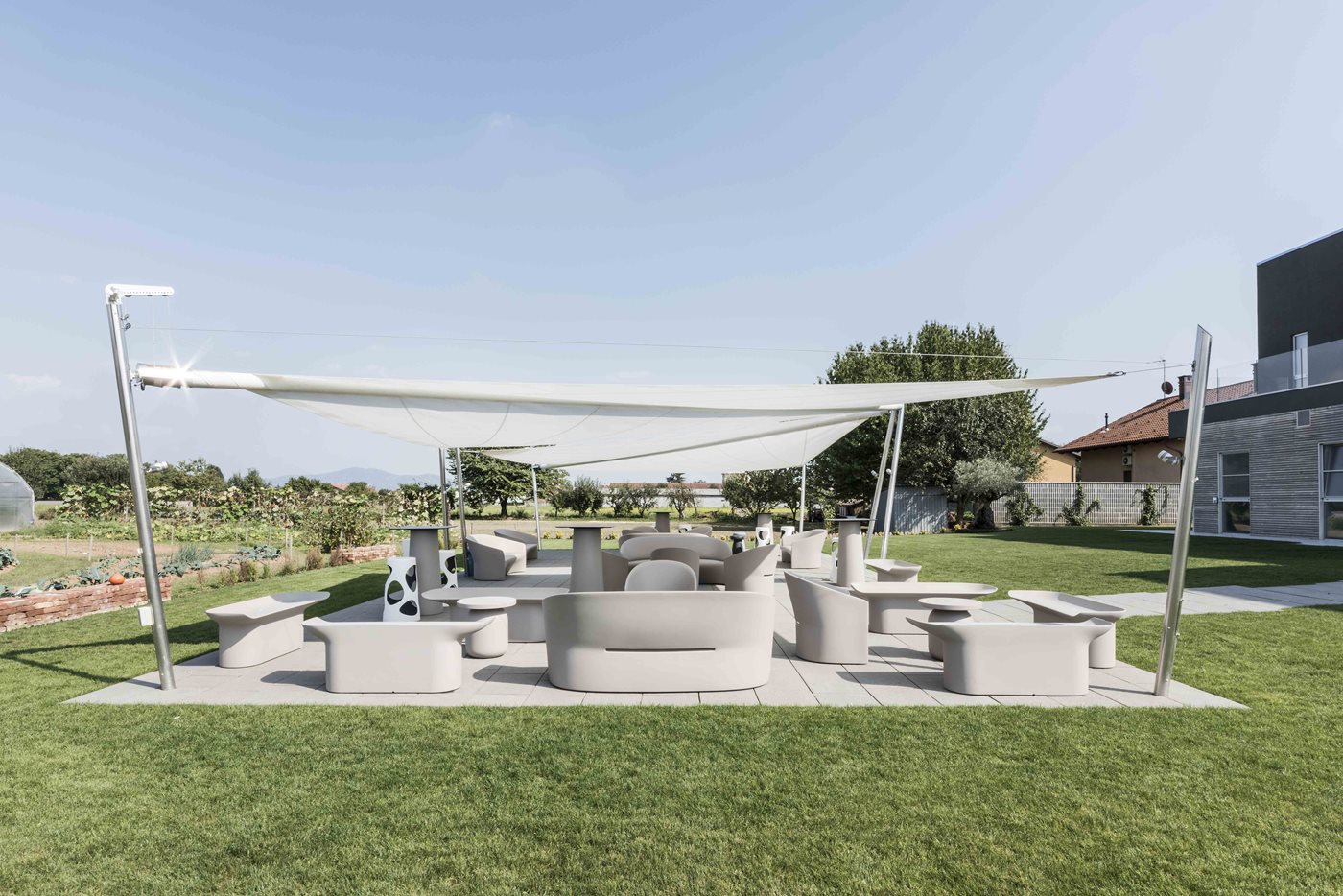 Maestrale Sun Sail: a sun sail for sustainable hospitality
TORINO - ITALIA
The idea of creating a space that combines the
most sustainable hospitality
with the beauty of the surrounding nature in a landscape where the indoor and outdoor coexist seamlessly. This concept led to the design of
Casa Format
(by
architects Carlo Colombo and Maria Grazia Bono
), who chose the
Maestrale Sun Sails
for an aesthetically appealing garden.
It is neither a restaurant nor a hotel: Casa Format is a cross between a
restaurant and hotel
, born from the collaboration between the restaurant
La Credenza, based in San Maurizio Canavese, and the furniture and design shop Format Abitativi.
Sustainability and natural elements are keywords
Made of wood, built to Class A standards, and certified under ClimateHouse, this building is entirely sustainable. Electricity is supplied by a photovoltaic system. Furthermore, the positioning of the building is designed to make maximum use of sunlight. In addition, to minimise water waste, rain water is collected in a tank and then used to irrigate the garden. Every aspect of the project has been guided by
eco-sustainability and respect for nature
. LED lighting and a building automation system optimise the internal management of the facility.
Maestrale: clean and elegant lines
The highlight of the facility is its outdoor area, where a large vegetable garden dominates the landscape. The space is enhanced by a dining and relaxation area that perfectly connects the interior with the exterior. It was important for the outdoor area to reflect the theme of harmony, clean lines, and naturalness that characterise the building, which is why
Maestrale
was selected.
Maestrale
is a freestanding sun sail featuring 4 poles made of stainless steel. Highly customisable, this product is available in 113 different configurations. Furthermore, the sails can be square, rectangular or diamond-shaped.
The lightweight lines, high-quality materials, and attention to detail, make Maestrale the perfect solution: the poles in electropolished stainless steel guarantee high resistance to corrosion and exposure to atmospheric agents. The Dacron® sails can be opened and closed thanks to the motor situated inside the furling profile, which can be operated either by remote control or manually in case of blackout. The motorised version - which is equipped with an anemometer for automatic closure - is essential in strong winds.
Therefore, the outdoor space is in perfect harmony, not only with the structure of the building and the surrounding landscape, but above all with the concept behind Casa Format. In fact, this is a highly eco-sustainable space in which the beauty of nature and architecture enrich each other, generating a new concept of experiential and inclusive hospitality.
Project
Casa Format, Orbassano (TO)
By
architects Carlo Colombo and Maria Grazia Bono
Images
Vito Corvasce for Archikiller Lab