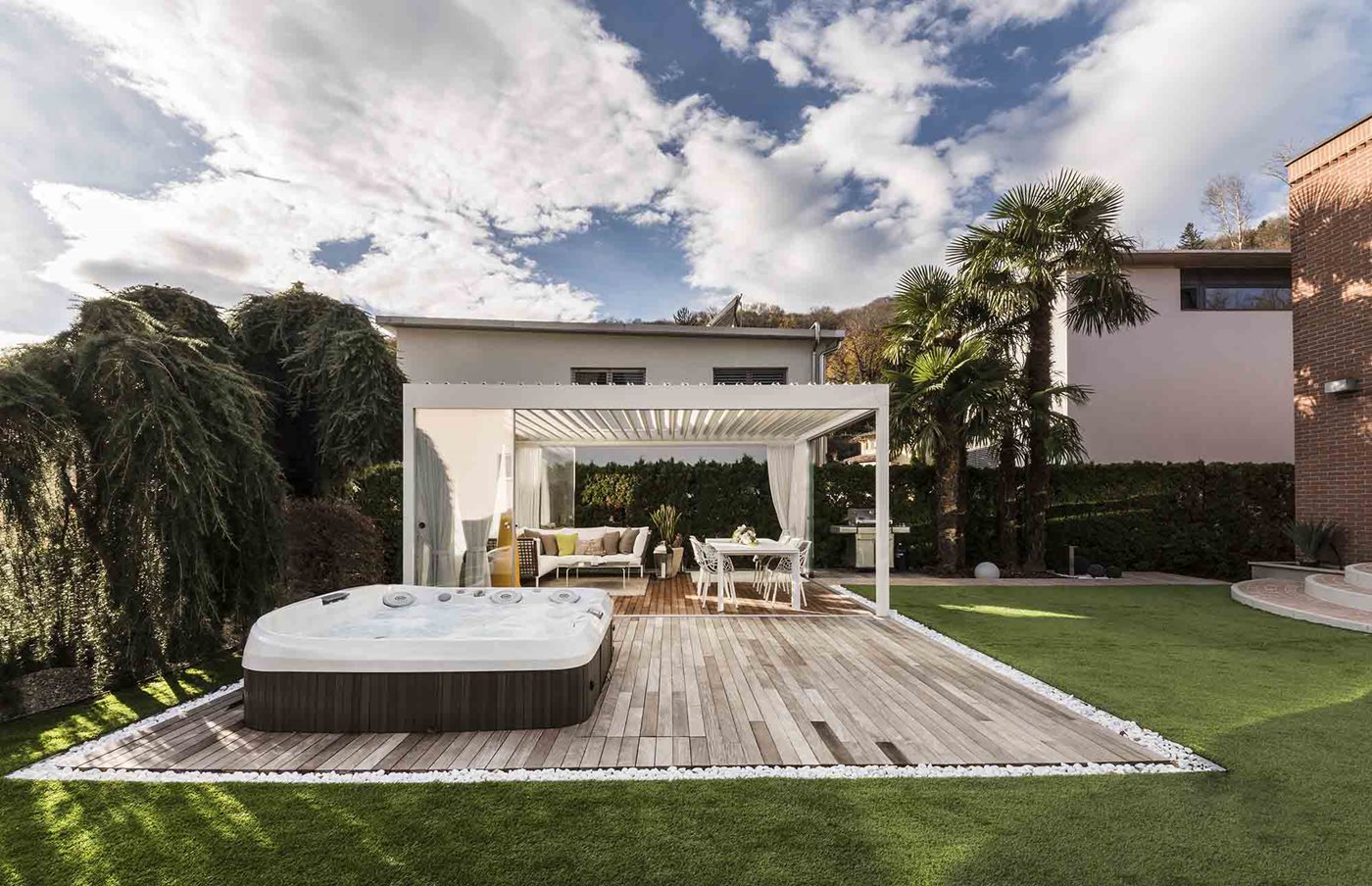 Bioclimatics Alba: comfort and refinement for a relaxation area in the hills
Switzerland
Creating a true open-air living room for a private residence nestled in the woods of the Swiss mountains, in an area of great natural beauty in Ticino: this is the goal of the outdoor project designed by Matteo Scudiero and EsseDiEsse.

The project concept aims to maintain and enhance the simplicity and clean lines of the main building and the surrounding landscape. Matteo Scudiero therefore designed a space that would create three different zones: living, dining and wellness.
An outdoor space in harmony with the landscape
The pathway in red Cuasso porphyry extracted from the Bonomi quarries is the access point to the area, where the
Alba bioclimatic pergola
replaces a structure that was previously present.
Alba
is a lightweight structure with a minimalist design that lends sophistication to the outdoors. It is equipped with blades that can be adjusted by up to 150°, allowing you to regulate the shade and light inside, while also controlling air circulation and thus the temperature naturally. In addition, when fully closed, the upper covering is rainproof and water is removed via the gutters integrated into the pillars.

Outdoor lounge and spa under an Alba bioclimatic pergola
The play of colours chosen for the outdoor paving delimits the areas and diversifies them. The lighter-coloured wood in the wellness area, which includes a Jacuzzi whirlpool bath, contrasts with the dark parquet in the living area and the green of the surrounding lawn, creating a pleasant atmosphere.
In addition to the sliding glass walls, the design incorporates curtains made of soft acrylic fabric and a home automation system that can also be used via smartphone.
The outdoor space thus becomes the context in which Nature and Architecture exalt and complement each other, to create an atmosphere that naturally blends indoor and outdoor in an alchemy of lights, colours and shadows.
Project
Private residence in Tesserete (Lugano)
Project management:
Matteo Scudiero and EsseDiEsse
Images
Vito Corvasce for Archikiller Lab