Glamping: holidays under the stars, with style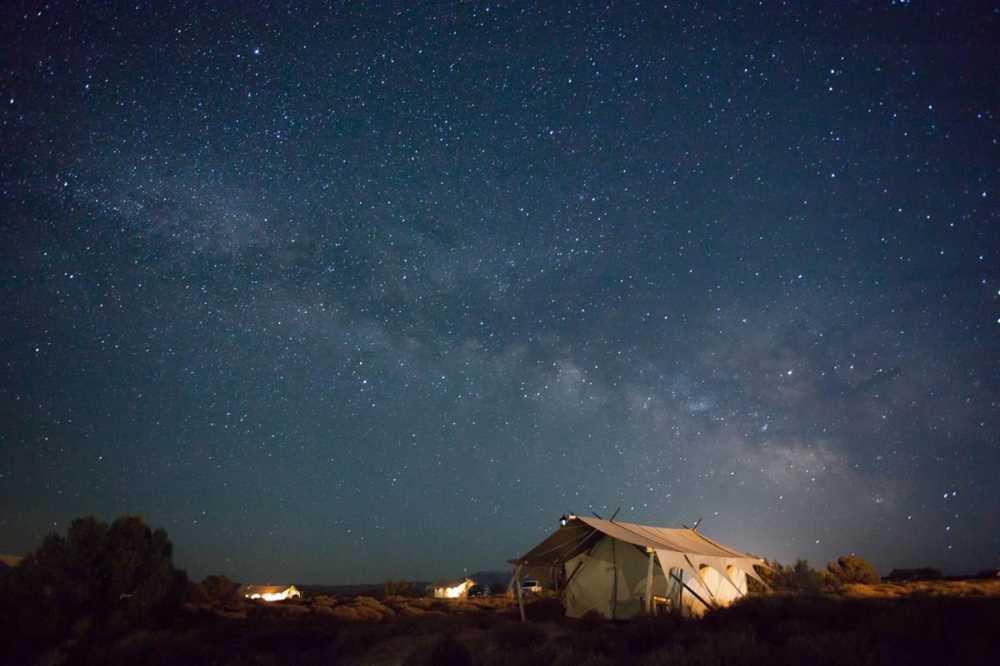 Luxury and the wilderness would seem to be mutually exclusive, especially when it comes to planning a holiday. But in recent years the tourism sector has seen a trend that combines the comfort and elegance of a luxurious hotel with the adventurous charm of a holiday immersed in a forest or under a starry sky. We're talking about glamping, the new way of travelling that's all the rage across the globe, from America to Europe, including Italy. Want to know more?
Glamping: the new frontier of green tourism
Imagine being in the wild, perhaps in the middle of a desert surrounded only by absolute silence, or falling asleep under the spectacular northern lights of Lapland. But without sacrificing maximum comfort. Sounds like a dream, doesn't it? Well, with glamping you can. This particular word comes from the fusion of the words glamour and camping, and describes a new trend in outdoor holidays. In other words, it consists of tents – and much more – usually set up inside tourist facilities combining camping and the services of a classic four-star hotel, from a bed to a private bathroom, and possibly even designer furniture. Indeed, this new phenomenon brings together luxury and nature, offering holidaymakers a chance to enjoy unique experiences in high-end environments built in the most eco-sustainable manner possible, without the discomforts usual associated with traditional camping.
Glamping, a blend of tradition and modernity
While the word is relatively new – it first appeared in 2005 in the United Kingdom – the concept behind this new way of travelling and experiencing nature has its roots in antiquity. Although it's not easy to establish with certainty when, a rudimentary form of glamping existed in the 16th century when tented camps were set up for a diplomatic summit held in France. And how could we forget the magnificent tents of the Ottoman emperors? But glamping as we understand it today – as a precise method of travel – became popular only in the 20th century, mainly in warm countries, first in Africa and then Australia, where wealthier British and Americans preferred to stay at camping sites that were decidedly comfortable and chic during long, adventurous safaris.
Towards an eco-friendly tourism
Teepee tents on the vast North American prairies, yurt tents used by nomads in Central Asia, transparent domes with a Scandinavian hygge style and 360° views, cocoons hanging in the air among the trees, vintage caravans like tiny houses and finally Norwegian lavvu tents: who wouldn't want to experience an alternative travel experience like these?

Today, from America to Australia, from frigid Scandinavia to the mountains of Switzerland, glamping is increasing in popularity, offering a sustainable and environmentally friendly form of tourism. Luxury yes, but combined with the beauty of living in close contact with nature, an experience of rediscovery. In all senses. While they vary in design, these facilities equipped with every comfort are generally built – or reclaimed – following the principles of sustainable architecture. Therefore, there's a modern use of recycled materials and many structures are entirely biodegradable.

Technology also makes them ideal for dealing with all climatic conditions and ensures a low environmental impact: from ecological cleaning products to rainwater recovery systems, from low-consumption lamps to sustainable spas and energy obtained only from renewable sources. Finally, glamping sites are usually removable or even "pop-up", like the ones immersed in Italian olive groves, which "disappear" when it's time to take care of the trees.

Indeed, a few years ago glamping started spreading in Italy, demonstrating that you don't have to go far for a dream holiday. In fact, there are many offers of elegant lodges where you can stay and enjoy moments in total serenity, in harmony with the surrounding landscape. With its breathtaking hills, Tuscany seems to be the most popular destination, but in reality every region from Sardinia to Sicily, from Piedmont to the Marches can offer a perfect location, meeting every need.
Exclusivity for a dream holiday
From tents to bungalows, picturesque tree houses in ancient pinnatu huts, stone and wood houses of Sardinian shepherds, glamping now offers a great variety of settings in a broad range of prices. But in general it can be said that compared to traditional camping, this type of holiday is definitely exclusive and targets people who don't want to go without any comforts.

Whatever the experience, the focus of this new genre of tourism is undoubtedly nature, offering a chance to rediscover it with awareness and responsibility. Ready to let yourself be enchanted by the green rice fields of Bali or the fjords of Norway? Or how about tree sleeping in a hanging tent just a stone's throw from the Amalfi Coast?