Outdoor covers: from garden umbrellas to sun sails, a change of style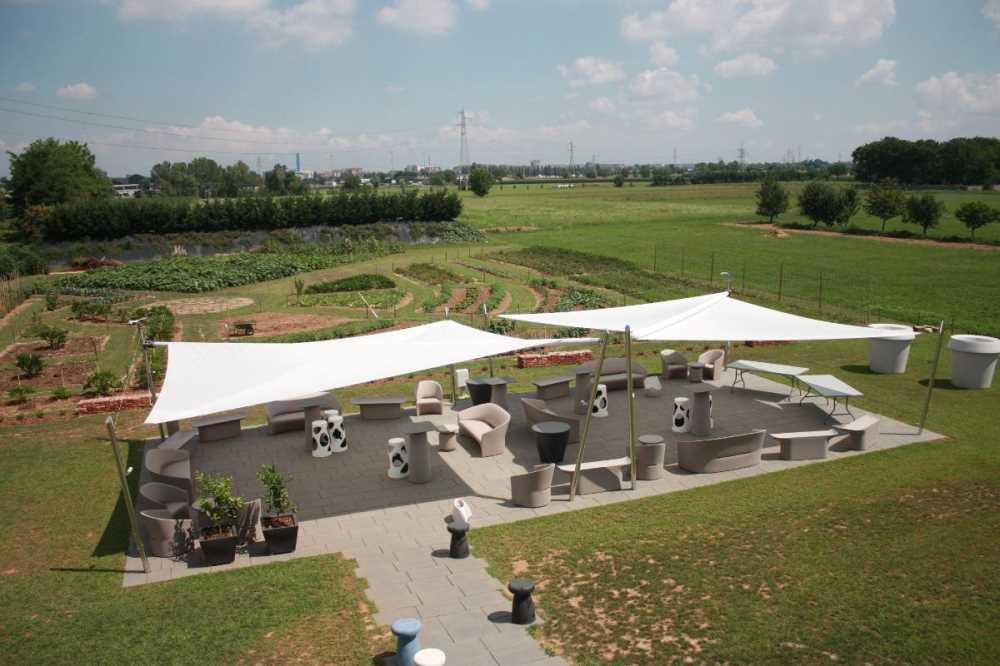 Protecting yourself from heat and the sun's rays has always been a fundamental need of humanity which, throughout its history, has developed increasingly practical and technologically advanced systems.
The first form of cover we are aware of has its roots in the 12th century B.C., in what we can consider a primordial configuration of a parasol.
But how did we go from the umbrellas of thousands of years ago to the current outdoor covers and, again, from garden umbrellas to sun sails, a modern solution with high performance and attractive design? Let's find out in this article.
In the beginning was the umbrella
It is not known exactly whether the first umbrellas appeared in China or Egypt in the Middle Kingdom. We find evidence of them both in frescoes inside some Egyptian tombs (in the form of sunshade fans) and in the writings of ancient China. It is certain that originally the umbrella was not used for the rain but rather as a tool to protect the skin from exposure to the sun, used exclusively by the wealthy population for whom it was a symbol of luxury and nobility.
The umbrella was then imported into ancient Rome, where it began to be differentiated, also taking on primordial forms of outdoor covers. In the summer, for example, a lightweight awning was laid over the Colosseum to protect the spectators from the sun.
From the 16th century onwards umbrellas began to spread throughout Europe, sporting a new look and function: in Italy it fused with fashion to become a decorative element, while it was probably in England that it began to be used to protect against rain.
Over the centuries the umbrella has become a versatile tool, taking on different shapes and functions, including the configuration of today's garden umbrella used as a shelter from rain and sunlight when spending time outdoors.
Outdoor covers: the need to protect yourself from the sun
Protecting against the sun and the sun's rays has therefore been the need that over time has inspired architects and designers to constantly develop new configurations of covers for outdoor spaces that are both useful for their primary purpose but also reflect evolving fashions and styles.
Good examples of this are the first gazebos or pergolas. Gazebos (as we know them today) appeared in Victorian England as a garden element for the upper classes, an exclusive refuge within the great English estates.
Pergolas, on the other hand, were created as a way to protect oneself from the sun when moving from the farmyard to the house out in the countryside.
Over the years, these cover solutions for outdoor spaces have become true appendages of residences, maintaining their practicality (boosted thanks to technologically advanced materials) and also acquiring a strong aesthetic value.
Today, the goal is to produce increasingly high-performing structures with attractive designs that are able to meet the needs of both private and contract environments, to customise the outdoors even in small spaces, always seeking harmony between interiors and exteriors, between human and nature. This every-changing panorama has seen the development of a parallel yet completely distinct element for outdoor living: modern garden sails represent a true revolution, able to be used with discretion and elegance in any environment.
From garden umbrellas to sun sails: an evolving trend
The garden umbrella is certainly a practical element, suitable for temporarily covering limited areas and for easy storage.
But for Corradi culture in outdoor living is something else. Indeed, the transition from garden umbrellas to sun sails is more than an evolution: it is the birth of a new sector that meets the practical and aesthetic needs of modern outdoor spaces. However, just because they are high performing and technologically advanced it doesn't mean that they are more demanding in terms of use and maintenance: sun sails offer a new experience, a style that can make a difference.
Let's see then the features and benefits of choosing sun sails for your outdoor spaces.
Garden sails: a new horizon for outdoor covers
Garden sails are highly weatherproof, less bulky than a pergola and easy to maintain.
In addition, while providing a high degree of protection from UV rays, they also allow air to move freely, thus creating pleasant, well-ventilated shaded areas that make them perfect for the contract sector where they are particularly popular with cafés and restaurants overlooking the sea.
Corradi offers sails in the three models of the Sun Sails line, true icons of style. But what are the technical characteristics that make Corradi sun sails a unique and technologically advanced product?
Corradi sun sails: hi-tech outdoor covers
An extensive knowledge of the nautical world and the application of the most advanced sail technologies underlie the birth of Corradi sun sails.
The perfect fusion of architecture and outdoor living, they are the ideal solution to transform garden and terraces into a true living area where you can enjoy the summer season away from the sun's rays.
What's surprising about Corradi's sun sails – besides their incredible practicality – is their style: refined and elegant, distinguished by clean, sinuous lines, their unmistakable design helping to create a scenic, harmonious effect. Thanks to the extreme versatility of the three models Defense, Maestrale and Scirocco and the perfect combination of design and nature, the value of any outdoor space can be maximised.
However, what make them truly unique are technology and innovation:
The canvas of Corradi's sun sails is made of Dacron®, an interwoven polyester of nautical origin that has undergone a specific UV protection treatment. The structure is made of stainless steel or anodised aluminium, making it extremely lightweight and resistant to wear.
Thanks to a mechanism that can be automatic or manual, these garden sails can be fully rewound in seconds.
The high strength and elasticity of the materials gives garden sails a high degree of resistance to atmospheric agents like sun, salt and wind while remaining very easy to maintain.
The wall-mounted version of the sail can be moved through a 90° range, while the self-supporting version can be shifted 360°, both versions with a minimal footprint, allowing them to follow the sun's movement throughout the day.
Corradi sun sails are available in different variants and can be combined with each other to create an outdoor environment that is truly tailored to those who enjoy it.
From garden umbrellas to sun sails a lot has changed. Innovative materials, great practicality and trendy design make the two solutions difficult to compare.
So why not start enjoying the summer under Defense, the most iconic of the Corradi sails, so much so that it has been patented?