Inside out: extending your home into the garden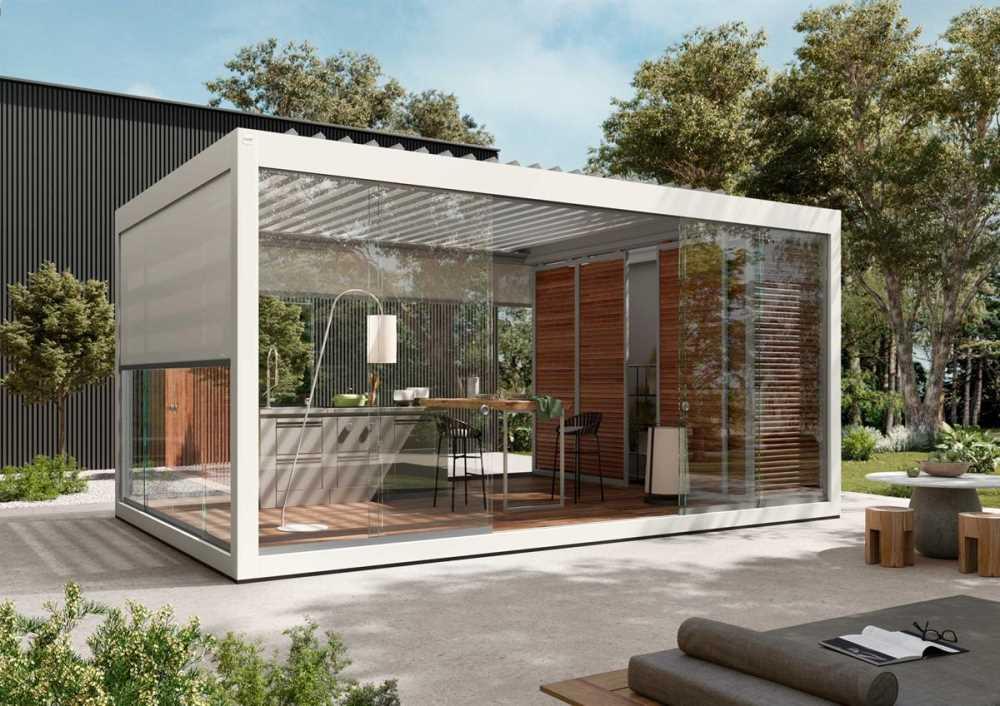 We measure its size, quantify its potential on the market, catalogue it according to the number of rooms: one of the values of the house is inextricably linked to proportions and figures. Then, however, we know that those same figures change and take on new meaning when compared to the emotional dimension of our lives, and this is one of the ways that our homes express their development: just like a real living organism, over time our homes evolve with us in both taste and style. But what can we do when we realise we need more space? Before resorting to extreme solutions, it's good to consider all options. One of these could come from the outdoors: in fact, extending your home into the garden is one possibility, a solution that offers great results.
Let's find out what the benefits of this type of project are and how to proceed in order not to make any mistakes.
The benefits
Having a portion of the garden to extend your home means having a chance to create spaces designed for specific needs, such as a walk-in closet, a study or an extra room to dedicate to hobbies. Sometimes the desire to enlarge one's space coincides with the need for a larger living area.

In each of these cases, conquering a few additional square metres by incorporating a small piece of outdoor space has benefits related to quality of life, like the possibility of enjoying large, well-lit environments. Moreover, an extension satisfies the new needs that arose after the lockdown: the search for welcoming and well-balanced solutions between indoor and outdoor areas, as well as a renewed interest in the garden and the way it interacts with the rest of the house are in fact the direct consequences of the pandemic that has rewritten the rules and needs of living. Another positive aspect of a home extension is the concrete possibility of significantly increasing the property's value, making it particularly attractive on the market. In this perspective, the practicality of being able to shape environments and surfaces according to one's evolving needs without having to change homes should not be underestimated.
A choice of style
Extending your home into the garden involves adding living space to a pre-existing building, thus raising the question: what style should you choose? Normally, a good project calls for a harmonious integration between the two parts, as long as you comply with current regulations. Stylistically, there are no precise rules, so you can either opt for an extension that matches the features of the main building or go with a solution having a contrasting style.
The beauty of bringing a small piece of the garden into your home
Taking the opportunity to expand your home into the garden means giving yourself new environments that, apart from the extra space, are characterised by a very evocative look in terms of light and atmosphere. This thanks to a blending of indoors and outdoors that will allow you to enjoy the beauty of outdoor life in any season and, why not, in any weather conditions.
An extension of this type allows you to create a winter garden combining nature and design, an approach which Corradi has dedicated numerous solutions and products to. A good example is the bioclimatic pergola, which you can complete with closures and sliding glass doors that create a suspended and versatile hybrid dimension that can be adapted to changing moments and needs.
Whether in an outdoor area created from scratch or an extension of the main building, the combination of indoor space and outdoor dimension gives life to a functional place that is full of character.

Regeneration and functional beauty
Solving the needs for new domestic spaces through an extension in the garden represents a form of regeneration that creates a deep connection with the most intimate essence of your home and projects the house towards growth and evolution that go hand in hand with the changes of those who live in it. An idea that makes your home similar to a living organism and accompanies us towards the future of home design. We can't wait to see it.