Designing the outdoors for the B&B: everything you need to know to create a welcoming and pleasant experience.
All it takes to furnish the outside for a B&B is a few important things. With the right atmosphere, items and accessories, it is possible to create a welcoming space that truly embodies the intended mood.

Outdoor design for the hospitality sector, together with the choice of furniture for your hospitality facility's outdoor area, are the first steps towards enhancing gardens, patios and outdoor spaces.
First and foremost, the design should pay special attention to the interaction with its surroundings, but also with the indoors, enhancing the presence of natural and functional elements. This will help to make the customer's experience comfortable and pleasant.
Simplicity
Aiming for simplicity means creating a space that is both comfortable and essential, where the materials of the structure and the furniture will guide the style of the entire design.
Natural colours, linear shapes, and materials suitable for the outdoors, which are durable and high quality. These will be the key elements for a space that is perfectly integrated with the environment.
Whether it is a small lawn in a city setting, a flower-filled farmhouse in the countryside, or a roof garden on the top floor of a building, the outdoor space must be cared for and designed to be welcoming and constantly evolving between seasonal changes, new trends and contexts of use.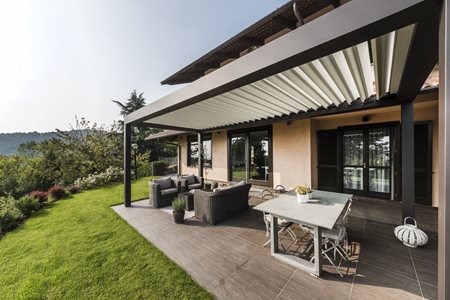 Functionality
As an accommodation facility, the B&B responds to a logic of hospitality similar to that of hotels and resorts. The main services include bed and breakfast, but also offering customers a communal space where they can spend pleasant moments can be a great advantage.
Therefore, designing the outdoor area to integrate different uses will allow the creation of areas for private events, spaces to be shared and many other possibilities.

For example, a veranda, if covered and furnished appropriately, can become a breakfast area or a reception area; the garden can be a space to relax and enjoy a herbal tea in the company of a good book; a patio, a comfortable and relaxing living area.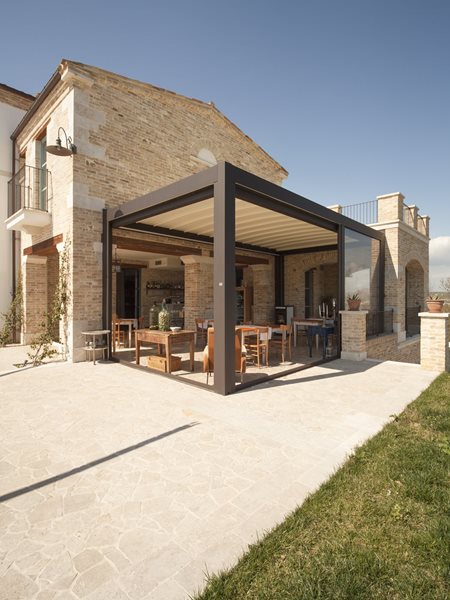 In short, a B&B can become an innovative and immediately familiar structure in which to cultivate experiences, including contact with nature.
In order to get the most out of your facility's outdoor area, it will be important to choose an outdoor solution that best suits your guests' needs, creating relaxing spaces with all kinds of comforts.



Quality

Whether the stay is for a few days or weeks, the time spent in overnight accommodation must be quality time, to be turned into an enjoyable experience, to be repeated and shared. Every detail contributes to an unforgettable experience, starting with the attentive welcome and the warmth reflected in both the service and the living spaces, including the outdoor areas.