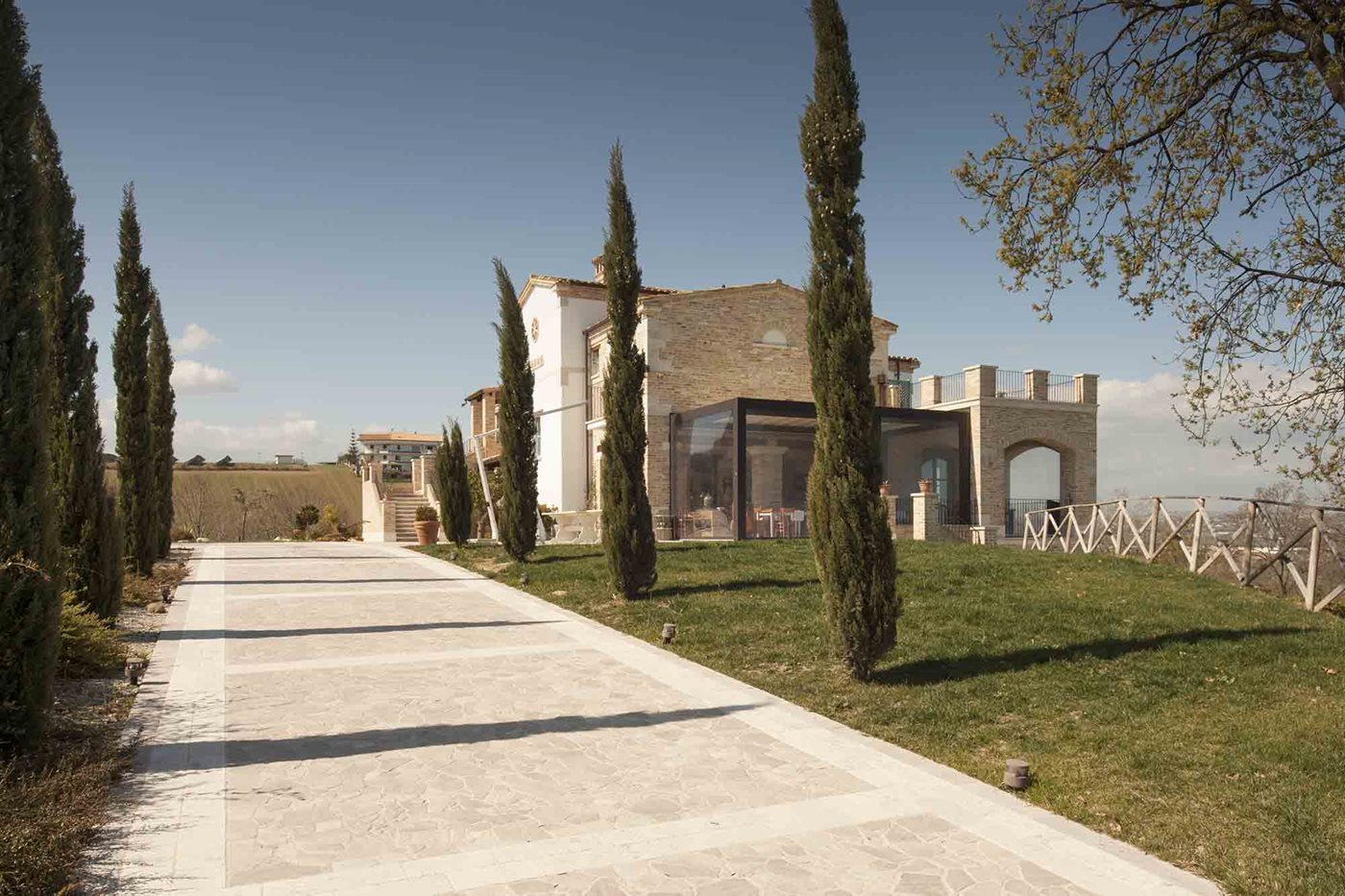 Maestro Pergotenda® for a country house between tradition and innovation
Alba Adriatica - Italy
Enhancing an accommodation facility that blends together rural architecture with modern and comfort features: Atelier Luigi Del Sordo has created a farmhouse with plenty of greenery and enveloped in an atmosphere of the past.
The Hotel & Restaurant Villa Sant'Angelo has been designed to offer an accommodation experience that is linked to local tradition and the natural landscape, as well as a relaxing and familiar atmosphere. The new farmhouse is more efficient and sturdy, and features spaces that can also be used by people with motor disabilities. However, it preserves the character of a two-storey farmhouse thanks to its pitched roof and exposed walls.
Back to basics: harmony between indoor and outdoor

Recycled materials, natural textures and colours dominate the building. In fact, the façades are made of recycled bricks, natural lime colours and plaster, the roof is covered with reused brick tiles and the interior floor is made of handmade terracotta. Similarly, the furnishings are reminiscent of typical local homes.

The building (featuring ten bedrooms, reception area, breakfast room, restaurant with kitchen, verandas, and outdoor spaces) is a gem nestled in the countryside, within a large park, surrounded by a forest of linden and walnut trees. Thanks to the Corradi solutions, the outdoor area (like the interior spaces) blends with the surrounding nature.

Maestro Pergotenda® for an unmistakable outdoor experience

On the innermost, sheltered side, a large heated saltwater swimming pool welcomes residents to a sheltered, intimate wellness space. This is located next to the home-grown vegetable and fruit gardens, whose products are used in the restaurant's kitchen. The veranda and Maestro Pergotenda® become the ideal place for savouring food and enjoying the view of the lush, colourful garden.

Maestro is an avant-garde solution with an unmistakable style. This is a self-supporting aluminium pergola, whose cover can be equipped with either a sliding, stacking canvas or adjustable blades. In the Pergotenda® version, the canvas can be fitted with curved tubes whose appearance gives the structure great dynamism.

The extreme cleanliness of the lines (typical of the Corradi style), allows the design to be easily adapted to the context of installation, whether it is a restaurant with minimal lines or - as in this context - an accommodation facility that makes rural architecture its stylistic feature.

Therefore, Maestro becomes the ideal space to fully enjoy the wonderful nature that surrounds the Hotel & Restaurant Villa Sant'Angelo. Featuring panoramic views ranging from the Adriatic Sea to the mountains behind the natural parks, this facility offers a unique experience that combines tradition, relaxation, and comfort.


Project Hotel & Restaurant Villa Sant'Angelo, Alba Adriatica (Teramo)
Designer Atelier Luigi Del Sordo
Images Alessio Mitola for Archikiller Lab
Project management Master dealer Giardini & Terrazzi