Bioclimatic Pergolas and Pergotenda®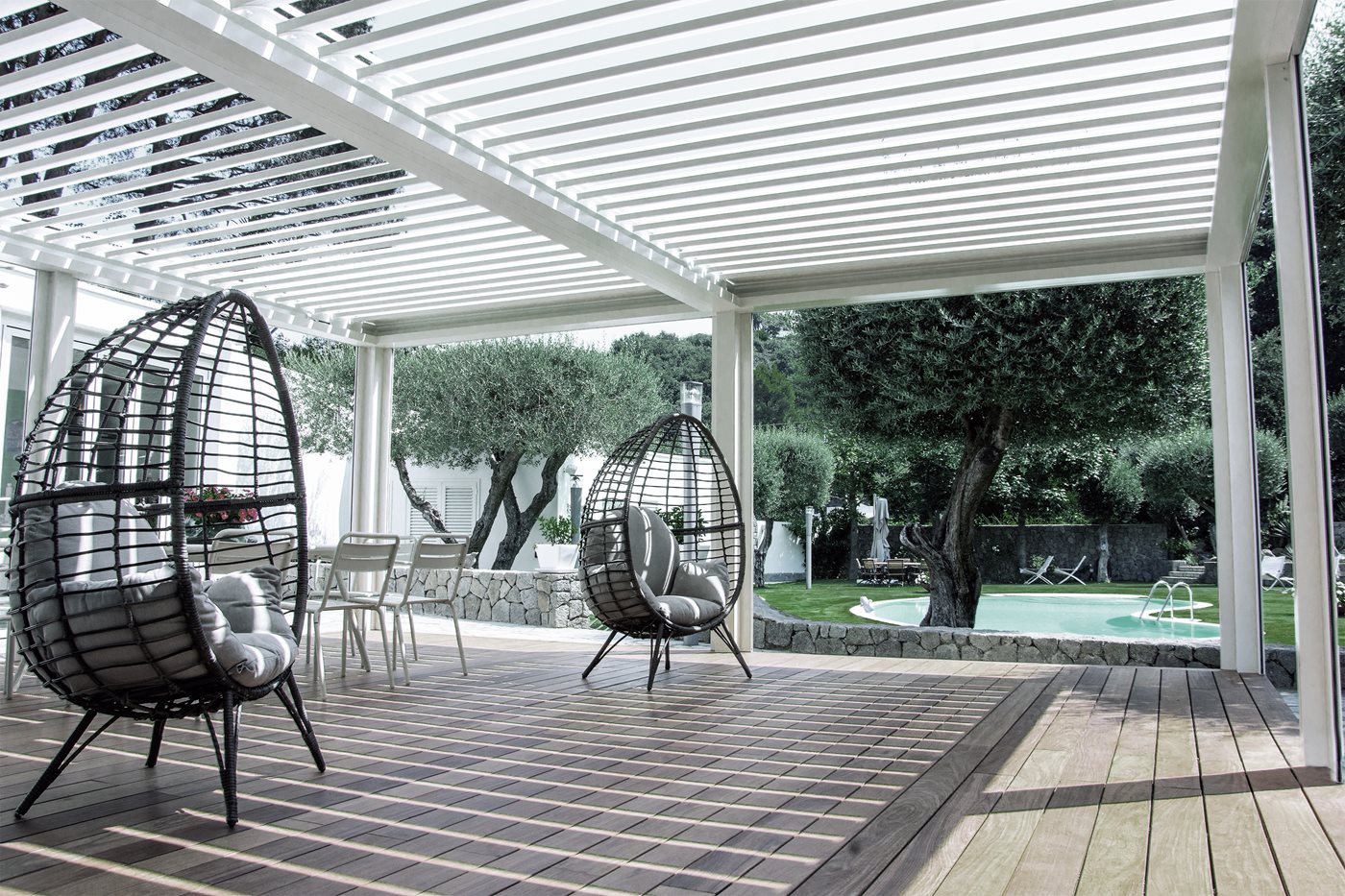 Bioclimatic Pergolas and Pergotenda® are Corradi solutions for those who wish to enjoy outdoor spaces all year round. These structures differ in features and functionality, offering everyone the best solution for enjoying their outdoor spaces.
Let's explore Bioclimatic Pergolas and Pergotenda® and how certain details can make a difference, offering customised, inspirational solutions for the use of these products in a residential setting.



Bioclimatic Pergolas
Thanks to their roof with adjustable blades that make it possible to automatically adjust the internal temperature, bioclimatic pergolas are perfect for a variety of situations. They are able to protect against intense sunlight or rain in both summer and winter. Their aluminium cover creates a particularly comfortable environment, as by changing their inclination you can control the sunlight and the degree of natural ventilation, thereby adjusting the temperature. Bioclimatic pergolas also offer the possibility of integrating accessories such as side covers or LED lights.
Bioclimatic pergolas have a simple design that allows them to blend in perfectly with the surrounding architecture. The bioclimatic pergola can be fitted out with glass walls or sliding panels, which allow the covered area to be enlarged and create a cosy, luminous environment.
Explore the models on our website: IMAGO® is the essence of your style; Alba offers numerous configurations for a high-performance model; Maestro is a product with multiple identities; Eteria has a minimalist style and extreme functionality.

Pergotenda®
Pergotenda® is the patented system of sliding stacking/folding covers that combines innovative materials, cutting edge technology and sophisticated design. Ideal for those who prefer a simple yet elegant covering solution that offers greater flexibility, Pergotenda® can be wall-anchored or freestanding, flat or sloped, open or closed at the sides.
It offers protection from sun and rain, and its essential, functional design contributes to a sheltered outdoor environment even in wind or rain. Available in different configurations and sizes, Pergotenda® can be customised to suit your needs: with a water-proof fabric cover, the aluminium structure can be enriched with side and front coverings to create a sheltered outdoor space even in wind or rain.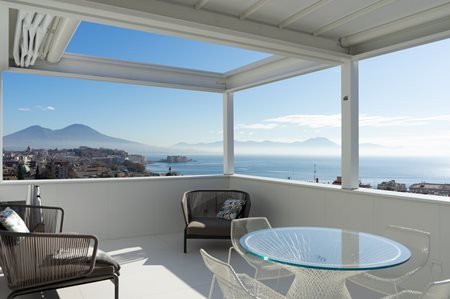 Explore the models on our website: Palladia® features a simple yet bold design, making it one of Corradi's best-loved models; B-Space is the aluminium pergola for large areas; Impact® is the perfect cover for any pergola; the wooden pergola dedicated to those who love tradition; Maestro is an aluminium Pergotenda® with a full selection of options; Exyl is the beauty that needs nothing superfluous.