Lighting for outdoor structures: discover the solutions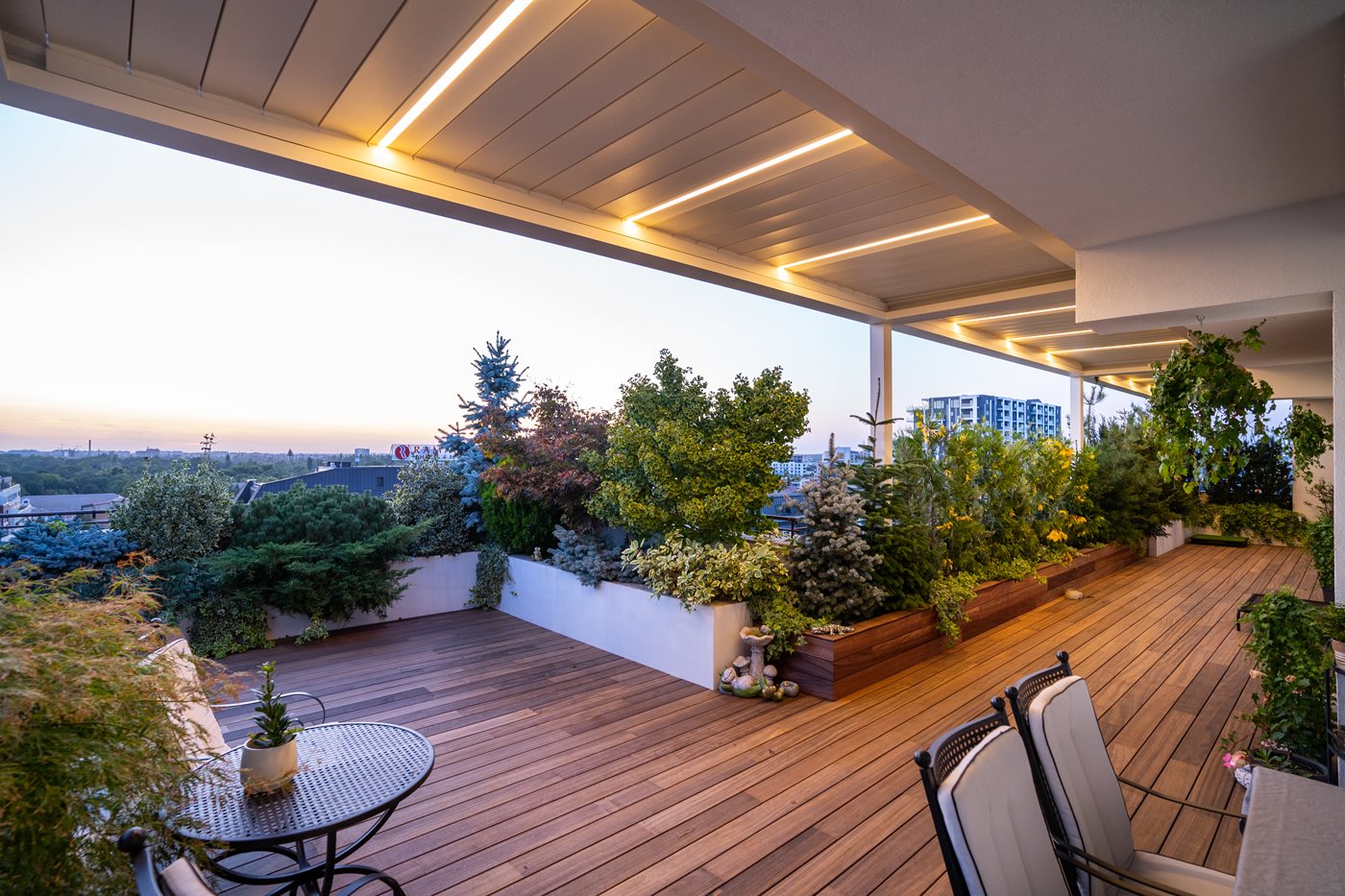 Among the many factors that influence the design of outdoor structures, lighting is one that can make a difference. Essential for illuminating pergolas during the evening hours, outdoor lights are important for creating a welcoming and comfortable atmosphere, perfect for an evening outdoors.
With a rise in temperatures and the arrival of the nice weather, there are more and more occasions when we take advantage of the outdoor space of our homes or restaurant patios to enjoy social gatherings. In these contexts, lighting is a very important aspect from a functional, aesthetic and safety point of view: a well-lit outdoor area is a safe space where one can feel relaxed and comfortable.
In order to choose the right outdoor lighting, we have to take a number of factors into consideration, such as the type of light, its intensity, and positioning. All these elements together not only improve the aesthetics of the pergolas or sun sails but also contribute to their value, as they add living space to the perimeter of the main structure.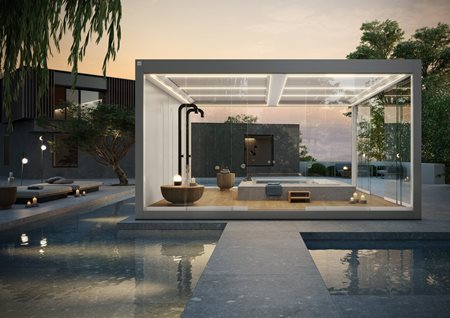 Corradi's outdoor lighting technology offers a choice of functional, elegant and contemporary accessories to match the different types of Pergotenda®, Bioclimatic pergolas and sun sails.
Each product in fact has its own peculiarities, which we can enhance and strengthen thanks to lighting, whether in a private home or in restaurants and hotels. For the latter in particular, outdoor lights are necessary elements to make the most of outdoor space and also to give a decorative effect to the environment, perhaps in synergy with other lighting components such as wall lights or candles.
If you are looking for inspiration for those "evenings outdoors", you have come to the right place. Let's see together which solutions can do the trick, and turn your outdoor space into a magnificent location for your summer evenings.

Experience: the Pergotenda® kit
If you own a Pergotenda® and want to illuminate it by creating a pleasant visual effect on the canvas, the Experience kit is a practical and modern alternative that illuminates the setting without taking up space with lamps or ceiling lights.
The small, discreet and almost invisible light kit is fitted on the tubing supporting the Pergotenda® canvas and is available with either warm white light or a wide colour scale thanks to the RGB system.

Ray: versatile and striking outdoor lighting
Warm white light for lighting that enhances the space while meeting all requirements in terms of functionality and style: Ray can be used on the internal perimeter of Pergotenda® or bioclimatic pergolas.
It can be adjusted via remote control, increasing or decreasing intensity and degree of illumination. Check it out on our website.

Fusolo and Pyramide
Lighting accessories include a number of solutions specially designed for Sun Sails. Fusolo is a spot light with an iconic design. In fact, its shape is reminiscent of the microphones of the 1950s, a detail with great personality that perfectly matches the modern lines of Maestrale and Scirocco.
Simple and essential, Pyramide is the lighting complement designed for Defense. This spot light illuminates the sail and its perimeter and emphasises its essential lines with plays of light and shadow.

All Corradi solutions are perfect for use in private residences or horeca structures, on our website you will find a wide range of choices to get the right lighting for delightful moments of comfort.