Essential features and maximum practicality
Bioclimatics

Eteria

Eteria Bioclimatics: contemporary practicality

Eteria, daughter of the Sun and the ocean nymph Clymene, was transformed with her sisters into a poplar with bark studded with amber buds. The name of this manual pergola made by Corradi was taken from the legend of ancient Greece, and it preserves the linear forms and noble roots of its mythological inspiration. A member of the bioclimatic pergola family, Eteria shares the metal freestanding pergola structure and adjustable blades of its sisters, letting you adjust the amount of air and light that flows within.

The movement of the blades, which can be rotated up to 120°, is completely manual, so Eteria does not need electricity. Its motor-free design is therefore extremely simple and deliberately essential. The flat blades also contribute significantly to the minimalism of the volumes, resulting only partially visible even at full aperture for an authentic and simple look. Eteria's lightweight structure is thus enhanced by the practicality of the aluminium with which it is manufactured: functional to every outdoor space. Indeed, when completely closed the Eteria's pergola metal is also water-resistant, rain water running off thanks to the gutters embedded into the beams and pillars. Its freestanding pergola also makes it ideal for seaside climates, as it resists salty air and rough weather if properly maintained. Why not use it to give your time the ethereal form of pure architecture, creating an environment of comfortable well-being? At the seaside or at home, Eteria offers the freedom of an open but protected space where you can enjoy your surroundings, whether it be a natural setting or the city.

Show more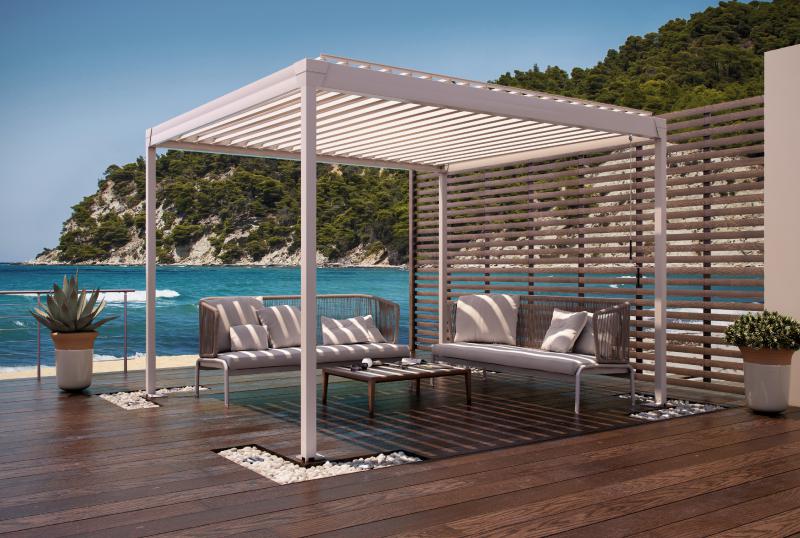 The manually adjustable freestanding pergola
With its clean lines, Eteria fits into any setting without disturbing its harmony, but rather enhancing its essence. Its minimalist figure is often the protagonist of moments of intimacy with a high degree of personalisation. Just a few well-chosen furnishings and accessories, like large side curtains, make this Bioclimatic pergola a comfortable spot on warm spring days or the ideal retreat on the hottest summer evenings. Anthracite and white texture: these are the colour variants of the minimalist Eteria, like Pergotenda® Exyl, but the two-colour version is also quite appealing.
Practical, adaptable and as simple in its design as in its installation, Eteria is ideal for private outdoor spaces, even large ones. The module has fixed dimensions of 350 x 395 cm but can be doubled both on the span and on the pivot, both in the freestanding version and in the version anchored to the wall. On each of the two modules – even when coupled – the pergola metal can be oriented independently, demonstrating the extreme versatility and practicality that distinguish this pergola metal. Furthermore, Eteria also benefits from the Corradi guarantee that remains 100% valid for its entire duration, in this case two years.
The opening direction of the blades is defined when ordering. This allows choosing greater protection from the sun or – on the contrary – the maximum possible brightness in the space below, thus satisfying climatic needs or personal tastes. You also have full freedom when it comes to lighting the pergola: as it is not integrated in the pergola it is one of the elements that you can use to further customise its appearance, choosing between fixed components – for example floor lighting – or simpler solutions with great dramatic impact.
Unleash your creativity and emotions and make the most of your time: with Eteria every moment is filled with amazement and wonder. The wonder of nature conveyed through an unexpected breeze or a ray of sunlight that playfully makes its way through the roof blades. Eteria is the bioclimatic pergola that does not need lateral closures because it was born to be without borders, free, like the fronds of a poplar studded with amber.
Show more

Aluminum

Freestanding

Manual Operation

Bicolor Possible

Wall-Mounted
CE Marking

Flat

Resistance to atmospheric events CHARCOAL GREY

White
Are you interested?
Contact us for more information
Where to buy
Find our dealers