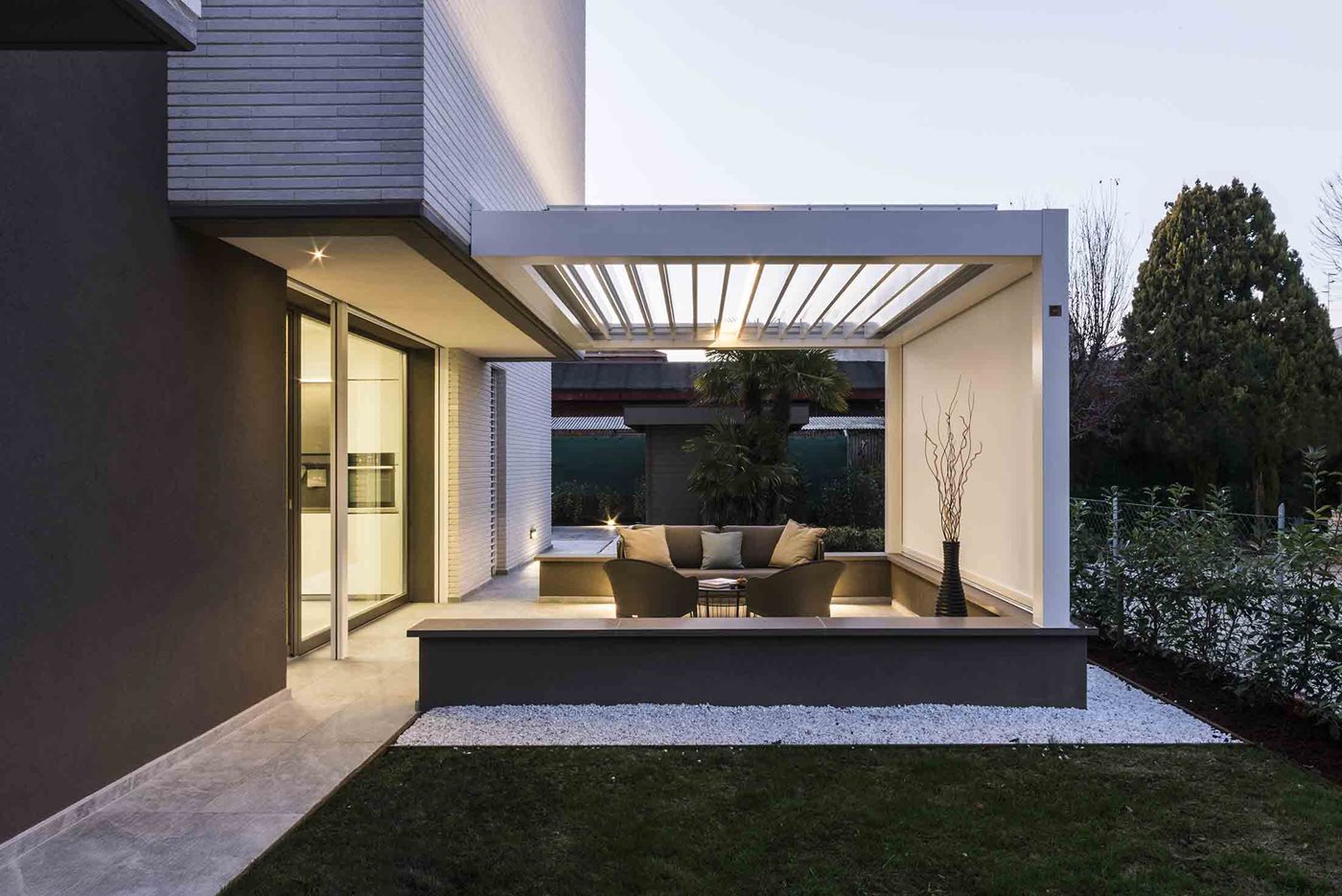 Bioclimatics Maestro: an oasis of relaxation in the heart of Carpi
Carpi - Modena
Located in the heart of Carpi and designed by architect Gian Luca Montanari, this multi-storey villa is a fine example of a delicate and characterful design where each space has been thoughtfully considered and arranged. The lines, materials, colours, and solids are designed to be in complete harmony with the surrounding environment (while maintaining a strong visual effect overall), enhancing the area in which the project is located.
Maestro pergolas for an outdoor area featuring clean lines
In this context, the
Maestro bioclimatic pergola
was therefore the most appropriate choice to help bring the design idea to life. When placed against two pillars, Maestro serves both as a connective component and a discreet, elegant feature.
The aluminium pergola is equipped with blades that can be adjusted by up to 140° via remote control. It is possible to choose the direction of opening according to how much light or shade is desired inside the structure.
The beam, which is only 25 cm high, the flush gutter, the integrated screen system, and the motor (hidden from view), all contribute to an extreme cleanliness of lines, which is deliberate and refined.
Maestro: not only bioclimatic, but also Pergotenda®
The same solution is available in different configurations. In fact, instead of the adjustable blades, the structure can also be self-supporting or with
Pergotenda®
stacking canvas, an original Corradi patent. For larger spaces, it is also possible for all configurations to join several modules together without the need to double the pillar. This is another feature which adds a distinct aesthetic and functional value.
Also impressive is the technical performance: both with a canvas and in the bioclimatic version, this product is resistant to rain. The latter is eliminated by integrated gutters, with the pillars acting as downspouts.
Enjoying the outdoors at all hours
Finally, to complete the overall design, the structure incorporates LED lights that can be inserted into the perimeter and in the roof, creating intimate and suggestive atmospheres to enjoy the outdoors even after sunset.
On request, this product is available in any desired Ral colour. In this example, it features matt white with
Diffusa XL
vertical screens, perfectly blending in with the exterior, which is clad with exposed brick and also white.
Beauty, elegance, character: these are the words used to describe a project that - in terms of urban redevelopment and creating added value by thinking about future spaces - represents innovation and functionality.
Project
Single-family villa Carpi
Designer
Gian Luca Montanari - MGGM studio
Images
Vito Corvasce