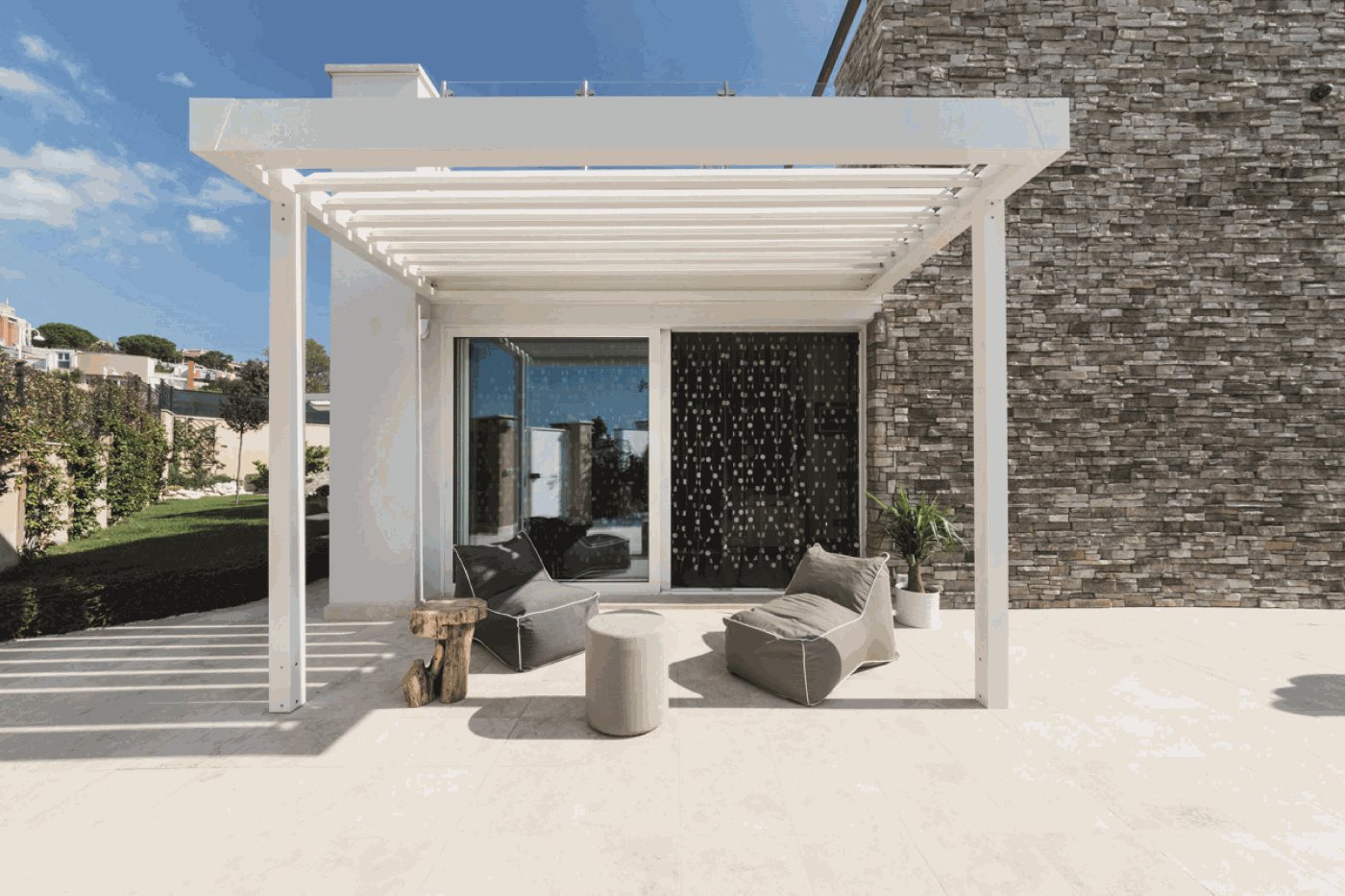 Alba bioclimatic pergola: a beautiful and simple design for an outdoor setting where the superfluous is banished
ANCONA - ITALIA
Finding the right balance between essentiality and ornament. This was designer
Aldo Gialleonardo's
idea who decided to tackle the renovation of a single-family villa, part of the former Villa Marabotto, located in Ancona.
Its interior design features both elegance and practicality that are in constant opposition. However, its outdoors completes this ambitious project: a large, bright green area transitions into a contemporary "Italian Zen garden" where nature is the protagonist. Residents can enjoy this home as a relaxing retreat since - thanks to the functional elegance of Corradi's solutions - it enhances the primary concept of the project.
For this space, the designer has chosen
Corradi's Alba bioclimatic pergola
which provides pleasant shade for the patio and blends perfectly with the home. From the pergola it is possible to enjoy a full view of the green area and the large L-shaped swimming pool that dominates the garden.
Alba: enjoying every moment spent in the outdoors
Alba
is a bioclimatic pergola featuring a minimalist design that adds sophistication to the outdoors, enlarging the indoor space naturally. Its blades, which can be adjusted by up to 150°, allow shade and light to be regulated in the patio, while also controlling air circulation as well as temperature in a natural way. Furthermore, when completely closed, the cover is waterproof and the water is drained by a gutter system integrated in the pillars.
With a
linear and evergreen design
, Alba suits all traditional as well as latest modern architectural styles, and can be installed in different ways: self-supporting with four pillars, wall-mounted with front pillars, integrated or resting on existing rooms, without vertical pillars.
Thanks to Alba, the outdoors becomes a statement of the relationship between human beings and space. Outdoor spaces are re-imagined to communicate peace and order as well as enjoy every moment.
Project
Private residence (Ancona)
Designer
Aldo Gialleonardo
Images
Vito Corvasce