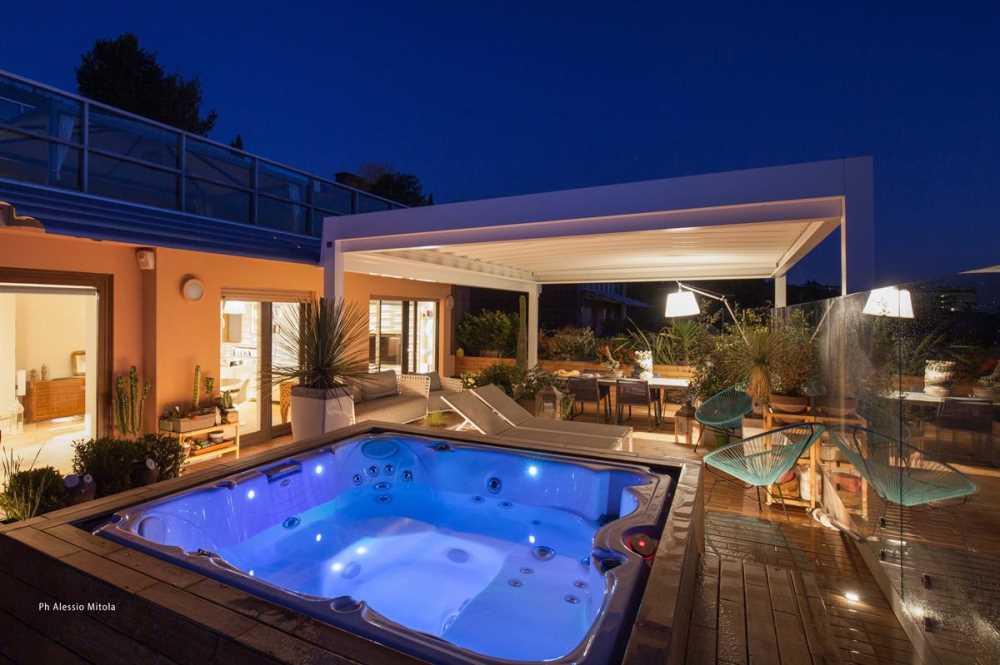 Brightness and design: looking at the sky from a panoramic penthouse
Perugia - Italy
A panoramic penthouse in Perugia where contemporary design meets experiments with materials and where the light is the real protagonist. The architect Mauro Zucchetti designed the indoor and outdoor spaces of this apartment and terrace, choosing Corradi as a guarantee of style and functionality for the outdoor cover system.
Developed in 2018, the project created a space where different styles coexist and where the personality of the owners – passionate about design and travel – is expressed in the sophistication of the indoor and outdoor furnishings.
Just one goal: practical beauty for indoor and outdoor spaces
A continuous interaction between indoor and outdoor through a restyling aimed at making the penthouse bright and welcoming, blending wood, fabrics and contemporary furniture. Perfect elements in combination with the exotic handicrafts that the customer purchased during his travels and that were integrated into the project proposed by the architect.
A renovation that finds its maximum expression in the outdoor space, perfectly reconciling the desire of the owners to have a terrace to enjoy exclusively, in contact with natural elements, with the need for technologically advanced structures and impeccable design. Thus was born the project for a panoramic outdoor space with open-air hot tub, completed by a sheltered, practical space designed by Corradi.
"Corradi was our first choice as a partner", says the architect Zucchetti, "especially considering the owners' attention to style and design, and it proved to be successful for the luxurious character of the design".
Pergotenda® Maestro for a cutting-edge outdoor setting
"Corradi", continued the architect, "was the ideal partner to meet the needs of the customer: quality, superior functionality, cutting-edge technology, minimalist design and structural safety". In a word, excellence, expressed by Pergotenda® Maestro, in white aluminium, which enhances the brightness of the room by moderating the heat. A choice that has allowed us to respond in the best possible way to the need to manage the drainage of rainwater. Here also Corradi technology proved to be useful, the installation of canalisation systems on the structure's columns making it possible to drain off water without disturbing the apartments below.
A winning team for a successful installation
The total time devoted to the study, design and complete realisation of the indoor and outdoor spaces was only six months, and the owners were able to start enjoying their new terrace in the summer of 2018, fully satisfied with the results and the expertise of the workers.
Light and space, windows and greenery, technology and design, craftsmanship and modernity: the design of this penthouse benefits from the added value of harmoniously blending a wide range of materials and styles while maintaining superior overall quality thanks to strategic choices of indoor and outdoor furnishings.