Four ideas for a dog-proof (and owner-proof) garden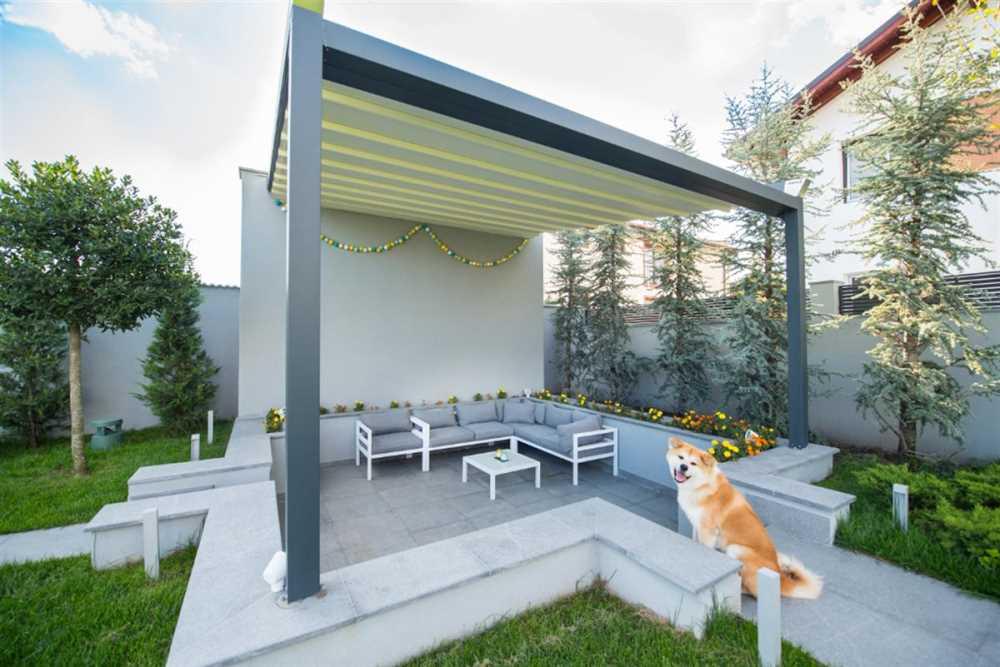 There are numerous benefits of having a lifestyle where you spend time outdoors: physical activity, health, relaxation, creative stimulation and contact with nature, both for us and for our four-legged friends, who are very happy to have a garden that they can run and play in.
Today we'll take a look at four furnishing ideas to create a garden that's also perfect for dogs, always taking into account the aesthetic needs of the spaces and the design, with quality structures that should never be lacking.
Designing your dog's outdoor environment to meet its needs
Each dog has its own characteristics depending on its breed. Some have a greater need to move around, run and dig holes, others are more sedentary, true domestic pets, and yet others have an instinct for hunting.
Regardless of these differences, they all need to spend some time outdoors. Indeed, a daily walk and playing outside are important not just for having fun, but especially for the animal's health.
This helps us to understand the importance that a garden can have for our pet. So what are the main elements to be considered when designing a green space suitable for your dogs? Here are some suggestions:
First, the size of your pet. A small dog can weigh 4-5 kg, while a large dog can weigh up to 50 kg. While the former can adapt to a small green space, a large dog needs a larger area.
Second, the owner's habits. To design a garden suitable for your dog, our advice is to consider from the start how you want to use it, dividing it into areas and dedicating some delimited spaces to your four-legged friend.
Finally, remember that the watchword when it comes to animals is "freedom". Like all animals, dogs live according to the rules of nature, instinct is their guide along with the education received since they were puppies. That's why it's important to create spaces where your dog is free to move around, play and explore, according to the rules you set.
Dogs in the garden: ideas for animals...and owners!
Now it's time to think about how to set up an outdoor environment that is also ideal for your dog, always taking into account functionality and design. Here are four ideas that can be adapted to an existing green space or that can be part of a garden designed from scratch.
Pathways, fences and delimited areas
The best way to adapt a garden to the needs of your dog is to create boundaries that allow it to understand which spaces are accessible and which are off limits. For example, a wooden gate that opens or closes sections of the garden to your dog, perhaps combined with the installation of a fence that defines the area dedicated to your pet, a space that is 100% dog-friendly where it can find games, a place to sleep and possibly even water and food.
Finally, if there's a lawn or a space with flowers and flowerbeds you can create a sidewalk that ensures your dog a path that is free of dirt and mud and that also protects your garden.
Sun and shade: the importance of a cover
Shady areas for eating and sunny areas for warming up are also important for your pets. For this reason, it's necessary to provide a covered space for your dog so that both of you can relax in a cool space and take shelter in case of rain, bad weather or hot sun.
The cover systems created by Corradi – a name that is a guarantee of excellence and quality made in Italy – include several options suitable for everyone, like a Pergotenda® or a bioclimatic pergola, which offer a lot of freedom also thanks to the possibility of adding side closures, as well as ensuring an excellent shelter without having to give up life in the open air.
Ideas for playing outdoors
A useful tip for developing a stronger relationship with your four-legged friends is to play with some of their toys only when outdoors. These might include special balls, chew toys, or even holes in the sand that they can dig and roll around in.
The area for these activities could be a deck, for example in wood or ceramic tiles, materials with an excellent performance that are durable and easy to clean.
Doghouse in the garden
If your four-legged friend sleeps in the garden, it can have a doghouse all of its own. It could look like a house or a hut, or maybe it can sleep on a cushion, a sofa or some other special structure.
If the garden is also your dog's "bedroom", our advice is to choose the flooring carefully, making sure it is easy to clean and able to ensure the best possible thermal insulation.
Setting up an outdoor area suitable for dogs is certainly important for the well-being and relaxation of pets and their owners. Together you will be able to enjoy the best of a domestic green space that meets both your needs.
Corradi can assist you in the best choices for a custom garden that is also designed for animals, where the style and quality of the furnishings complement the functionality of materials and structures.
Are you ready to enjoy the fall in the open air with your inseparable friend?