Comparing trade shows: from 2018 to 2021, how our approach to the outdoors has changed.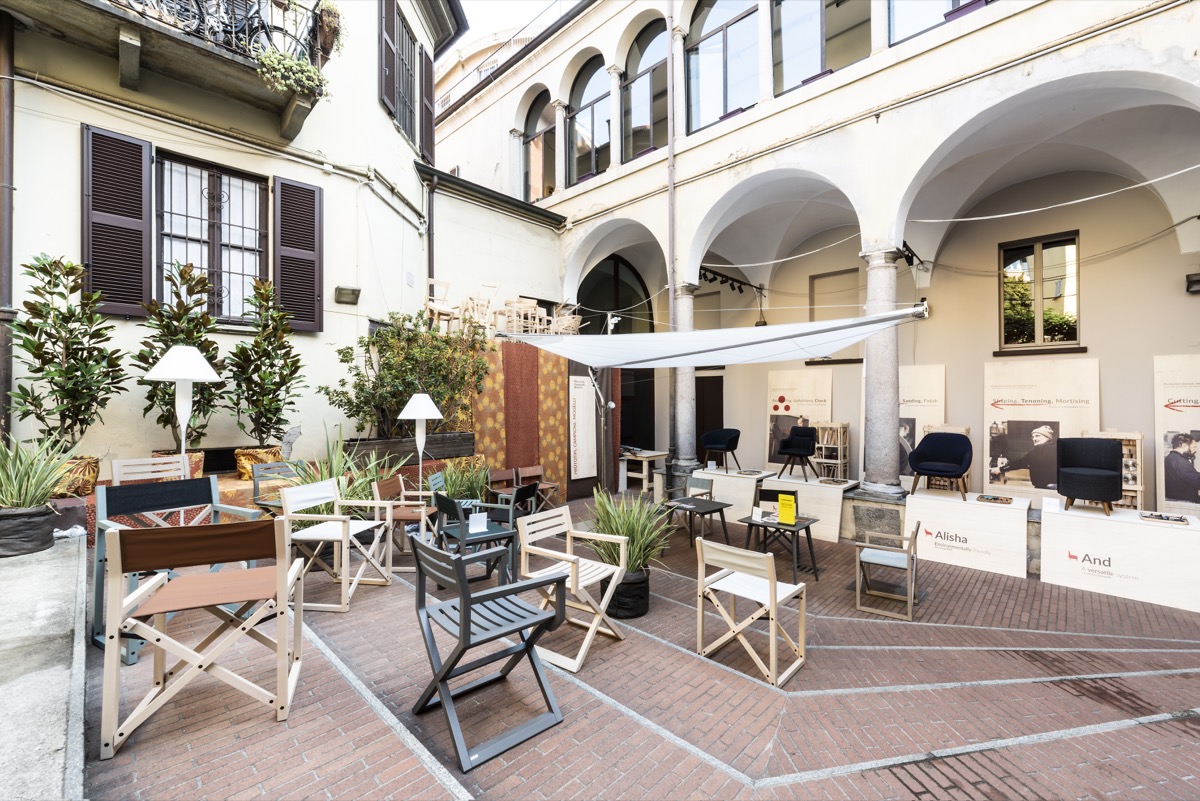 Being alchemists of the outdoors had brought us in 2018 to the Fuori Salone by way of a multi-stage journey between innovation, smart green solutions, circular economy, wellness and functionality: a design focused on culture, networking, innovation under the guiding theme of the Corradi Design Line.
MDW: Yesterday and today

The 2018 event had been outlined in 5 iconic locations of the Fuori Salone, where through the presentation of some avant-garde designs we had questioned what the future of the outdoors was.
Technology in the service of inclusivity, interconnected cities where the space of well-being becomes the outdoors, contact with nature and multifunctionality. These were the topics discussed in the 2018 edition of MDW, which have been the focus of our study over the last two years, in which we have inevitably changed our habits and points of view.
Design and architecture have provided a timely response to the needs arising from the great socio-cultural change taking place and have guided us towards a new vision, where not only has the boundary between interior and exterior become more fluid, but also that between online and offline.
We have reinterpreted the space, transforming it into a container for ideas, designs, visions and content to be disseminated to the outside world in a new, different, new normal way.
Once again in this edition of MDW 2021, we were represented in one of the city's main hubs, witness to that phenomenon of contamination, construction and development for a shared design culture, now even stronger and more heartfelt after a year's break.




Popping Design

This year we opened the first major international event post lockdown with a new concept: "Popping Design" is a light-hearted and amusing, but not frivolous, way of analysing and exploring the trends that are really "popping" in the design of outdoor spaces.

We broadcast 5 talks live from the Fuorisalone in Milan on our social channels and via zoom from dOT in Piazza San Marco. During these, we hosted international architects and designers under the Imago bioclimatic pergola and talked to them about the most interesting topics in the world of architecture as well as urban planning.
During the encounters, journalist Giorgio Tartaro discussed outdoor trends with them, leading to a reflection on the future.

Popping design talks
With architect Marco Piva, Studio Marco Piva, we talked about the design "Green Wave: The New Living Spaces", or how the outdoors has become in the collective conception functional to living, a protected place that can be defined according to our choices.
Combining the idea of a protected environment and nature opens up a discussion on how architecture - set in a natural context - accompanies and completes the design of places and how pergolas, as well as outdoor constructions, have become containers for dynamic functions. These apply to a variety of situations, from private homes to hotels and public spaces.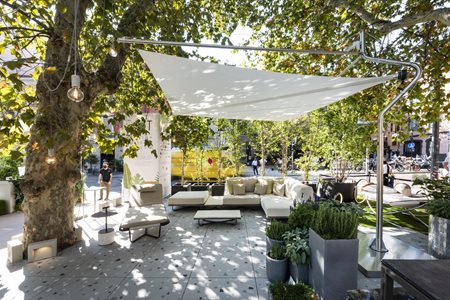 Architect Alberto Apostoli, Studio Alberto Apostoli, told us about the relationship between open spaces and wellness in his "Wellness Experience Meets Outdoor", two concepts that have always been related and that today lead us towards a more authentic interpretation of the outdoors. Materials are also at the centre of Architect Apostoli's thinking: those that are original, functional, certified, high-quality, and above all capable of adapting to today's great climatic changes and thus responding to designed technical performance.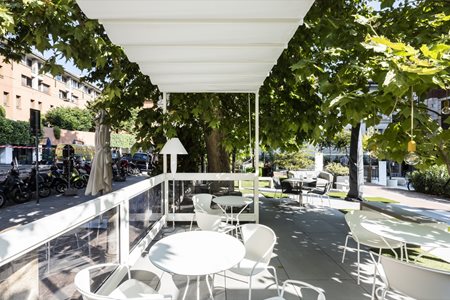 The need for well-being, together with the increasingly topical concepts of sustainability, are leading us more and more towards a socially-oriented outdoors that allows us to experience a different urban dimension.
And it is precisely from sociality and the city as a place symbolising inclusion and aggregation that architect Andrea Boschetti, firm Metrogramma, starts his consideration: "Superare la Città" (Overcoming the City).
A new design for the city of Milan, which starts again from the value of empty spaces and between areas where the outdoors is interpreted as the fourth landscape, delimiting less and less clear-cut boundaries between the inside and the outside of our spaces.

For architects Caberlon and Caroppi, from the firm of the same name, "the real challenge is innovation, capable of responding to changing needs". During their talk "In&Out: l'ospitalità che passa dal giardino. Gli spazi outdoor in hotellerie (In&Out: hospitality through the garden. Outdoor spaces in the hotel industry)" they analysed the new functions of hospitality, where staying in a hotel has become a "sight-seeing holiday", and the outdoor area a harmonious, comfortable space designed down to the last detail according to the context.

Finally, we explored one of the most important themes in this particular historical moment of rebirth, where outdoor architecture plays a fundamental role in the redesign of public urban spaces: "Riappropriarsi di città e servizi dopo la pandemia (Re-appropriating cities and services after the pandemic)" is for architect La Varra, firm Barreca & La Varra, the way to change the face of the city with a socially sustainable footprint. Urban spaces need to be rethought on three dimensions: public green spaces, which are increasingly integrated into our lives; public space as a place for sharing; and the integration of technology into architecture, in order to make our experience increasingly smart and interconnected.

The common thread running through all the talks can be traced back to what has always been our mission: to promote an outdoor culture centred on beauty, well-being and the value of our time and space. Excitement, creativity and innovation - in three words, our Popping Design 2021.