Sun sails and shady oases: Corradi's summer.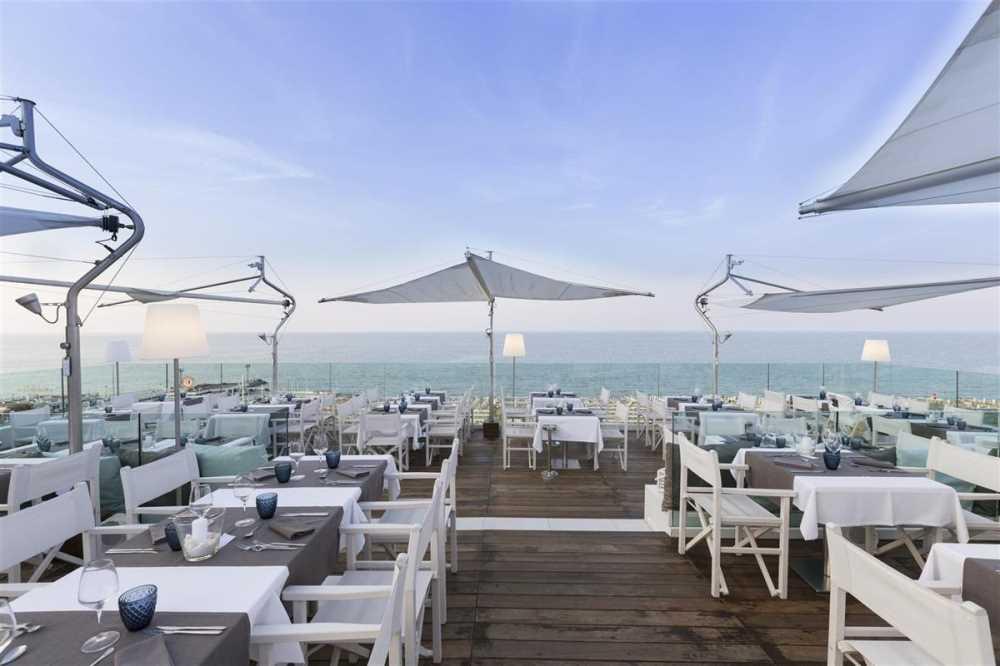 With the arrival of summer, the beach season officially starts, and beaches and lidos fill up with travellers looking for places to relax, where they can find the refreshment and well-being that sun and sea can offer. For this reason, the design of places dedicated to leisure time and days at the beach is fundamental in order to create comfortable spaces where shade and open air contribute to the pleasure of enjoying moments of total relaxation.

Beach tourism represents an important sector for outdoor architecture, where among establishments, restaurants and lidos there is an increasing tendency to abandon masonry structures in favour of contemporary, versatile and smart architecture suitable for the outdoors.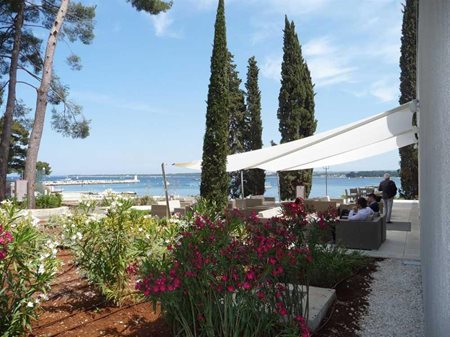 Goodbye concrete structures and imposing buildings; this year, the watchword is lightness. The design of sun sails proves to be a great ally in this sense. With its sleek shapes and linear geometries, it offers essential architectural solutions, perfect for enriching any space with elegance and functionality.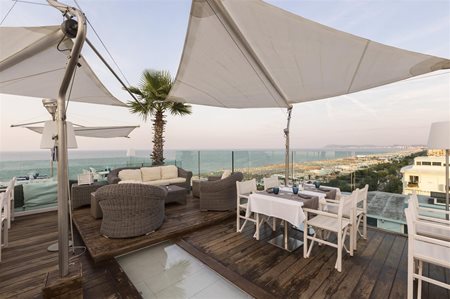 Sun sails
Sun sails fit into this context as true furnishing solutions, in order to create open spaces and guarantee an essential and modern style, in line with the surrounding environment.
Innovative materials, cutting-edge fabrics and a design that is both functional and linear are the key features of our sun sails, perfect for furnishing any space with style and practicality.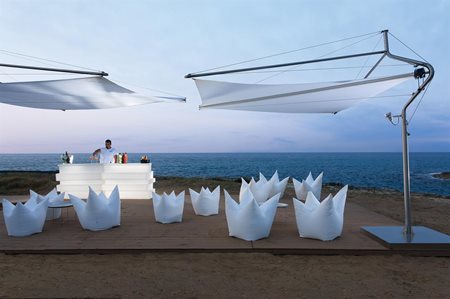 Defense is designed to be sleek, solid and durable, with a spectacular impact on the surrounding landscape. Defense sun sails can be freestanding or wall-mounted and are characterised by two canvases that drape over a horizontal profile and can be equipped with motorised closure. Cutting-edge technology and aesthetics meet in a highly functional and visually appealing structure. The design of Defense, lends itself perfectly to enriching the aesthetics of an environment: in a location with a sea view, for example, it is possible to create a scenic setting that enhances the surrounding panorama, while still protecting from the sun during the hottest hours.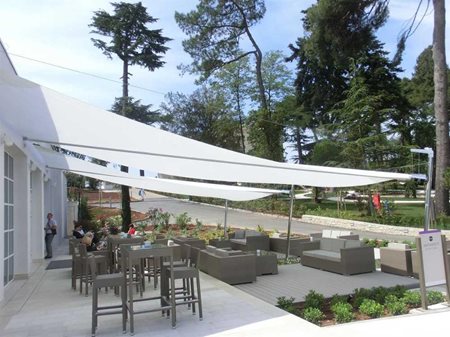 With the Scirocco sun sail it is possible to cover large areas (up to 70 m² per sail) including panoramic terraces overlooking the sea or lounge bars on rooftops. Scenic and functional, Scirocco can be equipped - like all Corradi sun sails - with a sensor for the automatic closure of the sails in the event of strong winds. Its particular structure and the possibility of customising it makes it versatile for use in different settings, precisely because of its minimalist and elegant aesthetics.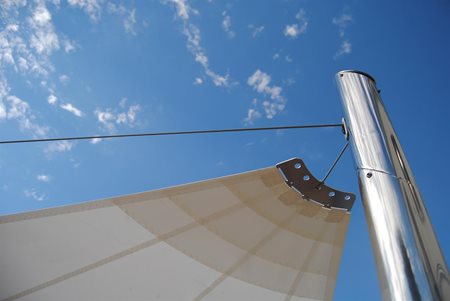 A dynamic and modern design characterises Maestrale, a sophisticated sun sail inspired - like all Corradi Sun Sails - by the nautical world and the wind. Thanks to its essential look given by its steel poles, this sail is perfect for outdoor locations, such as gardens or seaside resorts, where salty air is predominant.
A lunch on the beach, an aperitif on the seafront; thanks to the sun sails, summer 2022 will be spent in the name of good living: in the shade, caressed by the sea breeze, in the presence of unspoilt and relaxing natural panoramas.