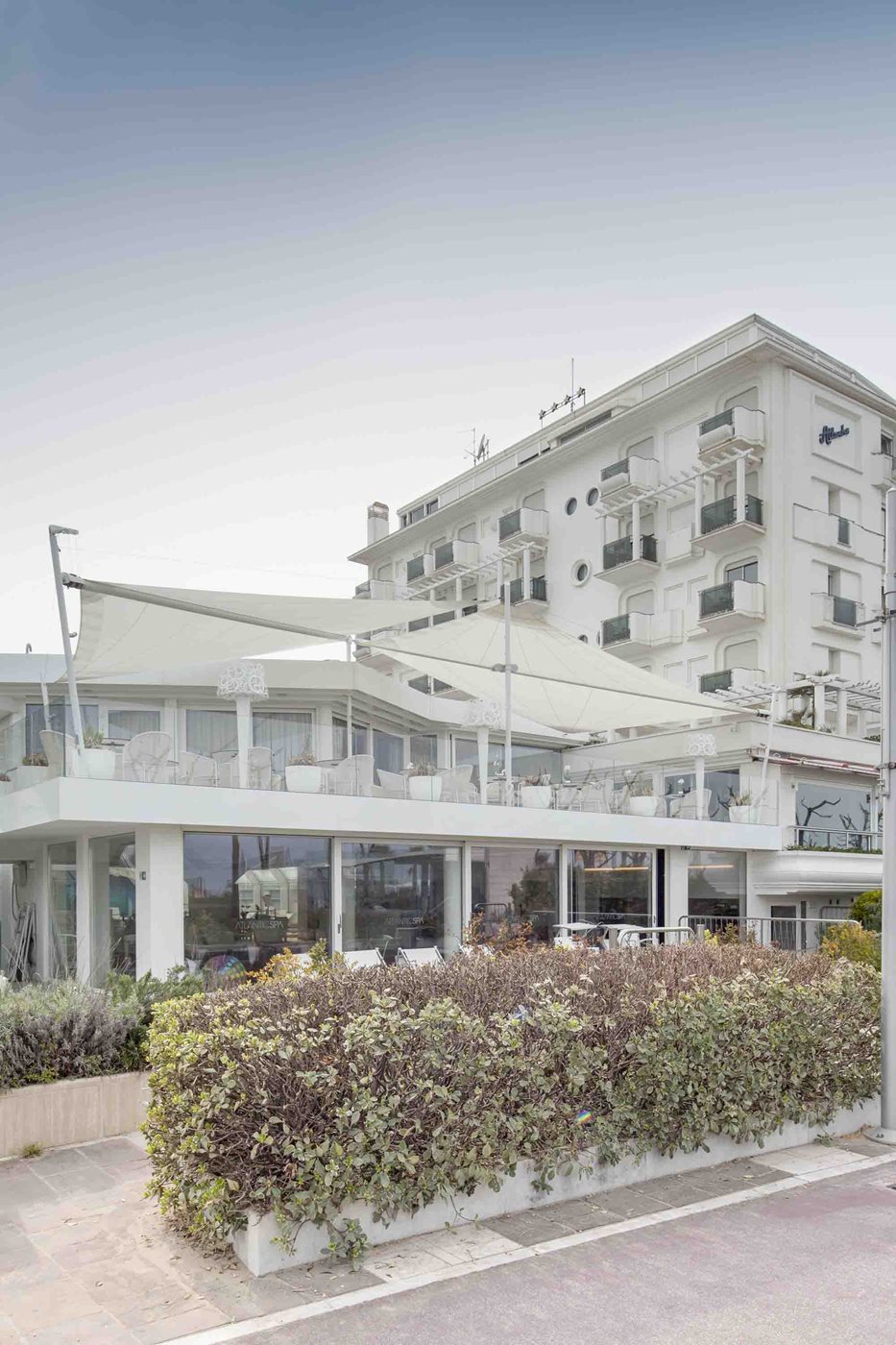 Scirocco Sun Sail allows you to enjoy the Adriatic Riviera all year round
Riccione - Italy
Hotel Atlantic is a four-star facility on Riccione's seafront. This seafront hotel offers an elegant and refined environment where the shapes, colours, and furnishings are designed to engage the visitor. To maximise the hotel's potential, the most recent renovation project was entrusted to Sergio Bizzarro's architectural firm for the creative work and to studio Lepri for the administrative work.
A new space has been created to accommodate a restaurant with a panoramic terrace overlooking the sea and a Winter Beach. It is an innovative "winter" beach, created with real sea sand, located in an enclosed, heated, covered and fully air-conditioned environment, allowing guests to enjoy, even in the middle of winter, an experience comparable to a summer day outdoors.
An atmosphere of relaxation and holidays that can be experienced in every season. The blue and white colours create a Mediterranean ambience and distinguish both the hotel and the Green restaurant, known in Riccione for its good food, excellent service and refined ambience, a must for those who like to spend their evenings in an elegant, sophisticated and carefully designed venue.

From the dining room, you can access a large panoramic terrace with contemporary furnishings, protected and shaded by Corradi solutions, which allow you to enjoy the view of the sea and the promenade below in complete comfort.

Scirocco: custom-made, scenic and functional

The Scirocco sun sail was chosen for the project, ideal for covering large areas, up to 70 sq.m per sail. The shading sail - that can be equipped with a single triangle or a double (in an irregular shape) sail - does not require wind-bracings. Custom-made to meet specific design requirements, the sail integrates the motor within the furling profile, which can be controlled by radio remote control or manually. Furthermore, the motorised version of Scirocco is equipped with an anemometer that triggers automatic closure of the sails in case of strong wind.

The polished stainless steel poles, sails featuring radial cloth cut, a single motor located in the furling pole, and the presence of springs in the support pole convey a soft and elegant design. This is perfectly in keeping with the spirit of the structure and allows guests to enjoy the view.
Delicate colours, light lines, but also a reference to the sea and its foam, make the interior and exterior spaces of the Hotel Atlantic unmissable in every season. This is the ideal refuge for those who want to take a relaxing break from the frenetic pace of everyday life, ensuring a corner of summer at any time of the year.

Project Hotel Atlantic Riccione
Production Sergio Bizzarro
Images Mattia Mezzeti for Archikiller Lab