Pergotenda and Bioclimatic Pergolas: the Corradi solutions for your custom outdoors.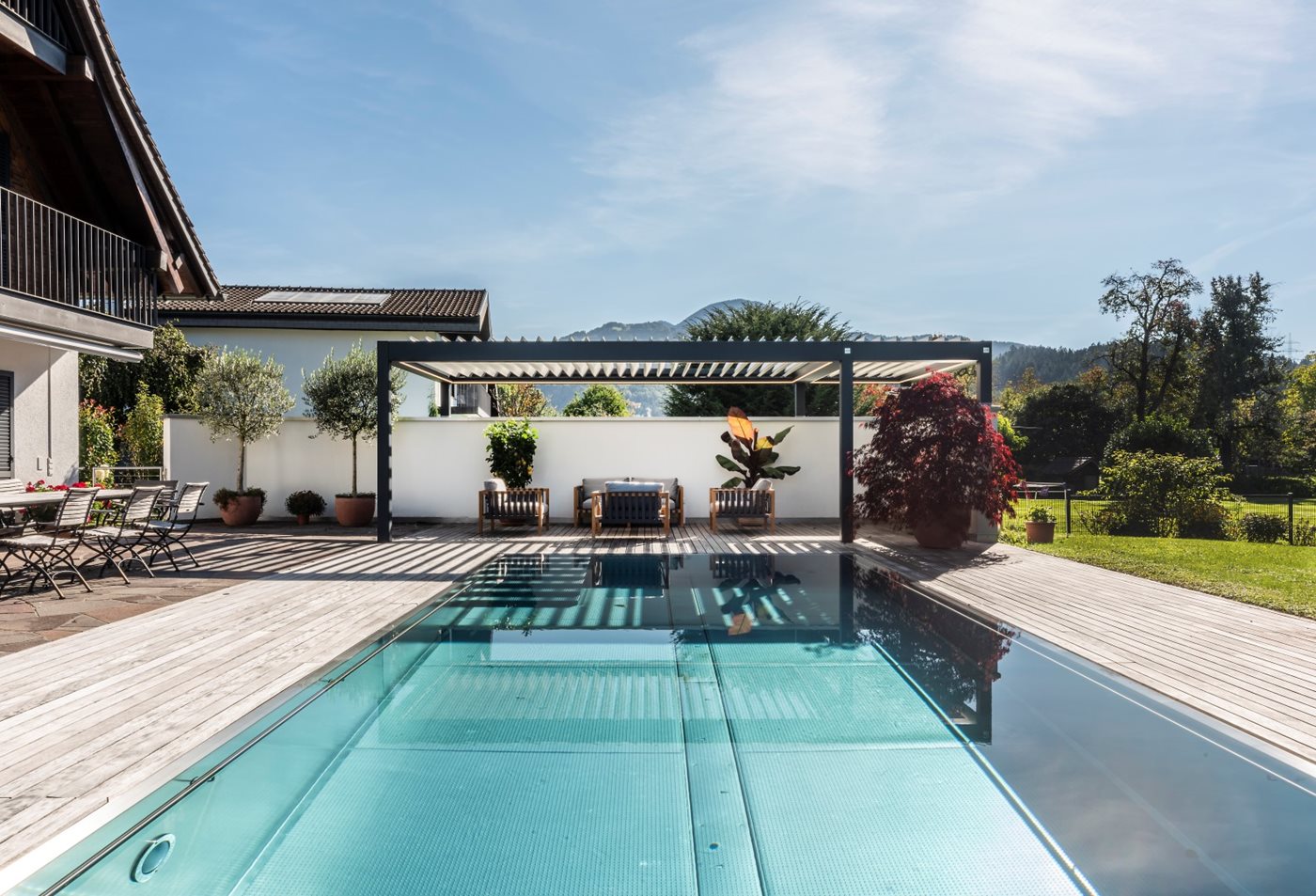 It is time for change: with the arrival of spring and temperatures getting warmer, switching out the wardrobe is not the only restyling on our minds. Summer, with its warmer and longer days, reminds us that the time of the year is finally here to refresh outdoor spaces with patio covers, sun sails for terraces and pergolas, where it is possible to spend our free time in the open air, surrounded by nature, in comfortable environments.
Work space, corner for relaxation, area set up for family activities; it does not matter how your outdoors is used, what is important is that it be ready to welcome you in the best way possible every time.
This article will give you some tips on how to renew your garden, terrace, or patio through solutions imagined to be personalised and ideal for responding to every need.
Pergotenda® or Bioclimatic Pergola?

Although these are solutions with the same use features, there are several differences that make each of these products unique and specific for various needs.
Both are solutions that offer an opportunity to make a space outside our home, or outside a tourism or restaurant business usable, making it pleasant and comfortable to be lived all year long, but the choice of one or the other configuration depends not only on the need for space and usability, but also on the integration of these products in function of the structure with which they will be paired.
So Bioclimatic Pergola or Pergotenda®? Let's take a detailed look at all the configuration possibilities and discover the solutions that are most suitable to your needs.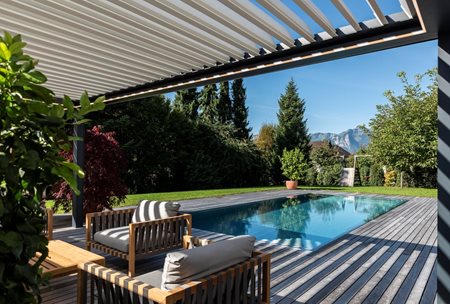 Pergotenda®
Pergotenda® by Corradi is the patented system of sliding covers,
stacking/folding, that combines innovative materials, cutting edge technology and sophisticated design.
The structure of the
Pergotenda®
can be made in aluminium or wood, it can be anchored to the wall or left freestanding, flat or sloped, open or with side/lateral fasteners or sliding glass.
Its particular design offers different possibilities in covers for terraces
,
that combine the
characteristics of a classic sun sail with those of a pergola
, creating a highly versatile solution with water-proof properties and protection against some weather elements.
Technique and design make
Pergotenda®
a product with infinite possibilities for dressing and personalising an outdoor space, making it a place to live all year long.
The timeless style of
Millenium® Celeb,
the full optional potential of
Maestro
, the essential design of
Palladia®,
the elegance of
Exyl
, the big dimensions of
B-Space
, the warm nuances of the wood of the
Pergotenda® 45
and the versatility of
Impact®
: there is a Pergotenda
®
suitable for every need,
discover them on our website.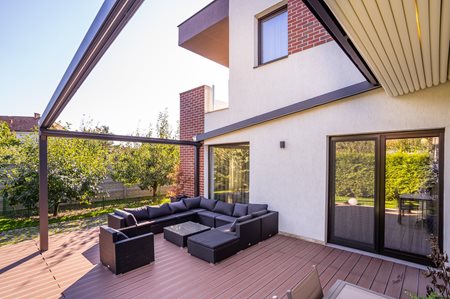 Bioclimatic pergolas
Comfortable environments in all seasons thanks to the particular cover with rotating shading blades: the
Bioclimatic Pergolas are the ideal solutions for those who wish to personalise an outdoor space with an elegant mix of functions and aesthetics.
The particular structure of the
Bioclimatic Pergolas
allows, in fact, for creating comfortable environments thanks to the remote controlled blade sloping mechanism, which allows the blades to rotate, therefore creating
conditions of sun and ventilation for a pleasant environment with controlled temperatures.
Imago®,
Maestro
,
Alba
and
Eteria
: the minimal and modern aesthetics of the Corradi Bioclimatic Pergolas, allows for great versatility in personalising the outdoor space. Each model stands out for its technical and structural features making a diversified offer that is specific to every space and use requirement possible.
Maximum expression of this philosophy is the Bioclimatic Imago®, where the interpretation of outdoors understood as a space to live outside the home imagined as an independent entity, matters more than anything.
Suitable for very large areas and configurable as self-supporting or wall mounted, the bioclimatic Maestro is a masterpiece of elegance and innovation.
Created from the encounter between imagination and practicality Alba combines all of the efficiency of a technologically advanced design with the sophistication of a light, compact and functional structure.
Last but not least is the bioclimatic Eteria, manual pergola whose motorless design is extremely sober and intentionally essential.
SunSails
Researched to be versatile and easily transportable, the
Corradi sun sails
are inspired by the sail technology of the nautical world. Thanks to the particular materials used mainly in the marine setting that makes them stand out, they guarantee excellent resistance to weather agents, from salinity to wear and tear.
Starting with the most iconic
Defense
, moving on to
Maestrale
known for its wind resistance and high degree of tightening, all the way to the essential nature of
Scirocco
, the
SunSails
by Corradi are completely rolled up in just a few seconds with motorised or manual mechanism: an excellent solution for those who are looking for a cover for terraces or a sun sail that is aesthetically discreet and functional.
We have the solution for your outdoor needs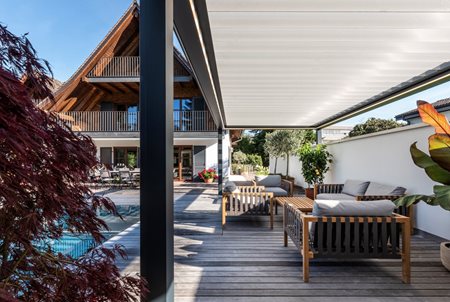 Thinking about the outside of the home is no longer just a question of green architecture and garden furnishings, but an actual design of outdoor life that will allow us both to expand the space available to us and to create environments to live during various times of the year and for different situations.
Renew is the keyword, with special focus toward physical and mental well-being which can come from attention to details that characterise our outdoors.
Make space for natural light, open air and structural details that can help us recreate versatile and functional environments outdoors, comfortably at home.