Experience the outdoors to the full (with the minimum).
One of the most popular activities for spring 2022 is taking time for self-care, preferably in open spaces: essential places that leave room for our emotions, where our well-being becomes the protagonist, this is the new trend for Corradi's Outdoor Living Culture.
With spring already underway and the long days approaching, the focus on the design of our homes inevitably turns to the outdoors. How can we make the most of our balconies, terraces and gardens, turning them into places to be enjoyed?

The outdoor trends of 2022 favour a minimal and modern style, where the essence of function replaces the superfluous and opens the door to a relaxed urban dimension made up of outdoor spaces in which to indulge in relaxation and chilling out. Regardless of the available space, we must focus on solutions that are both functional and aesthetically versatile, so that they can be easily incorporated into the furnishings chosen for the outdoor space.

The materials and nuances that are best suited to this purpose are undoubtedly those which are neutral and natural, which allow free interpretation through combinations offering continuity of style with the furnishings, or in total contrast with coloured accessories and furnishings.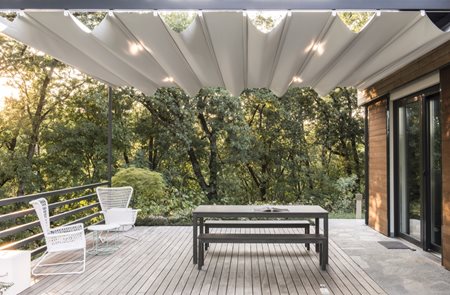 Space for creativity
To create an elegant and relaxing ambience, all you need to do is find the right mix and match of colours and materials, with furniture designed specifically for each space and need.

If we are talking about compact sizes, we are thinking of minimalist and discreet solutions in terms of size and style, which can best suit our balcony. Aromatic and ornamental plants or even small fruit trees will give a green touch to the specially covered and protected space.
A terrace can become our private garden, a small oasis of relaxation where you can eat outside and create a comfortable and relaxing space in which to spend your free time. Outdoor furniture for the lunch area and some comfortable seating, made of natural materials, shaded under a custom-made pergola will suffice.

The most fortunate will be able to take refuge in beautiful gardens, where they can relax, spend time with friends and retreat from the hectic routine of everyday life, once again favouring an essential and natural furnishing style, in continuity with the green surroundings.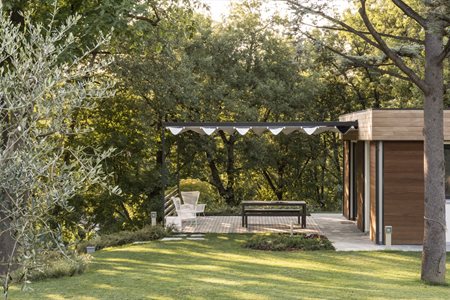 Pergotenda® Exyl: overtly minimalist
Pergotenda® Exyl is the self-supporting aluminium pergola that best interprets the minimalist outdoor trend of 2022, through a perfect fusion of practicality and linearity.
Lightweight and without fasteners, its clean and simple design underlines its functionality.
Exyl is versatile and multifaceted in its configurations: as a self-supporting pergola, or as a lean-to pergola, available with a flat canvas cover.
With its essential and elegant lines, this terrace cover introduces a deliberately flat and clean style, which seeks beauty by abandoning the superfluous in favour of the emotion that a space can give.
Minimal is not synonymous with impersonal
Cleanliness and essentiality are Corradi's strong points, which guarantee functionality and high performance through aesthetics in which the technical components of terrace covers are an integral part of the design but are not visible. The clean style allows maximum integration in any context, with essence, concreteness and pure beauty at its heart.
A specific example? Be inspired by Pergotenda® Exyl, and discover how easy it is to create your own style through furnishing solutions that suit every space and need, starting from a simple and linear base, ready to be customised.