Outdoor. I light up in the wintertime.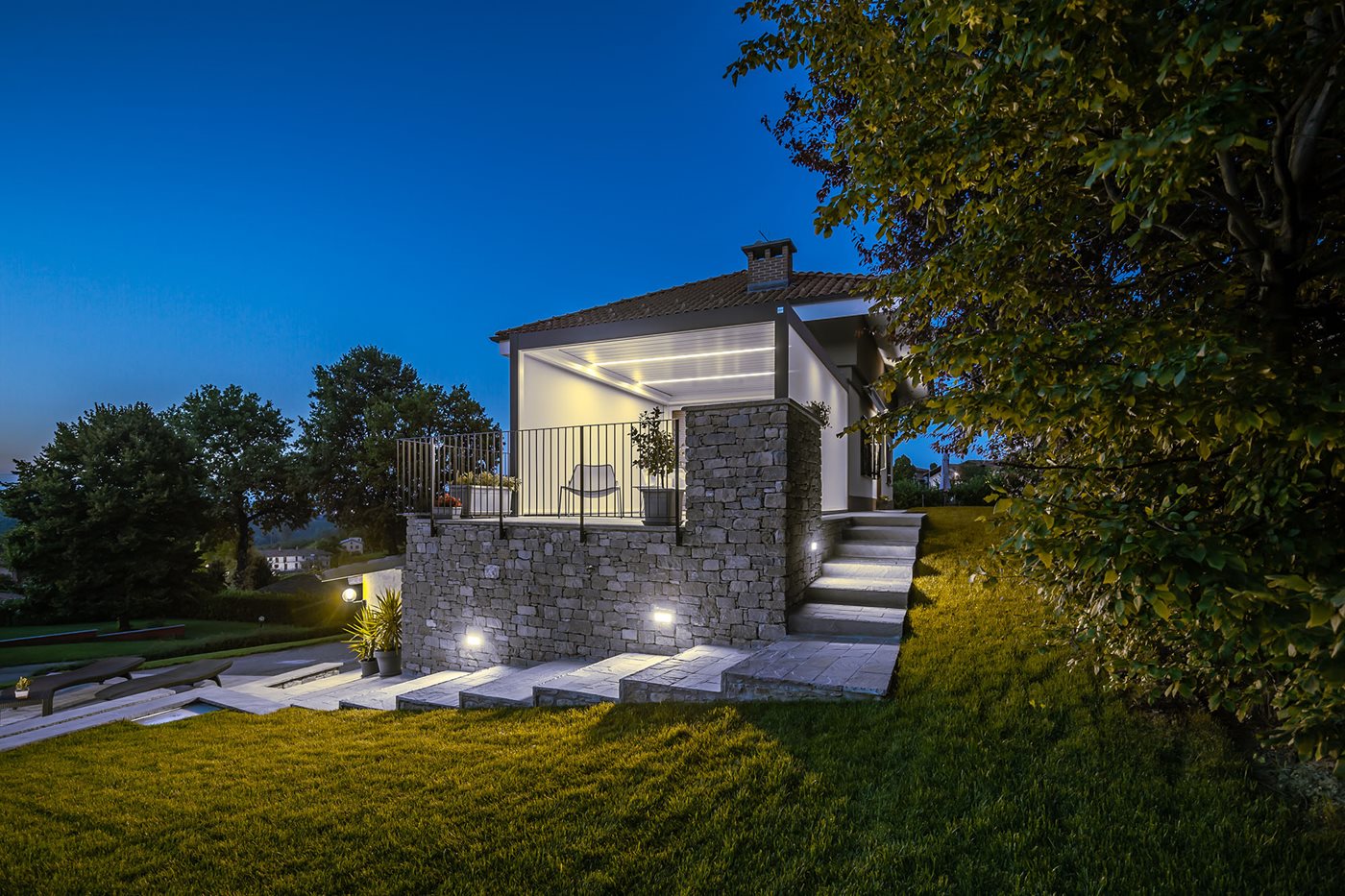 When it gets cold, the days get shorter, and, after weeks of gruelling and intense work, the time we spend at home extends into long relaxing evenings. In recent years, the spaces that we use for free time have changed, and have expanded to include re-evaluated and redesigned household areas, furnished to meet our specific needs. Outdoor areas are the great protagonists of this change, and have been designed, furnished, and improved to provide every comfort we desire.
In order to create a space that's capable of meeting the desired functional and aesthetic requirements, a series of factors must be taken into consideration: these include the system for heating the outdoor area, if it's intended to be used as a year-round living space, the furniture, including decorative items, accessories, and complements to give the space its own identity, and attention to stylistic details, such as lighting.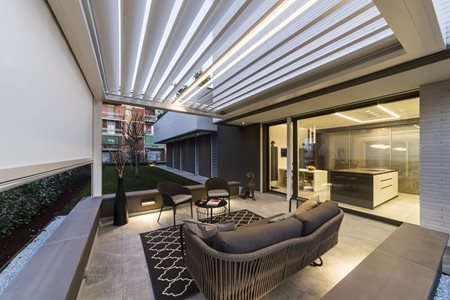 Why lighting is so important.

A personalised and well thought-out lighting design is essential for rendering the environment pleasant and hospitable; in fact, in addition to conveying the desired style, the choice and arrangement of the lighting sources is an important factor that affects the furnishing of the entire house.
When we talk about outdoor lights, we're not just referring to spotlights positioned in driveways or gardens, but also light sources integrated into verandas, pergolas, and covers over balconies and terraces.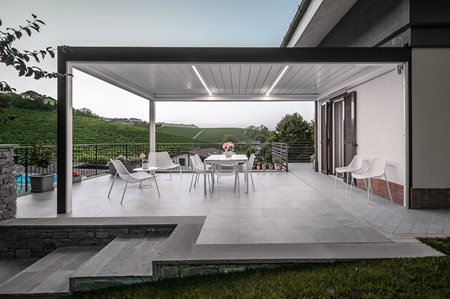 While we typically consider Pergotenda® and Bioclimatic structures as outdoor architectural elements to be enjoyed during the summertime, the recent socio-cultural change has led us to re-evaluate how they're utilised. In fact, they're no longer seen as merely functional porch structures or transitional spaces between the inside and the outside, but as actual living spaces to be enjoyed all year round, where, in both the private and public spheres, people can spend time socialising, surrounded by every practical comfort. That's why, even if limited to confined areas of the house, the lighting of these areas must be primarily functional, and tailored to meet the needs of the space itself.


There's light, and then there's light.

The various possibilities include outdoor spotlights, LED lights, decorative lamps, pendant lamps, floor lamps, table lamps, catenary lighting systems, and wall lights: the choice depends on several basic factors, namely the size of the area to be lit, the selected furnishing style, and whether the space to be illuminated is outdoors, and therefore exposed to the elements, or whether it has ceiling or lateral closures. Here are several examples:


LED lights
Ideal for withstanding moisture and low temperatures, LED lights are an excellent compromise between minimalist, modern, and energy-efficient design, and ease of installation. In fact, since they normally come in strips, these particular types of lighting can be easily mounted on the columns or the adjustable blades of our Bioclimatic systems.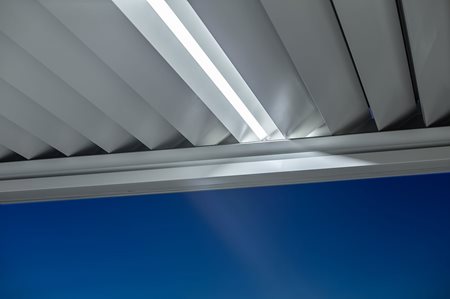 Outdoor spotlights
An excellent alternative for sun sails, which are most commonly used on spring and summer evenings; perfect for creating a pleasant atmosphere with lighting effects and contrasts, these durable, stylish, and easy-to-install fixtures are an excellent way to embellish your outdoor environment.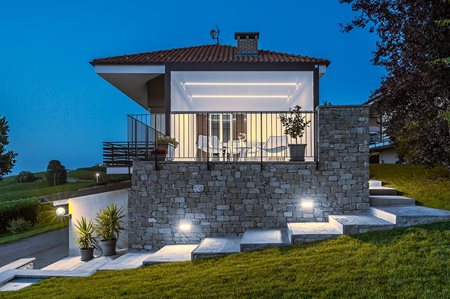 Decorative lamps
For those who love warm and traditional atmospheres, and who reminisce about evenings spent in front of the fireplace, sipping hot cocoa with a good book, decorative lamps with warm lights can provide you with a direct, uniform, and relaxing light source.
For an even more versatile result, the project can also include multiple light sources, with the lights being turned on or off to create the desired atmosphere.
A pendant lamp can be used to fully illuminate the environment with possibility of modulating the light intensity, while at the same time choosing the finish best suited to the colours of the balcony or veranda. Floor lamps are an excellent solution for delineating certain areas and creating boundaries, while table lamps can be used to shed light on specific details or corners of the room.

Light and matter

In terms of materials, much of the choice depends on the finishes within the surrounding environment. Natural and warm nuances accompanied by contemporary or country furnishings provide for a style that's characterised by a rough feel, with warm lights reminiscent of earthen tones.
Metallic elements with a more basic and linear design, on the other hand, are best accompanied by modern furnishings and lighting elements with natural colour tones.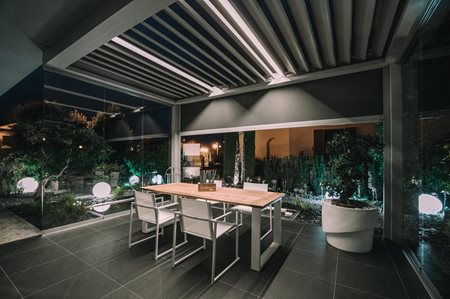 Whatever the case, regardless of the space in question, we must always keep in mind that outdoor lighting requires the same attention and care as an indoor project. Therefore, if you want to shed light on your style in a way that's consistent with the design of your environment and is functional to your daily needs, it's important to come up with a lighting design project that's an expression of your character.