Corradi's Outdoor Touch for Milan Design Week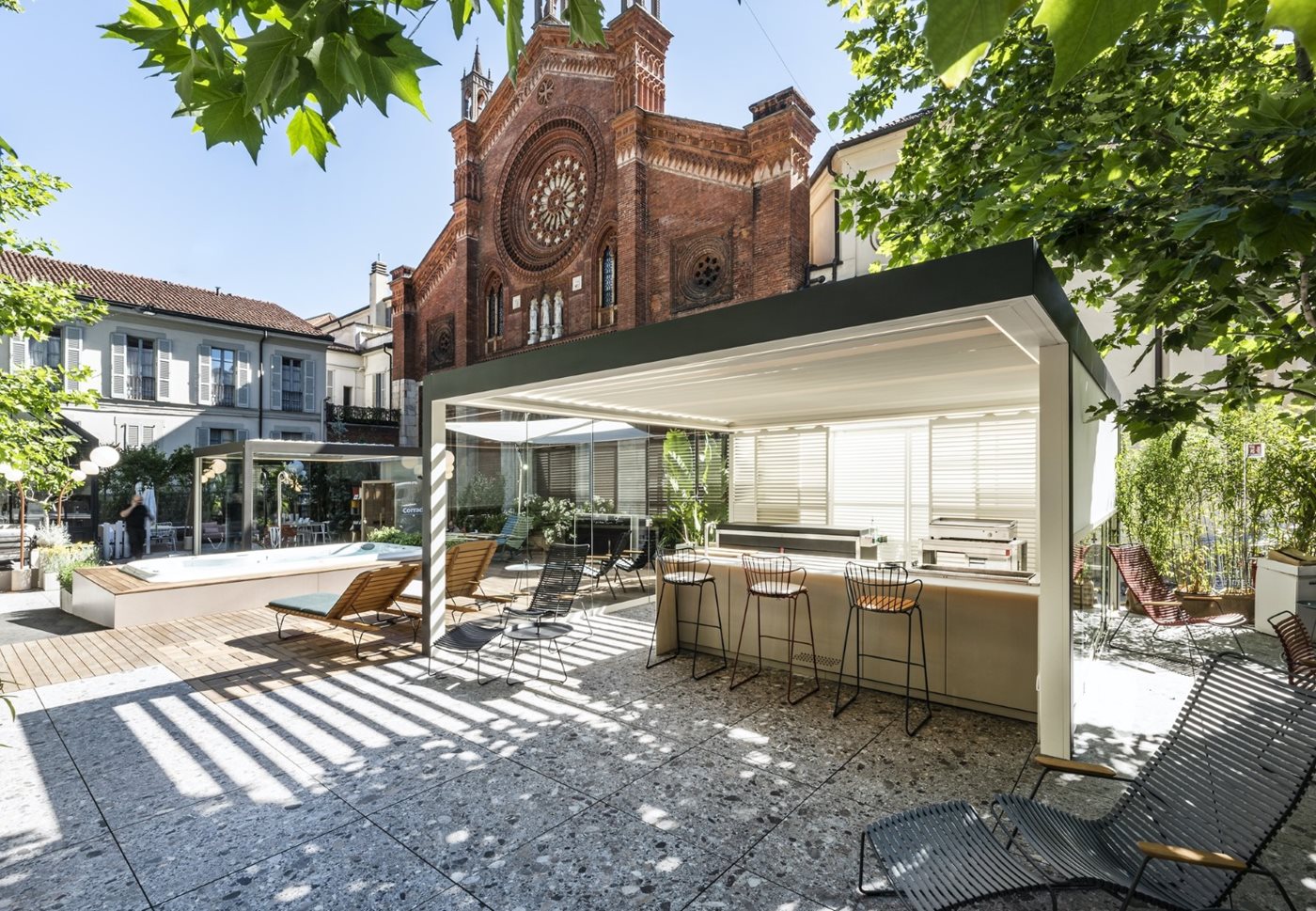 Milan Design Week is once again an unmissable fixture for Corradi, as the Bologna-based company makes an appearance at Fuorisalone with new solutions, bold colour choices and its recognisably elegant and exclusive design. Piazza San Marco, in the lively and innovative Brera District, will once again be the perfect setting to explore and discover new trends in outdoor living, where Corradi's Nature, materials and Outdoor Touch will find their ultimate expression.

The square in front of the 14th-century Romanesque-Gothic church will become a green oasis for the occasion. A place where creativity and materials will come together to create an evocative space, in which Imago®, in two different and surprising set-ups, the new Alba, Pergotenda® Exyl and the Defense sun sails will be the protagonists. The leitmotif of the installation will be the importance of materials in outdoor design: their substance, texture and consistency, essential elements in shaping everything, the tangible transition from design to creation.

During Milan Design Week, Corradi's spaces will also host visitors, architects and designers from all over the world and will see the kick-off of "The Outdoor Voices". This is a format, which will accompany Corradi throughout the year, involving personalities from the world of design, architecture, sport and entertainment with the aim of broadening the dialogue on the outdoors, enriching it and gathering different stories, thoughts and experiences to explore the world outside.

"Milan Design Week is a regular event for us and this year it's also returning to its traditional time period. However, we do not want to fall into the trap of thinking that everything is the same as before, nor that what we are experiencing is the much-quoted new normal. Instead, we believe it is a particularly creative time of study and transition to the next normal, in search of a new dimension customised for people. Milan Design Week for Corradi is par excellence a moment dedicated to the debate that increasingly permeates our society: the role of outdoor spaces in design, creation and everyday life". Commented Sully Briskomatis, Marketing & Communication Manager at Corradi, adding: "This year we chose The Outdoor Touch as the concept for our participation, to emphasise how outdoor living is a diaphragm that connects the inside with the outside in a tangible way, creating places for outdoor living and not just outdoor spaces. For us it is the "touch" that creates, even in a material sense, places that become an expression of well-being.