A new closure in the Corradi range: Brio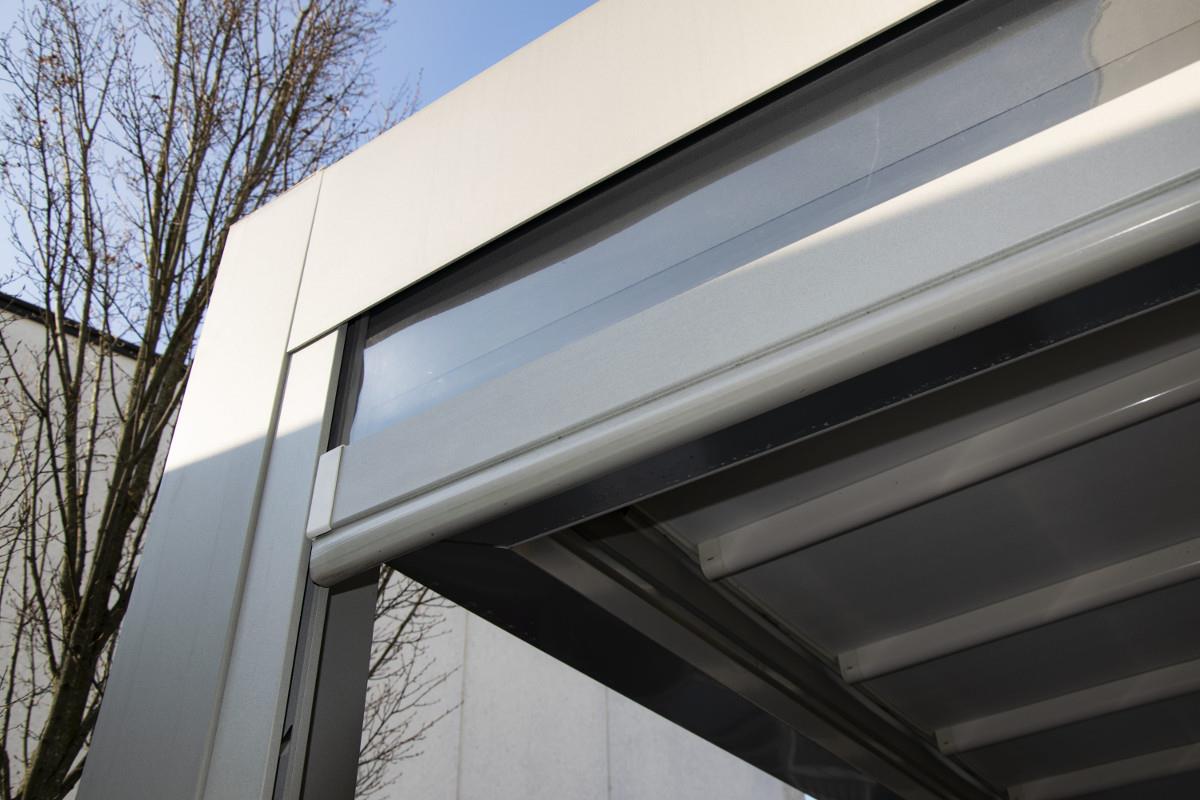 Summer's arrival ushers in the desire to spend time outdoors to enjoy the pleasant warmth of the sun; our gardens and balconies thus become the main parts of the house. They become spaces where you can spend your free time and partake in all those activities that we practice indoors during the winter. Experiencing your outdoor space to the full, however, doesn't mean that you're unprotected. Instead, having adequate cover in place to shield you during the sunniest hours and planning pleasant shaded areas to relax in will let you realise the outdoor space of your dreams. It will enable you to enjoy your outdoor space hassle-free and to the maximum.
In this article we want to talk about Brio, the new Corradi closure, which is perfect for sheltering the outdoor space from intense light and weather for an outdoor space that suits every season. The key message? Versatility; let's find out why.
Brio: customisable and suitable for all needs
Brio is the new closure that can be customised with any fabric from the entire Corradi range, from transparent materials to darkening ones. Furthermore, its discreet overall size minimises its impact on the structure.
In addition to that, Brio truly adapts to all space requirements: the Cristal fabric version, for example, can be used to close compartments of 500 cm in width and 320 cm in height, without the need for side strips in other materials.
The Glassrope version, on the other hand, has dimensions that can reach 600 cm in width and 270 cm in height, for a truly perfect combination that guarantees maximum protection for the outdoor space. In fact, the Glassrope combines the strength and flexibility of mineral fibre and resin to create an innovative fabric that is extremely resistant to tension and tearing, remaining unchanged over time.
Technology to serve the outdoors
Imagine yourself relaxing during a hot July afternoon, enjoying the pleasant shaded area of your outdoor space that was created especially for you and your needs. Combine this feeling of well-being with the comfort that a product with high technical performance can give you. This is the new Brio closure.
But which features make it truly avant-garde?
Telescopic locking system: passing numerous static load tests has earned the Brio block an international patent. In fact, thanks to its innovative components and its high resistance, it allows an optimal tensioning of the canvas, ensuring that the closure is not raised accidentally. When a darkening or filtering fabric is used, the canvas remains taut without need for the lock, which is instead ideal for the transparent PVC fabric. On a case-by-case basis, installers will, therefore, assess the need, or otherwise, for the locking system.
Horizontal sliding profiles: made with a click system that does not require screws and guarantees an extremely linear design.
Cassette available in two versions (11 x 12 cm or 12 x 13 cm).
Minimal runners for a small space (6.3 x 3.3 cm).
Brio is the Corradi closure that responds to any need thanks to its innovative technology and clean design.
It is a closure solution by Corradi, which, in addition to offering a wide range of products, devises customised projects to meet the specific needs of each individual customer. This is why Corradi is the perfect partner for the contract sector too, where the choice of adequate outdoor cover and the possibility of customised solutions can make all the difference outdoors.
Still unsure about which closure is right for you? Then it's time to take a look at the wide range of options offered by Corradi for your outdoor space.