Bioclimatic Corradi: the outdoor solution for your comfortable and functional outdoor space.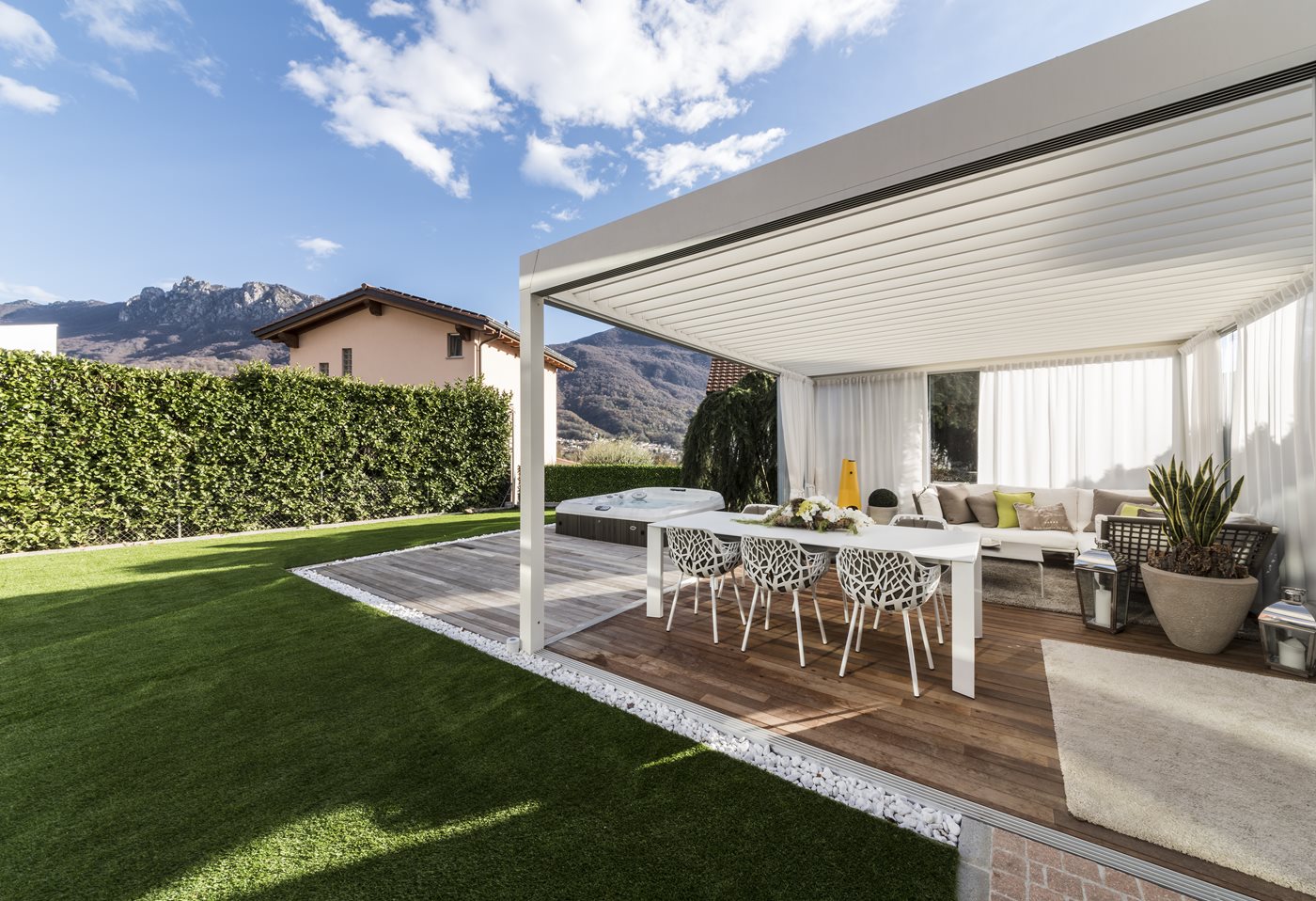 Having access to an outdoor space, such as a garden or terrace, allows us to stay in touch with nature without leaving our homes. In order to create an environment where we can spend our leisure time, it is important to furnish and equip the outdoor space to make it functional for our needs and activities.


Therefore, if we choose to protect our terrace, garden, patio or balcony with outdoor structures, then we will be able to enjoy the space throughout the year. There are three Corradi solutions for making your outdoor environment functional and versatile: Sun sails, Pergotenda® and Bioclimatic. You can choose one that best suits your space and usage needs, and furnish it in the best possible way to make it useful as a leisure room, outdoor kitchen, lounge area, gym, and much more.
There are many creative options available when it comes to customising the outdoors, and today we will discuss Bioclimatic pergolas.

Using bioclimatic pergolas, you can gain extra space by utilising a portion of your garden or open space without compromising the aesthetic harmony of your house. This is thanks to many customisation options. How can we choose the solution best suited to our needs? We must first sort through all the options available to us in order to create a space that is both visually appealing and functional.
What is a bioclimatic and how does it work?
Corradi bioclimatic pergolas are aluminium outdoor structures, equipped with a cover of adjustable blades. The blades can be swivelled using a remote control or manually. Thanks to this particular feature, it is possible to control the indoor climate and temperature, making the environment comfortable throughout the year. In fact, the rotation of the blades, allow users to control sunlight and the levels of natural ventilation, regulating the temperature as a result.

Using bioclimatic pergolas, you can customise your climate and protect your outdoor space from the inclemency of the weather with a solution that is unmistakable for its essential design, but also elegant and functional.
Which model should you choose?

The requirements of each space are unique and with different structural needs. This is why Corradi offers solutions to meet every square footage and use requirement.

Imago®
This was born from a new vision of the external space with respect to its use, what happens there, what you can imagine doing. It is a true interpretation of outdoor living that has been developed in several versions: Gourmet, Feeling Good, Dreaming, Studio, and much more. Imago® series features a minimalist design that conceals cutting-edge technology: integrated side fasteners, motorised drive mechanisms, innovatively designed blades and dimmering LED lights all perfectly integrated into the structure, hiding any discontinuity.





It is possible to customise Imago® interior spaces based on the function for which they are designed, through the use of additional modules that enhance its versatility, so that endless combinations can be made to meet any need.


Maestro
Avant-garde and with an unmistakable style: this bioclimatic is especially suitable for large surfaces as it can be combined into several modules. In fact, more than one pergola can be combined to create a single cover without the need to double the joining pillars.
Maestro has a multiple configuration, in fact it was born as a self-supporting structure. However, it can also be leaned against the wall, either lengthwise, with the longer side resting directly on the wall in the absence of a pair of pillars, or - similarly - on the shorter side.
Maestro, like all Corradi pergolas, has integrated eaves to let rain water run off and pillars that act as rainwater downspouts. This is another reason why the Maestro bioclimatic pergola with adjustable blades is cozy and perfect in all seasons.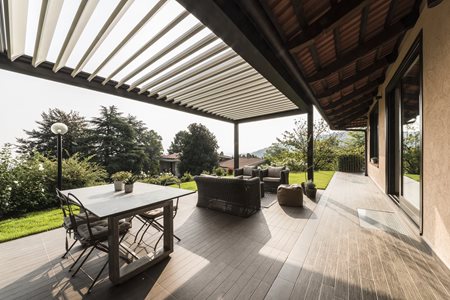 Alba
Lightweight, compact and functional, Alba is the bioclimatic with a bold design that combines essential lines with state-of-the-art technology. Using its remote controlled aluminium blades, it is possible to achieve an ideal climate throughout the year and regulate sunlight and ventilation for a pleasant and comfortable environment. In addition to creating an elegant and relaxing atmosphere, the LED lighting system adds the right amount of intensity to every moment. Depending on the situation, controlling light contributes to the creation of different environments: intimate, convivial, pleasant.
Alba makes outdoor living more personalised. In fact, like the other Corradi bioclimatic pergolas, Alba can also be selected in a variety of colours, from the classic to the most modern, according to a style that is both customised and personalised.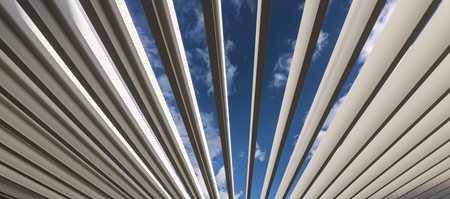 Eteria
A manual pergola with simple, clean and elegant lines. In common with other structures in the same range, Eteria is constructed of aluminium and features adjustable blades that allow the amount of air and light inside to be adjusted.
Its blades can be rotated up to 120° manually and thus without the need for electricity. This product features a minimalist design that emphasises its light weight.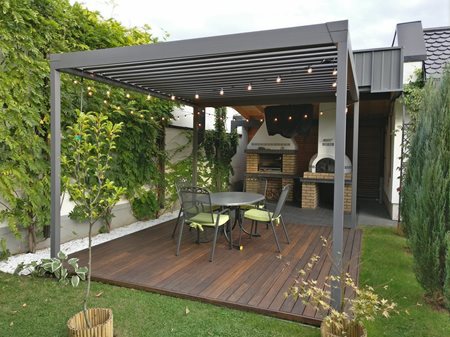 Choosing a Corradi bioclimatic for your outdoor space means adopting a minimalist philosophy, which will allow you to furnish your exterior living area with complete harmony and style. A pergola with a roof with adjustable blades helps to create a place to live. This is comfortable and functional in any season, thanks to vertical closures, sliding glass panels, and plastic materials, designed to shelter the interior even from intense rain and wind, without interfering with the extreme cleanliness of its forms.