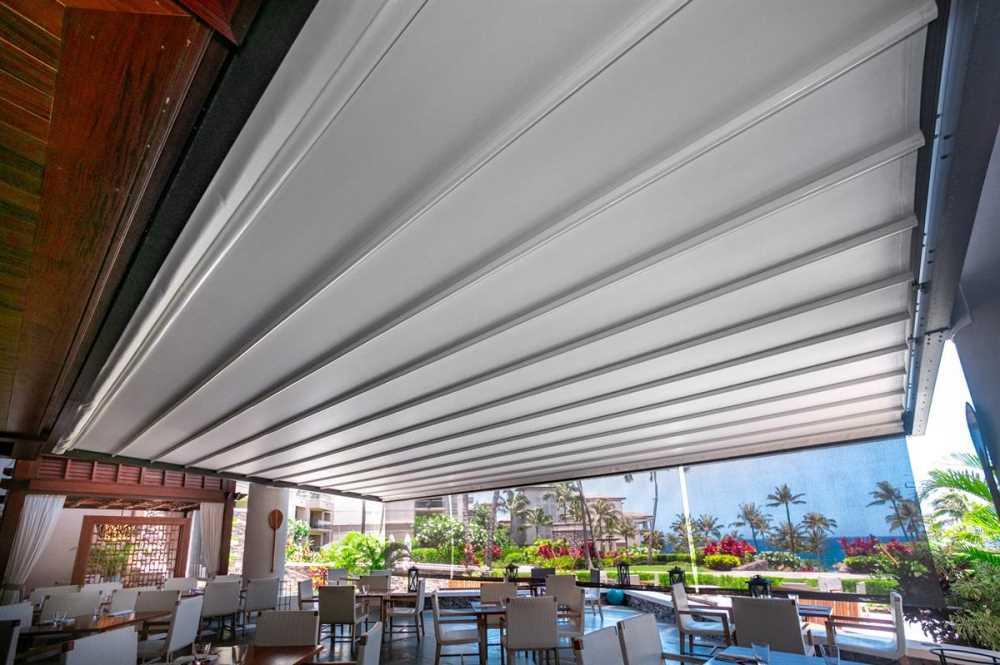 Cane and Canoe: Innovative Expansion of a Tropical Paradise
Cane and Canoe Restaurant at the Montage: Maui, Hawaii
When you visit the Cane and Canoe restaurant in the Montage Hotel at Kapalua Resort in Maui, one of the first things you'll notice, besides the ocean view, is the outdoor dining space with a levitating canopy roof—an award-winning installation. Corradi USA made this retractable shade system possible, allowing diners to enjoy their meals while protected from the sun, wind, and rain.

"Corradi's systems are strong, beautiful, and utilitarian," says Gary Barnes, master fabric craftsman at Tropical J's Incorporated in Honolulu. "It's really easy for me to meet our customer needs by working with Corradi because they will customize almost anything."
THE CHALLENGES
The restaurant wanted a retractable canopy so patrons could see the sky. Installing posts in the front was out of the question because they wanted to preserve the view—this meant the canopy needed to be cantilevered. With no support posts above or beneath the structure, the engineering team first decided on heavy steel beams. But the only way to get to the dining area is through a series of stairs and narrow walkways.
"The more we looked at it, there was the question of how do you expect to get the materials down there and install it," Barnes says. "That created a huge engineering problem." The materials needed to be lightweight, but also strong enough to support their own weight and withstand the weather. That's why Barnes and his team chose to work with Corradi.
Alberto Tanzi, president of Corradi, and his son Francesco, director of operations, are experts when it comes to awnings. The Tanzi family has been in the shading industry for generations, first running a family business in Italy and later partnering with Corradi Italy to manufacture their product for the U.S. market. The father and son collaborated with Barnes every step of the way during the project—from the custom design to the installation.
HOW WE DID IT
Corradi's
B-Space system, made of aluminum and designed to cover large surfaces
, was the key to the project's success. "Alberto sent me a picture of the B-Space product holding up pallets of stone and a photo of him driving his car on it," Barnes says. "That's when I realized the runners are extremely strong, and relative to their strength, they're extremely lightweight."
Barnes, Francesco, and Alberto figured out a way to use these runners as the structural perimeter. They created a giant ring from doubled-up B-Space runners and hung this between four pre-existing concrete posts around the dining space. "We were able to talk the architect into limiting the projection to about 20 feet, which made the whole installation doable with almost no disruption to the resort," Barnes says. "We were in and out in two to three days as opposed to two or three weeks."
There was no room for error in manufacturing. "The tolerance we had to adhere to for this project was plus or minus one millimeter—or about a fifth of an inch," Francesco says, adding that the accuracy of the assembly had to be flawless. That's why Corradi pre-assembled the entire structure in their Texas warehouse before shipping the parts to Hawaii. Usually Corradi doesn't need to test their structures because their products are standardized, but they wanted to ensure this custom design fit together when it arrived. Their precision paid off—the installation went smoothly with no size adjustments needed. The final result is a welcoming space that keeps customers cool and comfortable. When deployed, the system provides an estimated 10-degree drop in temperature.
THE VISION
Meeting the aesthetic vision of the design was no easy feat. "It's a very high-end restaurant with a lot of fine wood finishes that no one really wanted to cut into or touch," Barnes says. The project also required a beam two times larger than Corradi's standard beams.
Luckily, Francesco and his team are used to thinking outside the box. "When you look at the B-Space beam from the side it looks like one single tall beam, but it's actually two separate extrusions that have plates engineered to stick them together, which provide the structural forces required to hold the unit up," Francesco says.
Barnes was concerned about how the steel beams would fit in with the high-end style of the restaurant. The steel beams would have required wood cladding, but this would have added even more weight to the structure. Fortunately, Corradi's aluminum shading system didn't need cladding because of its beautiful finish and high-quality powder coating. The custom beams aligned perfectly with the aesthetic.
RETURN ON INVESTMENT
Barnes says installing Corradi's system has definitely helped the restaurant's business. "Restaurant owners, particularly in Hawaii, don't realize the importance of outdoor dining to their guests," Barnes says, adding that outdoor dining areas are always the first places to fill up. It's an investment to install an outdoor canopy, but it makes your business stand out from the rest.
"In a world where everybody is trying to separate themselves from their neighbors, this restaurant now has a 100% unique product that nobody on the island other than them has," Francesco says. As specialists in commercial applications, Corradi often presents return on investment calculations. By adding outdoor seating, restaurant owners gain more functional space, which means more seats to fill and more revenue. "Before, in the industry you really had two options: You either leave the patio open or you close the patio," says Francesco. "We came into the industry with the know how to make it so you can have either at any point with the push of a button."
Of course, Corradi USA's products can be used anywhere—from hurricane-prone regions to snowy, mountainous areas. "We have a lot of success in the national market whether it's New York, Florida, Colorado, Canada, or Illinois," Francesco says.
Many of Corradi's products are 100% enclosed, creating a room that can be heated or cooled. "I've seen heaters, fans,
LED lights
, TVs, and more installed in our systems," Francesco says.
Having a comfortable space means the world, and it's no secret that low-quality products hurt business. Barnes says many restaurants put up cheap umbrellas, but then they lose business because their umbrellas break from strong winds. Corradi's system incorporates aluminum cross members on the fabric to reinforce the entire structure. "For the Cane and Canoe project, each runner had about eight of these, so it's able to withstand massive forces compared to a normal awning or a screen," Francesco says. "The entire purpose of the Corradi line is to prevent damage from wind, water, and the sun."
Written by Julia Stone of GB&D 2018
View original article here: https://gbdmagazine.com/corradi-usa/